GEORGE ROBERT CRESSWELL 1877–1967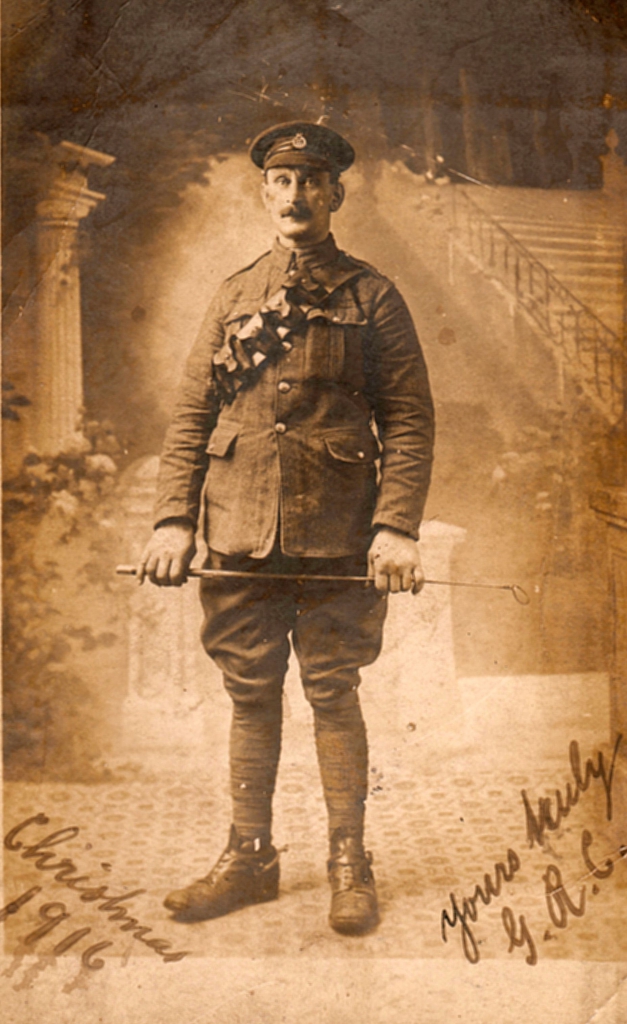 Photographs from family collection
Born 3rd February 1877, Radford, Nottingham
Married 1898 to Elizabeth Checkley, son Harold born 1899, daughter Winifred born 1907.
Died 1967.
Father and son are both named on Holme Pierrepont War Memorial.
1881 Census
Age 4 living Bloomsgrove Street, Nottingham with father George 45, coal dealer, mother Ann 44, sisters Mary 24, Lucy 22, Bertha 14, Elizabeth 12 and Amelia 7, brothers Frederick 21, Alfred 18 and Lewis 11.
1891 Census
Age 14,  a stable boy and groom, living on Denman Street, Nottingham with father George, a cab proprietor, mother Ann, two sisters Annie 23 and Amelia 17 and a brother Samuel 18.
1901 Census
Age 24 self employed cab proprietor living 18 Leopald Street, Nottingham with wife Elizabeth 21 and two year old son Harold, who also served in WW1. They have two boarders, Mabel Saxton, curtain folder, and Walter Howlett, house painter.
1911 Census
Age 34, employed as a groom to Lord Manvers and living in Holme Pierrepont.  The family had moved to Holme Pierrepont in 1906 for George to work as groom on the Manvers estate.
Military Service
Rank: Private
Service Number: 19843
Military Unit: Royal Army Veterinary Corps on Pension Card (R.A.S.C. on medal card. Veterinary Corps on Holme Pierrepont Lychgate)
Served in France.
Medals Awarded:
British War and Victory
Cresswell family including Winifred, George and Elizabeth's daughter
Other information
By Spring 1919 he had returned to his family in Holme Pierrepont to continue working as a groom. His wife Elizabeth was working as a cook.In the early 1920s the family moved to Montfort Crescent in Sherwood, Nottingham.
1921 Census
Address: The Lodge, Edwards Lane, Sherwood, Nottm
Employment: Horseman, C J Mee and sons.
Household: wife Elizabeth, daughter Winnie, florists assistant, C J Mee
1939 Register
Address: 4 Montfort Crescent, Nottingham
Occupation: salesman, fruit and vegetables
Household: living with wife Elizabeth and Leonard Ellis (born 1911), a nurseryman growing fruit and vegetables.