GEORGE LANCELOT VERNON SMITH
1894–1941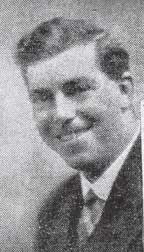 Photo from Ancestry Public Member Trees
Born 18th June 1894 in Grantham
Baptised 5th July 1894 at St Wulfram's Church, Grantham
Married in June 1929 to Margaret Dunn, Vancouver
Killed serving in the Second World War, 1941 age 47.
1901 Census
Age 6 living at The Grantham Steam Laundry on Belton Lane, Grantham with father George who is the manager of steam laundry and mother Mary Eleanor (née Parker)
1911 Census
Age 17 recorded as a Boy Artificer, Royal Marines, HMS Fishguard, Portsmouth
Military Service
Rank: Engine Room Artificer 3rd Class
Service Number: M1511
Military Unit: Royal Navy, H.M.S. Maidstone
Theatre of War: Balkans
Royal Navy 18.6.1912 to 23.8.1922. He served on eleven ships, mainly HMS Hibernia off Gallipoli and HMS Maidstone, a submarine depot ship.
Recorded in 1914 as 5ft 9in with black hair and blue eyes
Medals Awarded: 1914 Star, British War and Victory
Military Personnel Address on 1918 Electoral Register
Granville House, Radcliffe on Trent
Other information
It has not been possible to find out why George Smith had an address in Radcliffe on Trent in 1918.
Emigration: Informed that before emigrating to Canada in October 1924 he spent some time in South America.
Canadian Immigration form – Canada between 1923 and 1929 but obtains post with Wallace shipyards as a marine engineer.
Service in the Second World War
Killed October 6th Canadian Merchant Navy aboard SS Vancouver Island, serving as Senior Second Engineer.
"At 21.54 hours on 15 Oct 1941 the unescorted Vancouver Island (Master Eric Lacey Roper) was spotted by U-558, which was searching the convoy SC-48 west of Ireland. Due to her high speed of about 15 knots the U-boat immediately went on full speed to get into a favorable attack position and fired a spread of three torpedoes from about 2000 meters at 22.49 hours, hitting the ship with two of them after 144 seconds. The vessel was hit in the fore part and amidships and stopped but did not sink. Because Krech wanted to continue the search for the convoy he fired two coups de grâce from more than 1000 meters at 23.08 and 23.17 hours, hitting the ship fore and aft and causing her to sink fast by the stern.
The Germans had observed how the crew abandoned ship in lifeboats after the first hits, but HMS Dianthus (K 95) (LtCdr C.E. Bridgman, RNR) sent to her assistance from the dispersed convoy ON-24 did not find any survivors. On 31 October, a lifeboat with the bodies of two officers from the ship was found by a British warship in 56°08N/20°45W. The master, 64 crew members, eight gunners and 32 passengers were lost." (www.uboat.net)
Halifax Memorial reads:
'Smith, Senior Second Engineer, Officer. George L V.
Canadian Merchant Navy SS Vancouver Island (Montreal) 6th October 1941.
Age 47. Son of Elizabeth Smith of Great Gonerby, Lincs.
Husband of Doreen Margaret Smith of Victoria, British Columbia. Panel 63
Reason for inclusion on Radcliffe on Trent Roll of Honour
Radcliffe on Trent address in 1918