FRANK BARRATT DANIELS 1892-1916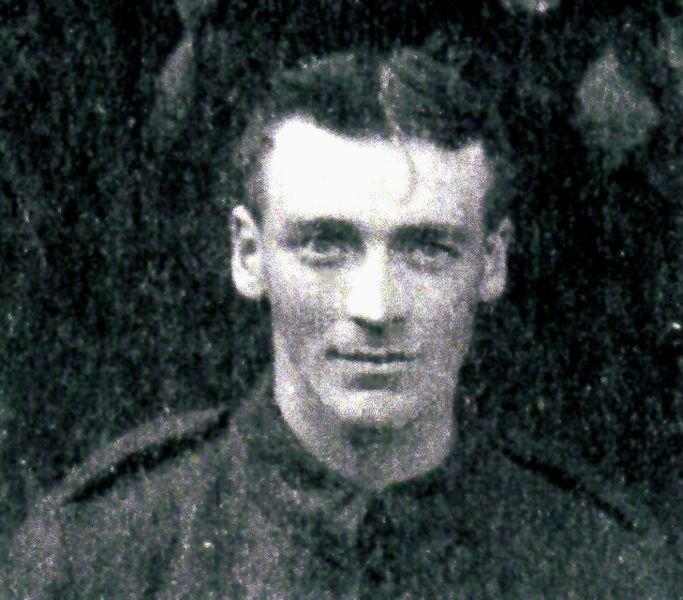 Photograph from the Sherwood Foresters Museum, Nottingham City Castle
Born 4th April 1892 in Biggleswade, Sandy, Bedfordshire
Baptised 22nd May 1892 at the Wesleyan Methodist Church, Sandy, Bedfordshire
Died France and Flanders 14th May 1916, age 24
Buried Plot 2 Row M Grave 2c, Le Treport Military Cemetery, Dieppe area, Seine-Maritime, Haute-Normandie, France
Commemorated on Radcliffe on Trent War Memorial, a memorial headstone in Radcliffe on Trent cemetery and 2nd Nottingham Company Boys' Brigade (Dakeyne Street Lads Club) memorial (this memorial fell into disrepair but a copy of the original was unveiled in 2014. It commemorates the 75 members of the Boys Brigade who lost their lives from a total of 450 'old boys' who served).
Radcliffe on Trent School Register
Admitted 22.4.1895
1901 Census
Age 8 living with widowed mother Alice (née Barratt, who had been born in Radcliffe on Trent), and brother Frederick John 17 at Thraves Yard, Radcliffe on Trent.
1911 Census
Age 18 living at Ashfield, The Harlequin, Radcliffe on Trent with mother Alice, stepfather Charles William Johnson, a jobbing gardener and nurseryman, brother Frederick John 27, a grocery assistant, and sisters Annie Elizabeth 25, a dressmaker, and Alice Mary 22, a blouse machinist. He was employed as a printer's apprentice at Wrights, Radcliffe on Trent.
Military Service
Rank: Lance Corporal
Service Number: 1598
Military Unit: 1st/7th Battalion (Territorial Force), The Sherwood Foresters, 139th Brigade, 46th Division
Theatre of War: France and Flanders, date of entry 28.2.15. Service abroad 1 year, 3 months
8.5.12 Enlisted at Nottingham  in the Territorial Force, 1/7th Sherwood Foresters. Next of kin Alice Johnson (mother), height 5ft 7ins, weight 134lbs, chest 36ins. Occupation printer, working for Howett & Sons in Nottingham.
28.3.15: France, embarked Southampton
19.5.15: To hospital
21.5.15: Hospital Versailles, dental caries
25.5.15: To 46th Division Base Depot, Rouen
11.6.15: Rejoined battalion
26.6.15: Bullet wound upper left arm, field ambulance
29.6.15: Admitted No.4 General Hospital, Versailles
1.7.15: Transferred to England
3.7.15-2.3.16: Home
3.3.16: British Expeditionary Force,  France
16.3.16: Joined Battalion in the Field
6.4.16: Appointed unpaid Lance Corporal
23.4.16: Gun shot wound to spine
26.4.16: Admitted to 2 Canadian Hospital, Le Treport
30.4.16: Dangerously ill
14.5.16: Died at 1.20am of paralysis due to gun shot wound to spine. Eight fractured vertebrae, haemopneumothorax (air and blood in chest cavity)
Frank Daniels was buried at Le Treport military cemetery. Dieppe is approx. 165 kilometres from Mount St Eloi where he was fatally injured.. His mother and step-father attended the funeral.
Pension
His mother Alice Johnson received 4 shillings 6d per week (22p) on 20 February 1918, this was increased to 5 shillings (25p) a week on 6 November 1918. This was awarded for life.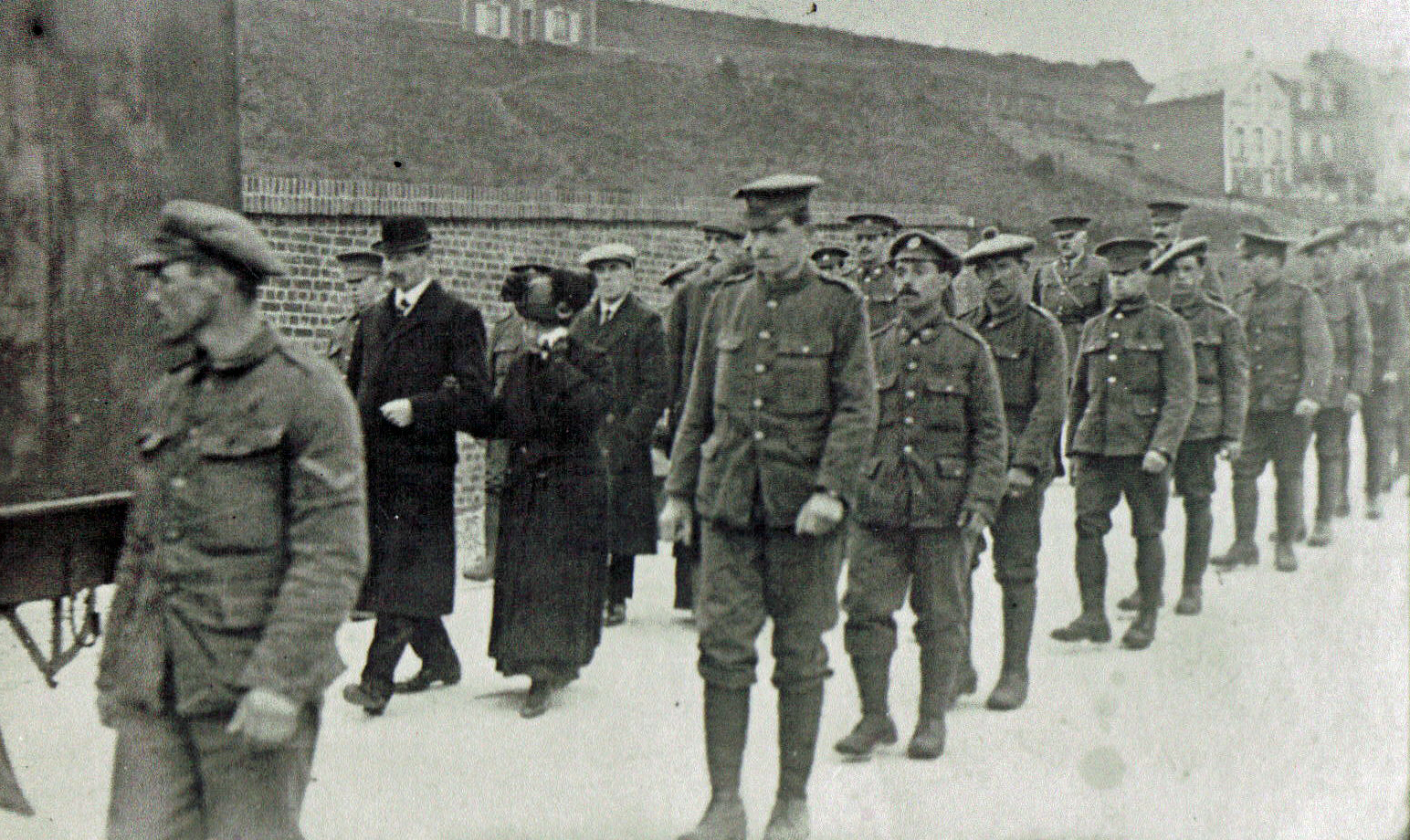 Photo showing Alice and Charles Johnson following her son's coffin at his military funeral, attended by servicemen and  officers  at the rear
Photograph courtesy of descendants of the Daniels family.
Commonwealth War Graves Commission record he was the 'Son of late F. Daniels and Mrs Alice Johnson of Ashfield, Harlequin, late of Sandy, Beds.'
Go to The Story of Frank Barrett Daniels to read his diary  and to find out how the YMCA assisted relatives of dangerously ill servicemen
Medals Awarded: 1914-1915 Star, British War and Victory
Go to WWI Timeline to see how this man's death is part of the wider story of the war.
Reasons for inclusion on the Radcliffe on Trent Roll of Honour
Lived and went to school in Radcliffe on Trent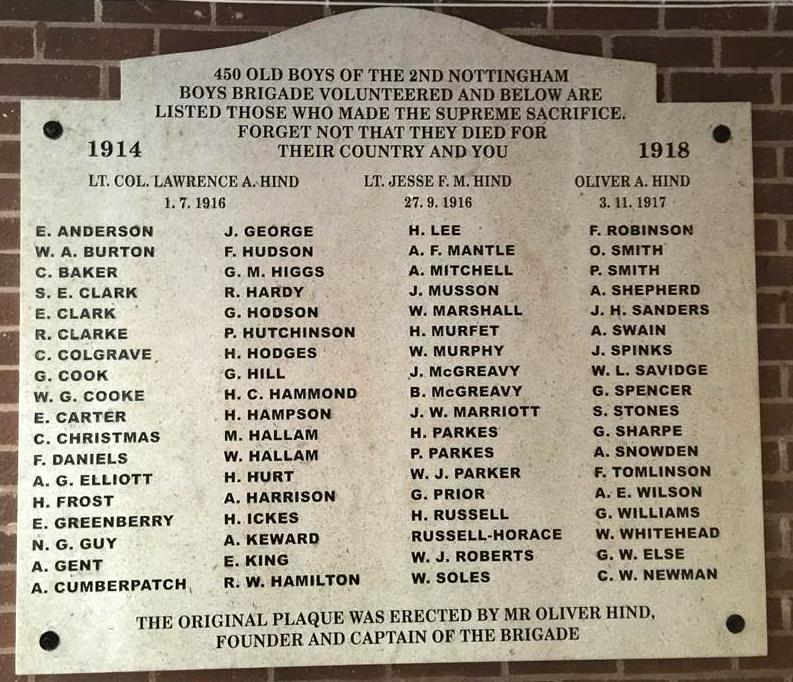 Dakeyne Street Lads' Club (2nd Nottingham Company Boys' Brigade)
Modern memorial which was commissioned to replace the original which had been destroyed.
Photograph courtesy of Gary Wood