EVELYN HENRY WRIGHT 1885–1981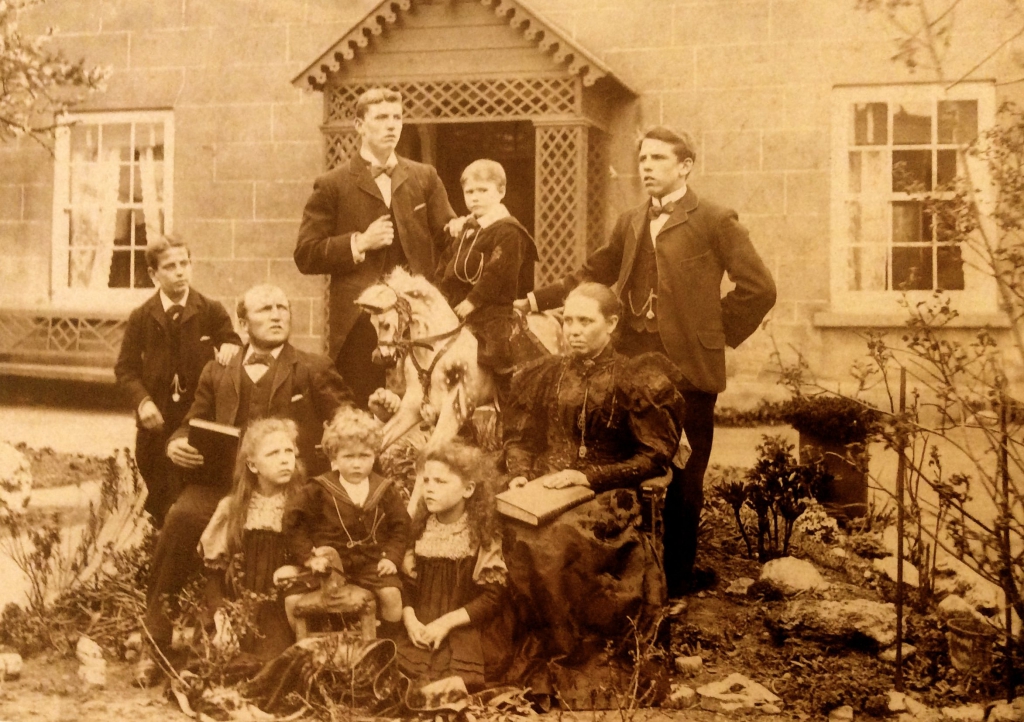 Back row: Edmund, Charles (on rocking horse), Frank
Middle row: Evelyn, Edmund snr, Celia
Front row: Lilla, Sydney, Florence
Photograph from family collection, taken circa 1898
Brother to Edmund, Charles and Sydney
Born 25th May 1885 in Radcliffe on Trent
Baptised 21st June 1885 at St Mary's Church, Radcliffe on Trent
Married on 11 September 1919 to Maud Elizabeth Shead at St Mary's Church, Radcliffe on Trent
Daughter Doris Eileen born 1 February 1923 in Radcliffe on Trent.
Died 1981 in Hampshire aged 95
1891 Census
Age 5 living  on Main Road, Radcliffe on Trent with father Edmund 37, born in Radcliffe on Trent, a carrier, mother Celia 34, born in Radcliffe on Trent and brothers Frank 11, Edmund J 12 and Charles B 2, sisters Lilla Celia 3, and Florence M 9 months. The household included his grandparents John and Ann Bateman and John Walker, a visitor, 80, who was living on his own means, and one domestic servant.
1901 Census
Age 15 employed as an apprentice whitesmith living  on Main Road, Radcliffe on Trent with father Edmund, mother Celia, brother Frank 21, employed as a traveller for a printer, Edmund J 22, employed as a lithographic printer, sisters Lilla Celia 13 and Florence M 10, and brothers Charles B 7, and Sydney 5.  His grandparents were still living in the same house.
1911 Census
Age 26 employed as a coal merchant living with father Edmund, mother Celia, sisters Lilla Celia 23, a typist, Florence 20, and brothers Charles Bertie 17, a printer and Sydney Percy also a printer. They lived in an 8 roomed house on Main Road, Radcliffe on Trent.
Military Service
Rank: Sergeant
Service Number: DM2/13549
Military Unit: 972 Mechanical Transport Company, Royal Army Service Corps
Theatre of War: France and Flanders, date of entry 11.5.16; Egypt date of entry 10.8.17.
War service abroad 2 years 6 months
Enlisted: Nottingham 26 October 1915
Age on enlistment: 30 years 5 months. Occupation carrier
Height: 5ft 4½ins, girth 36ins, R of Exp 3ins. Religion: Wesleyan
A letter dated October 23rd 1915 from his employers, The Calthorpe Motor Company, states: 'We beg to advise you that E H Wright, check no. 212 has left our employ to enlist, should he not be accepted we shall be glad if you will see that he returns to our employ'
2.11.15: Joined Mechanical Transport, ASC at Osterley Park
20.1.16: Passed Motor Learner's Test Certificate
11.5.16: Expeditionary Force France, 690 Company
6.7.16: Home, training as Mechanical Transport driver, Tractor Dept. ASC Avonmouth,
25.9.16: Appointed acting Lance Corporal (unpaid)
13.12.16: Granted pay of acting Lance Corporal
27.7.17: Appointed paid acting Sergeant
10.8.17: Expeditionary Force Egypt, 972 Company
15.12.17: Promoted Sergeant
5.10.18: Patient in 19th General Hospital, Alexandria suffering from malaria, full course of quinine given but still high temperature
3.11.18: Discharged from hospital
4.12.18: En route home on HMT Trent initially in very rough conditions
16.12.18: Home
6.1.19: Particulars as to Character form:  Employment: Sgt in charge of Caterpillars. Character: Sobriety, very good; very reliable; intelligent; Excellent man; very good power of command and control; tactful in his handling of men. Special Aptitude: Caterpillar driver, Pay 2s 4d per day
19.4.19: Transferred to Army Reserve on demobilisation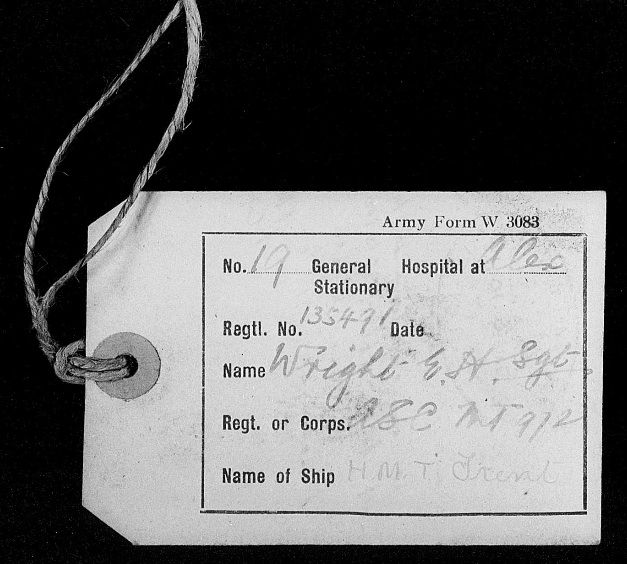 Medals Awarded: British War and Victory
Pension Record Card
Awarded a pension of 9 shillings 4d per week (47p) from 7 May 1920–21 June 1921: 20% disability due to debility following malaria. This was reduced to 8 shillings 6d, (42p)  for a further final 70 weeks. Address Water Lane, Radcliffe on Trent.
Military Personnel Address on 1918 Electoral Register
Whitehall House, Hogg Lane, Radcliffe on Trent
1921 Census
Address: Water Lane, Radcliffe
Employment: Motor Driver, E Wright Taxis.
Household: wife Maud, visitors Ruby Shead and Gladys Shead.
1922 Electoral Register
Address: Water Lane, Radcliffe on Trent
Household: living with his wife Maud Elizabeth
1939 Register
Address: Water Lane, Radcliffe on Trent
Occupation: Motor Driver for Corporation Cleansing Dept
Household: living with wife Maud Elizabeth and their daughter Doris
Reason for inclusion on the Radcliffe on Trent Roll of Honour
Born, worked and lived in Radcliffe on Trent.