BERNARD PATRICK FRANCIS FITZGERALD
1880–1918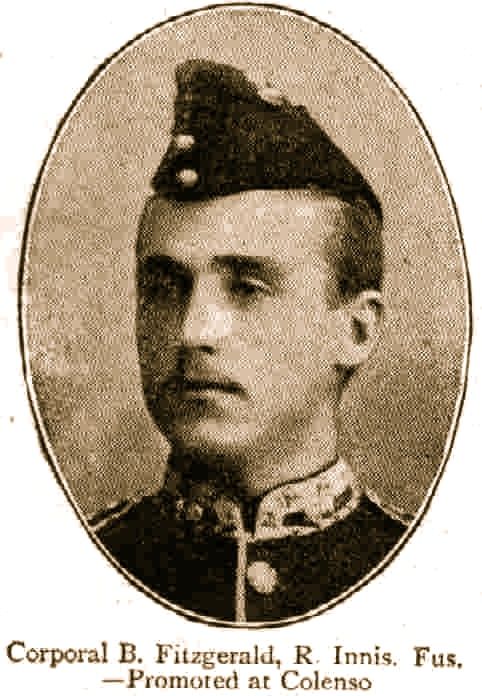 Born 22nd April 1880 in Portsmouth
Married June 1901 to Irene Rickard, Steyning, Sussex
Son: Brian Blenherhassett Fitzgerald, born 21st May 1906
Died 30th October 1918 at Notts. County War Hospital in the parish of Radcliffe on Trent
Buried in Radcliffe on Trent cemetery
1881 Census
Bernard Fitzgerald was a one year old baby. He was the son of regular soldier Francis Fitzgerald, age 27, who was Irish and serving with the 108th Foot Regiment, (which later became the 2nd Battalion, Royal Inniskilling Fusiliers). Bernard was living with his father, mother, Ellen Mary, age 19, and brother Francis age 3 at Fulwood Barracks, near Preston.
The 2nd Bn, Royal Inniskiling Fusiliers, were in England in 1881-2, Ireland 1882-1886, England 1886-1888 then India and Burma from 1888-1899.
Bernard was a pupil at the Royal Hibernian Miltary School, Dublin, from August 1889 to July 1895. His father had died and he and brother Francis were educated at R.H.M.S., an establishment for orphaned or destitute children of servicemen. His mother is recorded in the 1891 census as working as a nurse at North Camp military hospital near Aldershot, Hants. He enlisted in the Royal Inniskilling Fusiliers in 1895 and served in the Boer War.
Military Service 1895-1900
Rank: Boy, then Drummer
Service Number: 5019
Military Unit: 1st Battalion, The Royal Inniskilling Fusiliers
Theatre of War: South Africa
22.7.1895: Enisted Dublin as a drummer boy in the Royal Inniskilling Fusiliers, age 15, in 1895. The 1st Battalion were stationed in Ireland when he enlisted.
Height 5ft 1ins, weight 91 lbs, chest 29ins, eyes blue, age 15 years 3 months.
Next of kin: mother Ellen Mary FItzgerald, nurse, Fever Hospital, North Camp, Aldershot and brother Francis Fitzgerald in the Royal Inniskilling Fusiliers.
22.7.95-4.11.99: Home
7.2.96: Promoted Drummer
22.4.98: Attained 18 years of age
5.11.99-5.4.1900: South Africa
15.12.99: Promoted Corporal – specially promoted for distinguished service in the field at Colenso
23.2.1900: Gunshot wound, right foot Hart's Hill (Official Casualty Rolls location: Natal). Rank: Corporal, Rating: 5019, Unit: 1st Battalion, The Royal Inniskilling Fusiliers
6.4.00-19.12.1900: Home
19.12.1900: Discharged as medically unfit.
He sent letters to his mother from South Africa Dec. 26th 1899, describing  his experiences in action.
Click here to read these letters
Distinguished Conduct Medal
He was awarded a DCM  for gallantry at the Battle of Colenso (1899). Date of award unknown. His DCM is listed as one of the 2076 awards of the medal during the Boer War campaign on www.angloboerwar.com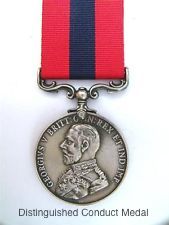 1901 Census
Bernard Fitzgerald, age twenty, was living at 5 St Leonards Avenue, Hove, Sussex.  He was working as a clerk to a coal merchant. The house, still standing, is towards  the end of the road near the sea. It was divided into four tenements. Two of them were unoccupied and a third was occupied by Mr and Mrs Cowles and their eight children. Bernard Fitzgerald was living in the fourth flat. Irene Rickard, age 29, born 14.7.1871, was visiting with her mother Laura Brown on the day of the census. Bernard and Irene were married three months later.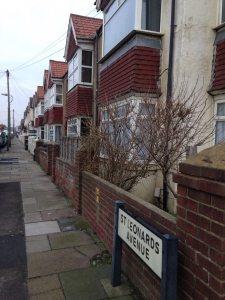 1911 Census
No trace but possibly a boarder in Leicester, married, occupation pedlar. Irene Fitzgerald, a teacher at a private school, had moved to 3 St. Leonards Avenue where she was living with her mother. Her son Brian was at boarding school.
Military Service 1914-18
Rank: Corporal
Service Number: 5/163336
Military Unit: 10th (Reserve) Battalion, The Leicestershire Regiment
Theatre of War: served in the U.K. and therefore did not enter a theatre of war.
Attested 18.8.1914 at Leicester
Occupation: dealer, age 34, height 5ft 5ins, weight 110 lbs. Eyes blue, hair brown, religion: Roman Catholic.
Medical examination showed him fit for general service. Wife's address given as St Leonards Avenue, Hove. One child, Brian.
Terms of service: Reservist
19.8.14: Promoted Corporal
10.11.14: Promoted Acting Sergeant
17.3.15: Promoted to Sergeant
18.3.15: Posted
1.6.15: Fort Nelson Pack Camp
6.3.16: Sergeant, drunk on duty. Punishment- reversion to Corporal
15.6.16: Appointed Acting Sergeant
23.5.17: Drunk on duty. Reverted to Corporal
26.3.17: On training register for 53rd Battalion Training Reserve, Northumberland Fusiliers
12.9.18: Admitted to Notts. County War Hospital, Radcliffe on Trent
Medals Awarded: Distinguished Conduct Medal, Queen's South Africa Medal Clasp Cape Colony.
Death
Bernard Fitzgerald died at Notts. County War Hospital in the parish of Radcliffe on Trent. Previously Notts. County Asylum, the hospital was taken over by the war office 1918-19 to treat 'shell shocked' servicemen. Bernard was a patient when he died.
30.10.18. Telegram re death at 8.45 pm at Notts. County War Hospital. sent to the War Office. It states he was a training reserve in the Northumberland Fusiliers. Cause of death, exhaustion following acute mania. The same information is provided in his death certificate. Instructions were given by his wife for burial in Radcliffe on Trent.  He was buried on 6.11.1918.
Medical history:
The following comments about his medical condition were recorded in his military service record:
1915: 'In a condition of great excitement, useless talking, shouting and singing … Has visual hallucinations and carried on imaginary conversations with imaginary people. Refusing food. Physical condition is deteriorating'… Date 20.8.1915 Rugeley Camp Military Hospital.
1918: 'In the classical condition of acute mania. Continually shouting and verbigerating. Incoherent … excitement. Distraction, disorientation. Restlessness and violence. Very emaciated and somewhat hoarse'.   Date 30.10.1918, Nottinghamshire County War Hospital.
At the time of his death, Irene Fitzgerald was living at Merry Hill Bungalow, Thatcham, Sussex. In 1919 she had moved to 141 Montague Street, Worthing where she received a widow's pension of 22s 11d for herself and Brian. Memorial plaque forwarded to her  in 1920 at the same address.
Other information
In 1939 Brian Fitzgerald, son of Bernard, was living at 39 Graham Road, Worthing, Sussex with his mother Irene. He was a general second hand dealer and she was a retired teacher. His died in 1977 at Plymouth.
Reasons for inclusion on Radcliffe on Trent Roll of Honour
Died in the parish of Radcliffe on Trent and buried in Radcliffe on Trent cemetery. He shares a headstone with Harry Smith, who died at the war hospital in 1919.