BERNARD DRAYCOTT 1879–1934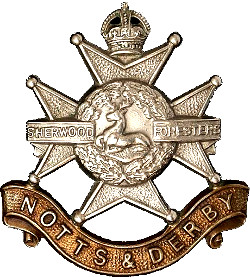 Born 1st June 1879 in Whetstone, Leics.
Married Emily Buxton 12 June 1899 in Lentos Priory Parish Church, Nottingham
Children: John Bernard born 1902, Catherine Mary 1905, Charles William 1908 and Grace Evelyn 1910, Frances 1912, Walter 191, Arthur 1917.
Died September 1934, age 55
Buried in Radcliffe-on-Trent Cemetery, grave reference E128, no headstone
1881 Census
Age 2, living with father Thomas, 30 a farmer of 12 acres, mother Sarah 32, sisters Harriet 7, Ida 1 month, and brother Frank 5. Joseph Willson 26, an agricultural labourer employed by Thomas was living with the family.
Radcliffe on Trent School Register
Admitted to school 4th June 1882
1891 Census  
Age 11 and living with father Thomas, a farmer, mother Sarah, sisters Ida Isabelle, 10, Dorothy Clementine 8, and brothers Thomas Anthony 4 and William Henry 3. They lived at The Nook, Whetstone, Leicestershire.
1901 Census
Age 22 employed as a bricklayer and living at 47 Park Street, Nottingham with wife Emily.
1911 Census
Age 31,  a bricklayer, married to Emily Judith, 30 with sons John Bernard 9, Charles William 3, and daughters Catherine Mary 6 and Grace Evelyn 1. They lived in a house with 4 rooms at 11 Station Terrace, Radcliffe on Trent. They had 6 children but 2 had died.
Military Service
Rank: Private
Service Number: 609277. Formerly 267345
Military Unit: Labour Corps, formerly The Sherwood Foresters
Theatre of War: Unconfirmed
12.12.17: Reported 'Wounded' on War Office Daily List No 5440. Private 267345, Sherwood Foresters at this date
It has not yet been possible to identify his battalion in the Sherwood Foresters.
Medals Awarded: British War and Victory
Pension Record Card
Awarded a 20% disablement pension from 7th April 1919 following a gunshot wound in his right upper arm. He received 8 shillings (40p) per week plus 8 shillings 2d (41p) for 5 children reduced to 7 shillings (35p) when there were only 4 children under sixteen.  In April 1921 he was reassessed and received a total of 12 shillings 6d (62p) per week for 6-14% disablement for a final 70 weeks. Address Mount Pleasant, Radcliffe.
Military Personnel Address on 1918 Electoral Register
Ogles Yard, Radcliffe on Trent
1921 Census
Address: Ogles Yard, Radcliffe
Employment: Bricklayer, Glover and West, Furnace Builders
Household: wife Emily, daughters Kate, farmworker Captain Knott, Lees Barn Farm,  Grace, sons Jack, gardener Lamcote, Charlie, Walter, Arthur
Reasons for inclusion on the Radcliffe on Trent Roll of Honour
Lived in Radcliffe on Trent.