BENJAMIN SHEPPARD 1899–1918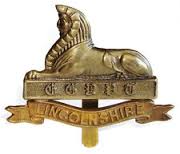 Brother of George (who survived the war)
Born in 1899 in Quadring, Lincs
Baptised 30th March 1899 Quadring Parish Church
Died of wounds on 15th April 1918, age 19
Burial: Mont Noir Military Cemetery, St. Jans-Cappel, France Nord, Grave reference: I. B.10
Commemorated on Colston Bassett, St John the Divine Church tablet
1901 Census
Age 2 living on Melton Road, Asfordby, Leics with father John, a farm waggoner, step-mother Ellen, brothers Herbert 11, George age 6, who served in WW1, Joseph 1 month, sisters Florence 12, Agnes and Elizabeth 8, and 2 step-sisters Maud 4 and Ethel 1. Benjamin's mother was Mary Ann Sheppard, née Bishop, who died in 1899.
1911 Census
Age 12 at school living in a 6 roomed house in Colston Bassett, Notts with father John, a farm waggoner, step-mother Ellen, brothers Sidney 9, John 5, Walter 4, Harold 2, Horace 8 months and sisters Maud 14 (step-sister) and Phyllis 7 (brother George, who would be 16 by then, is elsewhere).
Military Service
Rank: Private
Service Number: 53239
Military Unit: 2nd/5th Battalion, The Lincolnshire Regiment, 177th Brigade, 59th (2nd North Midland) Division.
Theatre of War: France and Flanders
Enlisted in Mansfield
15.4.18: Died of wounds received in Belgium
Address at date of death: Radcliffe on Trent
Claimant for a pension of 4 shillings 6d (22p) a week was his step mother Ellen.
Medals Awarded: British War and Victory
Go to WWI Timeline to see how this man's death is part of the wider story of the war.
From the War Diaries of the 2nd Lincolnshire Regiment 10th to 19th April 1918
On night of April 10th 2nd Lincolnshire Regiment received orders to march and occupy a gap in the line from ONRAET WOOD to STANYZER CABARET, the 12th/13th Northumberland Fusiliers filling up the gap further south.
When proceeding down the VIERSTRAAT-WYTSCHAETE Road, the advanced guards came in touch with the Black Watch at GRAND BOIS, after which point no troops were met, but abandoned guns were pulled across the road.
The battalion made good the road from ONRAET WOOD to STANYZER CABARET, and at about 4.30am on the 11th got in touch with the Black Watch on our left at ONRAET WOOD, and the 12/13th Northumberland Fusiliers on the right; a few enemy patrols were met with on the right, and shots exchanged; the road we were on was then subjected to a heavy barrage. At 5.30am according to orders, 2nd Lincolnshire Regiment advanced and occupied the Corps Line of Posts from SOMER FARM to STANYZER CABARET.
During the advance and during the day the Battalion captured 14 prisoners from 4th, 393rd and 76th Regiments and killed a good lot more by Lewis Gun and rifle fire.
The advance was carried out during a very dark night, at very short notice and over ground which was only known to a very few people in the battalion, and was carried out up to time without a hitch. The battalion remained in this line till relieved on the night of 15/16th, during which time the position was repeatedly very heavily shelled, and numerous casualties were inflicted on the enemy by Lewis gun and rifle fire, and touch well maintained with the enemy by patrols.
After relief on the morning of the 16th the Battalion marched back to Camp at ROSSIGNOL WOOD, which they reached at 4am, and stood to and reconnoitred the VIERSTRAAT KEMMEL Road trenches. An hour after standing down orders were received to man the trenches, and soon afterwards to advance with No 2 Composite Battalion, 39th Division, and attack and capture the PECKHAM-MAEDELSTEDE FARM ridge. The attack was cancelled …
View the casualty figures in the original War Diary
Military Personnel Address on 1918 Electoral Register
Green's Barn, Cropwell Road, Radcliffe on Trent (date of death above is after compilation of roll)
Reasons for inclusion on Radcliffe on Trent Roll of Honour
His family lived in Green's Barn Farm in Radcliffe on Trent from at least 1915 (see brother George's attestation) until February 1920.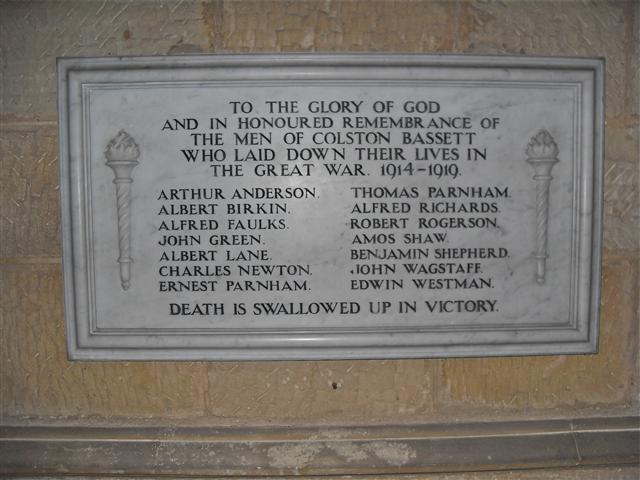 St. John the Divine Church, Colston Bassett
Mont Noir Military Cemetery, France