CLEMENT

AUGUSTUS GEORGE SAGE
1894–1918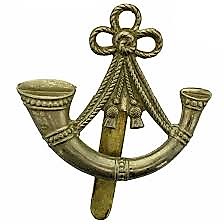 Born 1st November 1894, Walcot, Bath.
Name on birth certificate is Clement Augustus Sage.
Baptised January 30th 1910 in the parish of St Saviour's, Bath. Baptismal name is Clement George Sage. He was baptised with his brothers Albert Theodore, born 1897 and John Henry, born 1904-5.
Died November 15th 1918 when a patient in Notts. County War Hospital, Radcliffe on Trent. Age 24
Buried Radcliffe on Trent Cemetery
Not commemorated on Radcliffe on Trent War Memorial
1901 Census
Age 6 living in Woolley, Somerset with father William, a draper, age 32, mother Fanny, a laundress, age 32, brothers Wilfred 11, Stanley 9,  and Albert 3.
1911 Census
Age 16, apprentice baker, boarding at 12 Thornbank Place, Lower Oldfield Park, Bath with Annie Maria Broom 52, Edward Albert Broom 22, Florence Grace Broom 15, Wilhelmina Gladys Broom 14. In 1910 his parents and brothers were living at 15 Lainbridge Place, Bath. His father was a porter. In 1911, his brother Albert Theodore 13, was undergoing nautical training at a Royal Naval School in Cheshire.
Military Service
Rank: Private
Service Number: 6714, then 21499
Military Unit: Somerset Light Infantry then 3rd Battalion, Oxfordshire and Buckinghamshire Light Infantry. Radcliffe on Trent Cemetery Register notes he was attached to the Royal Engineers when with the Ox and Bucks.
Theatre of War: France and Flanders, date of entry 23.11.14
Medal card gives his name as Augustus G. Clement Sage. 'Augustus' has been added in handwriting.
Medals Awarded: 1914–1915 Star, British War and Victory
Other information
Clement Sage died of influenza 15th November 1918 (source: death certificate) at Notts. County War Hospital seven days after contracting the illness. The death was certified by Dr Parker Greenwood and registered on 21st November 1918. He was buried 19th November 1918, Radcliffe on Trent Cemetery.
Article: The influenza pandemic and its impact on Radcliffe on Trent
From the Uk Army Registers of Soldiers' Effects, 1901-1929
Credit £72 including a war gratuity of £25. Authorised £5 charges on 11.7.19.
Authorised £11 5 shillings 3d (£11.26) each to brothers Stanley, and Albert on 1.12.19. Authorised £11 5 shillings 3d each to brother William (on 21.4.20), and sister Maud (living in New York, awarded on 25.4.21). Authorised £11 5 shillings 2d to brother John pending his recovery.
Initials on Commonwealth War Graves headstone are A.G.C. Name in death index is Clement, which is also on parish register and on the CWGC register.
Reason for inclusion on Radcliffe on Trent Roll of Honour
Serviceman who died and is buried in Radcliffe on Trent.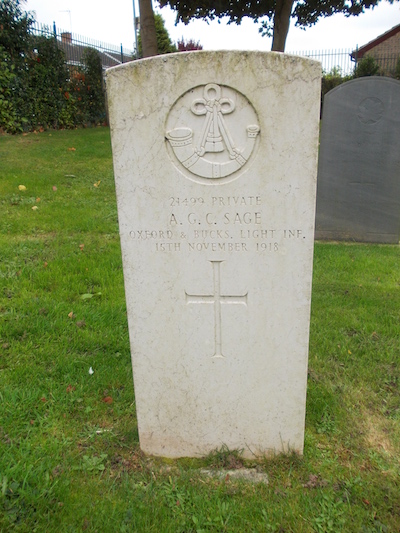 Radcliffe on Trent Cemetery