ALBERT RUSHTON 1897–1947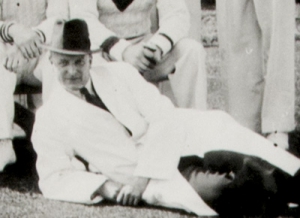 Photograph from the Cutler Collection
Brother of Frederick and Alfred
Born 24th October 1897 in Radcliffe on Trent
Baptised 21st November 1897 St Mary's Church, Radcliffe on Trent
Married in 16 July 1928 to Ada Thompson, St Mary's Church, Radcliffe. Daughter June born 1931.
Died November 1947. He is buried in Radcliffe  on Trent cemetery (Plot D119 – no headstone).
1901 Census
Age 3 living on Palin Row, Radcliffe on Trent with father William, house painter and decorator, mother Annie, brothers Alfred 10, Frederick 5 and sisters Lizzie 8 and Violet 7 months.
Radcliffe on Trent School Register
Admitted 15 April 1901
1911 Census
Age 13 a stable boy living in Rose Cottage, Main Road, with parents William and Annie, brothers Alfred 20 a decorator's apprentice, Frederick 15 an errand boy, Edward 1 and sisters Lizzie 18 and Violet 10.
Military Service
From Absent Voters List 1918
Rank: Private
Service Number: SE/30019
Military Unit: 4th Reserve Sec. Army Veterinary Corps
Theatre of War: Unknown. Possibly served in the UK so did not enter a theatre of war or receive campaign medals.
Military Personnel Address on 1918 Electoral Register
Royal Oak Cottages, Radcliffe on Trent. Note – on the 1918 Electoral Register, Albert's service number is given as 30019, which leads to a Medal Rolls Index Card for Thomas Rushton who served from 17.3.15 in four different regiments: the South Staffordshire, Notts and Derby, Hampshire and (again) Notts and Derby Regiments. Proof that the military details from the 1918 Electoral Register are indeed those of Albert Rushton is given on his pension record card dated 30.11.19 (recently released from Western Front Association), where he is recorded as SE/30019, Royal Army Veterinary Corps.
He was awarded a pension of eight shillings per week from 1 December 1919 to 1 June 1920 but no details are given of disablement or how long his pension continued. A search for service number SE/30019 in the Medal Rolls Index cards yields no results, so he is unlikely to have served abroad.
Military Personnel Address on 1918 Electoral Register
Royal Oak Cottages
Other Information
1920 Wright's Directory
1915 Wright's Directory
1913/14 Wright's Directory
1921 Census
Address: Rose Cottage, Royal Oak Yard, Radcliffe
Employment: greengrocer
Household: wife Violet, father William, greengrocer, mother Annie, brothers Fred,  Golf Club assistant, and Edward
1939 Register
Address: Sydney Grove, Radcliffe on Trent
Occupation: warehouseman or greengrocer, Co-operative Society. Special Constable
Household: Living with wife Ada
Reasons for inclusion on the Radcliffe on Trent Roll of Honour
Lived and buried in Radcliffe on Trent and was on active service during the war.