NORMAN LLOYD DEXTER 1891–1971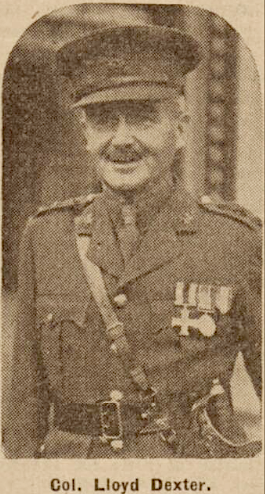 Nottingham Evening Post December 1942
Born on 4th January 1891 in Burton on Trent
Married Helena Smith on August 18th August 1919 at St Peter's Church, Liverpool
Died in 1971, age 80 at Scarborough
Buried in Radcliffe-on-Trent Cemetery, grave reference K91
1891 Census
Age 3 months living with his father, Arthur a medical herbalist, mother Rachel and brother Claud 4, at 158 New Street, Burton on Trent.
1901 Census
Age 10 and living with father Arthur, a furniture dealer,  mother Rachel and brothers Claud 14, John H. 3, sister Blanche 7, a cousin Leonard White 21, a monumental sculpture and a servant Sarah Sproston, 24. They lived at 9 Stamford Street, Ilkeston, Derby.
1911 Census
Age 20, living with father Arthur 49, mother Rachel 44, sister Blanche May 17, brother Arthur John Howard 13 and a visitor Mabel Cousins 21. They lived at 1 Pelham Street, Ilkeston. He was assisting in the family business of furniture dealing.
Military Service
Rank: Lieutenant (14.1.1916), previously 2nd Lt., 13th Battalion, Sherwood Foresters (19.11.1914)
Military Unit: 17th (Service) Battalion, (Welbeck Rangers) The Sherwood Foresters, 117th Brigade, 39th Division then from 8.2.1918 "A" Company, 16th Battalion (Chatsworth Rifles), The Sherwood Foresters
Theatre of War: France and Flanders. Date of entry: 22 Feb 1917
From the National Archives:
Application for appointment to a temporary commission gave his address as Pelham House, Ilkeston, Derbyshire. Stated he was able to drive a car and motor bicycle but cannot ride a horse
It was certified by University of Nottingham, dated 4 November 1914 'that he is an excellent cadet and would make a good officer'.
He was 5ft 5ins tall, and weighed 130 lbs.
Military Cross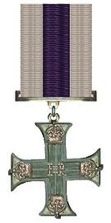 Awarded for gallantry between 20th and 22nd September 1917:
Military Cross. For conspicuous gallantry and devotion to duty. He took command of his company in an attack when his company commander was wounded, and showed great dash and gallantry in overcoming the enemy's resistance when the advance was held up. By his skilful leadership and fine personal example the position was ultimately captured.
Date awarded 05.04.1918, Gazette issue 30614, page 4211.
The 17th Bn, The Sherwood Foresters, 39th Division, was fighting at the Battle of Menin Road (September 9th – 26th, 1917) at the time Norman Dexter was awarded his M.C.
Wounded
From the War Diaries of the 16th Battalion, The Sherwood Foresters:
The 16th Bn were in the vicinity of Heudicourt, which is 17 kilometres south west of Cambrai, Department of the Somme, in the spring of 1918. From around February 21st to March 9th, the battalion were mainly occupied with resting, cleaning up, bathing and playing football. The 16th won their matches against the 5th Cameroon Highlanders and the 4/5th Black Watch.
On February 22nd, 1918, the diary records '2 other ranks wounded by machine gun fire. 2 other ranks accidentally wounded. Lieut. N.L. Dexter, M.C. was accidentally and seriously wounded by suddenly jumping into a trench and falling on a rifle with fixed bayonet'.
Report on his injuries includes a statement by Pte F Bower and L Cpl H M Cranshaw, witnesses: Accidental wounding by jumping down into a trench and falling on a sentry's bayonet. Sustained a very severe injury. Dated 24 February 1918
Pension card below confirms amputation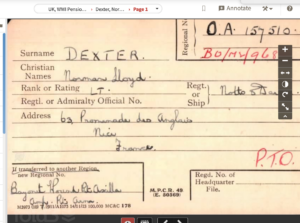 Medals Awarded: Military Cross, British War and Victory. Medals Rolls Index Cards state he was ineligible for Silver War Badge.
He married Helena Smith a widow of Radcliffe Hall on 18 August 1919 at St Peters church, Liverpool. She was 39, he was 28. She had opened up the Hall as a convalescent hospital for wounded officers and he was admitted there after receiving the above injury.  A Nottingham Post newspaper article in August 1932 noted the loss of his arm as a result of his war service.
1921 Census
Address: The Hall Radcliffe
Employment: Furniture maker and dealer, Bath Street, Ilkeston
Household: wife Helena, Blanche Cullis, cook, her husband Frederick, out of work lace worker, their daughter Gladys.
1922 Electoral Register
Address: The Hall, Main Road, Radcliffe on Trent
Household: living with his wife Helena Mary
Award and promotion
He was awarded an MBE (Member of the Order of the British Empire) in the King's birthday honours 1938 (source The London Gazette, 14 July 1939)
'Lieutenant Norman Lloyd Dexter MBE MC (late serving Battalion Foresters) to be Lieutenant Col 15 July 1939.'
15.7.1939: Lt. Col. Dexter in Home Guard. When this battalion was embodied, four men who had been awarded the V.C. were serving in it. Resigned commission 30.12.1942 due to ill health.
1939 Register
Address: 'Crossways', College Street, East Bridgford, Notts.
Occupation:  Group Commander, National Defence Companies
Household: living with his wife Helena and two domestic servants
Obituary
War Hero Dies at 80
Eighty year old Lt Col. Norman Lloyd Dexter, a First World War Hero and a group commander of the 10th Bn. Sherwood Foresters in the Second World War, has died. He will be cremated in Scarborough today. Col. Dexter, formerly of The Hall, Radcliffe-on-Trent, Nottinghamshire, died suddenly at his home, Rose Lea, Crown Terrace, Scarborough, last Friday. During the First World War, he won the Military Cross. He was seriously wounded but continued to be a keen tennis player and mountaineer. He was also a Justice of the Peace. He was group commander of the 10th Bn. Sherwood Foresters which was formed in Nottingham at the outbreak of the Second World War and disbanded in 1942. His wife died six years ago, after they had retired to Scarborough. They had no children. Col. Dexter leaves a sister in Devon and a brother in Canada. (from The Guardian, January 20th 1971)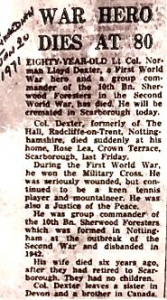 (Note – the obituary information about his service in WWII is not consistent with other sources and details given about the formation of the 10th Bn are inaccurate)
Reasons for inclusion on the Radcliffe on Trent Roll of Honour
Married a woman resident in Radcliffe on Trent and lived in the village for many years.