Radcliffe on Trent WWI Letters
John Ould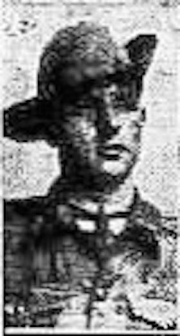 John Ould was born in Radford, Nottingham in 1896. In 1911, age 15, he was working as a printer and living on Bingham Road, Radcliffe with his mother Catherine and his siblings.
When he was 17 he emigrated to Australia leaving Tilbury, London on 29th July 1913 on the Port Lincoln bound for Melbourne.
John enlisted in the Australian Infantry Force, embarking from Melbourne on 9th November 1915, and attained the rank of Sergeant in the 24th Battalion. He died of wounds on 8th August 1916 received at the Battle of Pozières, the Somme, France three days previously. He died three days before his 21st birthday.
John's death was certified by A.I.F. Headquarters on 13th Aug 1916.
The following information is from the Australian Red Cross Society Wounded and Missing Enquiry Bureau files, Australian War Museum website: http://www.awm.gov.au/ :
From the Australian Red Cross Society Wounded and Missing Enquiry Bureau: http://www.awm.gov.au/ :
A letter was sent from the Wounded and Missing Enquiry Bureau, Australian Branch, British Red Cross Society to the Chaplain, No. 13 General Hospital, B.E.F. on 16th November 1916, in an attempt to find out more information about the deaths and burials of John Ould and two other men: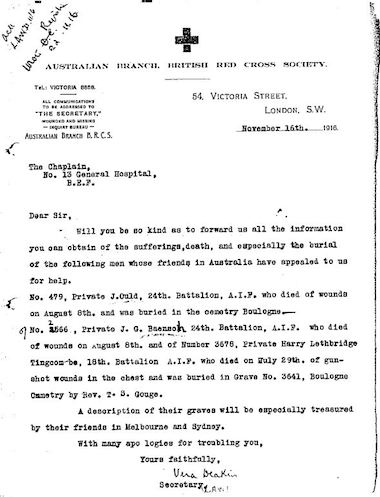 A reply was sent, dated Nov 19th/16:
No 13 General Hospital
Boulogne
Nov 19/16
Dear Madam
I am truly sorry that again I have to say I am unable to give you any further information than is contained in your own communication (overleaf) about the death there mentioned for the same reason given you viz. since Aug. 8th nurses & chaplains have all been changed. May I here also state the same with reference to yr. other communication (also today received) about Pte. Michael Teahan 28th Bat. A.I.F. who is also buried in the cemetery there.
If application be made to the
Graves Registration Committee
Place Capicure
Boulogne
Photos of graves will be sent free of charge to the relatives. To save you the trouble of writing another letter and the loss of time I will …. you having to wait for the receipt of this and then having to write to the office.
div>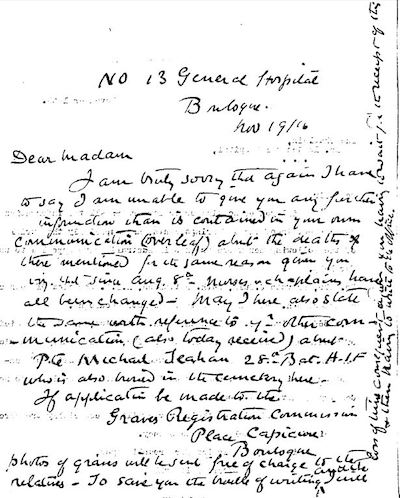 A letter was also sent to the Registar, No. 13 General Hospital, B.E.F. on 23rd November 1916, again asking for more details of deaths and burials, and on 2nd January 1917 the following reply was received: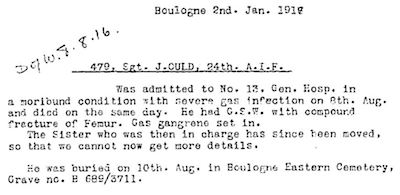 After his death, John Ould's  mother Catherine completed a Particulars form for the Roll of Honour in the Australian War Museum:
On the form Catherine Ould states that John had his 18th birthday on the water going to Australia:
'Pte Charles Paine was my son's friend. They went to school together, worked together, went to Australia together, joined the AIF together and practically died together. C. Paine was killed on Aug 6/16. My son was wounded and died 2 days later'.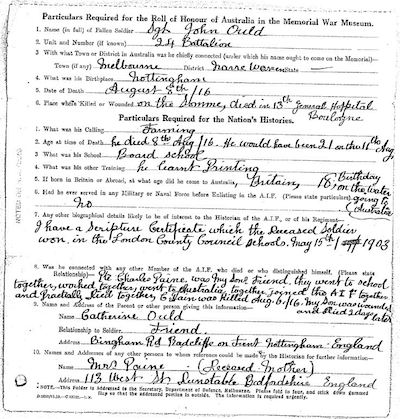 Mrs Ould was living on Bingham Road, Radcliffe on Trent at the time this form was completed.