CHARLES FREDERICK PAINE 1896–1916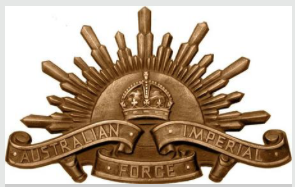 Born 1896 in Marlow, Buckinghamshire
Killed in action 5th August, 1916 during attack on Mouquet Farm, Pozières, The Somme
Commemorated on the memorial at Villers-Bretonneux
1901 Census
Age 3 living with parents James and Sarah in Marlow, Buckinghamshire. Father was a postman. Two sisters Daisy 7 and Ada 2 and a brother James 1.
1911 Census
Age thirteen living in Radcliffe on Trent, Bolton Road/Terrace with father, a postman, mother Sarah, sisters Daisy and Ada and brother James. House had four rooms. He is employed as a letter press printer at Edmund Wright's printing press, Bailey Lane.
(Charles' parents returned to Dunstable 1912. There is a photograph in the Cutler Collection of photographs of his farewell party)
Charles Paine emigrated to Australia with local friend John Ould in 1913. They were both working at Edmund Wright's printing firm in Bailey Lane, Radcliffe on Trent in 1911. They took up jobs as farmers in Australia. When war broke out, they joined the Australian Imperial Force.
Military Service
Rank: Private
Service Number: 688
Military Unit: C Company, 24th Infantry Battalion, 6th Brigade, 2nd Division, Australian Imperial Force
Theatres of War: Egypt, France and Flanders (date of entry 26.3.16)
Enlisted 22nd March 1915 in Melbourne, Australia
Age 19 years 10 months
Occupation farmer
Height 5ft 6ins, weight 9st 10lbs, chest 36-38 inches, complexion fair, eyes blue, hair light brown; religion Church of England.
Next of kin: Father, James Paine, West Street, Dunstable, Bedfordshire (next of kin is later amended to be his mother, as his father had died in 1918)
24.3.15 to 29.4.15: Depot Australian Imperial Force.
30.4.15: 24th Bn., 6th Infantry Brigade
20.3.16: Proceeded to join British Expeditionary Force,  Alexandria
26.3.16: Disembarked at Marseilles
5.8.16: Killed in action
28.8.16: Mentioned for good and gallant conduct in connection with the recent hard fighting at Pozières
The 6th Brigade, Australian Imperial Force consisted of four infantry battalions: 21st, 22nd, 23rd and 24th. The following excerpt from the War diary for the 6th Brigade tells the story of how all four battalions were deployed on the day that Charles Paine was killed.
From the War Diaries of the 6th Infantry Brigade, Australian Imperial Force, August 1916 (www.awm.gov.au):
Aug 5th Pozières
Fine weather. Germans counter-attacked our new position along whole front at 5 am. Attack repulsed with heavy losses. New lines held by 22nd & 23rd Bns subjected to severe bombardment by large calibre H.E. 3 machine guns and about 150 prisoners captured during 4/5 Aug. Work of consolidating proceeded but men much shaken. 5th Aust Inf Bde on the right of divisional front relieved by 12th Aust Inf Bde. 7th Aust Inf Bde on our right and 36th Bde on left. 15th Bn, 4th Bde attached to Bde and moved to relieve 22nd Bn whose place in front line was taken over by 24th Bn. Relief completed at 5 am.
Casualties 5.8.16:-
Killed 5 Officers 57 Other Ranks
Wounded 12 Officers 373 Other Ranks
Missing 2 Officers 49 Other Ranks
The War diary of the 24th Battalion, AIF (that of Charles Paine) gives details of movements and casualties for his battalion for the same period (www.awm.gov.au):
Aug 4th Map Ref Mouquet Farm 1/5000
6 p.m. Bn moved to Pozières Trenches.  A Comp occupying trench R34 a 22 – R34 c 75.  D Comp occupying R34 c 75 – 58 as reinforcements to 22 Bn in this attack on OG1, OG2.  B Comp x4…98 – R34 c 51.  C Comp 34 c 44-22 in reserve.  A + D Comps went to assistance of 22 Bn and formed part of the garrison of OG1.  Lt John Ross Clark killed.
Aug 5th Pozières
5 a.m.  A Comp returned from OG1 to 'jump off' trench R34 a 22 to R34 c 75. D Comp returned to rest gully, Sausage Valley.  2nd Lt Frank Reginald Hays killed in action.  2nd Lt Hays recommended for gallantry on morning of 5.8.16.
6 p.m. B Comp relieved 22nd Bn in OG2 S9 34 b 12 to 34 a 69.  7 Bde on right, left flank exposed.  A Comp relieved 22nd Bn in OG2 S9 34 a 91 to 34 a 77.  7 Bde on right, left flank exposed.  Measures taken by means of blocks to guard left flanks.  C Comp in trenches 34 c 44 to 34 c 80.  Heavy shelling by enemy.
Aug 6th
At daybreak enemy noticed in numbers and scattered parties from 300 to 700 yds to our front. Enemy scattered by Lewis Machine Gun & rifle fire.  Enemy seen limbering up artillery and taking it away.  Enemy appears to be in confusion.  One German walked unknowingly towards our trenches. He was shot when attempting to move back.  Heavy shelling by H.E. and shrapnel from Courcelette. Enemy gun firing H.E. shrapnel from a position 28 d 58.
12(?) p.m. Bn relieved by 15 Bn.  Bn moved to Tara Hill for bivouac.
Casualties from 4th to 6th August: 2 Officers killed, 27 Other Ranks killed, 121 Other Ranks wounded, 79 missing.
Medals awarded: 1914-15 Star, British War and Victory
Go to WWI Timeline to see how this man's death is part of the wider story of the war.
Other information
Charles embarked 10.5.15 from Melbourne on HMAT Euripides, disembarking at Marseilles. He was killed at the battle of Pozieres, Mouquet Farm in August 1916. Eye witness accounts from fellow servicemen and the Commonwealth War Graves Commission state Paine's death was on August 5th, 1915. John Ould, who was wounded on August 5th, died three days later. The Battle of Pozieres and Mouquet Farm saw massive Australian casualties, totalling around 23,000 of which 6,800 men were killed.
Letter from Catherine Ould found in her son's military record:
'Pte Charles Paine was my son's friend. They went to school together, worked together, went to Australia together, joined the AIF together and practically died together. C Paine was killed on Aug 6/16. My son was wounded and died 2 days later'.
To read eye witness accounts of Charles Paine's death, click here
Mrs Paine received a War pension of 30 shillings p.f. (per fortnight?) from 5.10.16 to be reviewed every six months. This was renewed on 11.10.17, to be reviewed again on 11.4.18. There is no further information as to how long her pension payments continued.
Charles's memorial plaque and scroll were sent to Mrs Paine in 1922
Charles's name is not on the Radcliffe on Trent War Memorial. One explanation for his omission is that his father had died in 1918 and his parents had moved away to Dunstable by the time the memorial was unveiled in 1921.
Reasons for inclusion on the Radcliffe on Trent Roll of Honour
Lived and worked in Radcliffe on Trent.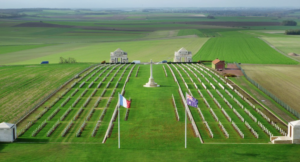 Villers-Bretonneux, France photograph courtesy of CWGC