Radcliffe on Trent WWI Letters
Cecil Arthur Reginald Bolton
Cecil was born in 1898 in Leeds. In 1911 he was at school in Radcliffe on Trent and living on Lorne Grove with father Joe, clerk of works, County Council, mother Sarah and his siblings. He was killed in action March 21st 1918 and is remembered on Pozieres Memorial, Panel 76 and 77, Pozieres, Departement de la Somme, Picardie, France.
To read more about Cecil Bolton click here
Cecil sailed to Melbourne, Australia from London Tilbury on the ship 'Port Macquarie' in March 1914. His occupation was given on the passenger list as farm student. According to a letter written by his mother to the Officer in Charge, Royal Irish Fusiliers, dated 21.10.20, Cecil embarked on the transport 'Hororata' which left Australia on 27th Sept 1915, to enlist in England. He was transferred from the West Yorkshire Regiment to the Royal Irish Fusiliers before embarking for France. He was later missing in action during an attack at Seracourt involving the Royal Irish Fusiliers, 21st March 1918. Cecil's service records include letters from his mother Sarah appealing to the Australian Red Cross and to the Officer in Charge of the Royal Irish Barracks in the hope of finding her missing son.
Letter confirming Cecil Bolton's death with copy of original handwritten letter below.
The following letter was sent to Mrs Bolton from the Australian Red Cross on 17th April 1919.
Re – 27577 Pte. C.A.R. Bolton Royal Irish Fusiliers
Dear Madam
Our London Agents have now forwarded us the following report in regard to the above named soldier who was reported missing on 21st March 1918. The Earl of Lucan Red Cross Society wrote to our Agents as follows:
We regret to say that in spite of our continued enquiries we have not yet been able to obtain any definite news of Pte Bolton. The only report which we have received is the following from Pte P. Kelly 9871, 1st Royal Irish Fusiliers, A Co., Garrison Buffet, Dublin Barracks, which we fear is quite indefinite. He states: "I saw Pte Bolton wounded in the hand by shrapnel, about 11 am on 21st March 1918. He was taken back to the Dressing Station at Serracourt which was captured about 4 pm. I did not see him again. He was 5ft4in, fair, clean shaven".
Should we at a later date receive further information, same will be forwarded to you.
Cecil's mother wrote the following letter in the hope of finding her son:
For Officer in Charge…..(the rest of the address is unreadable)
Dear Sir
I received a letter from the Red Cross Melb. Vic. This morning and I am sending you a copy of same. This will be a great help to you in tracing my son Pte. C. A. R. Bolton, No. 27066, 1st Royal Irish Fusiliers, who was reported missing 21st March 1918. Surely you will be able to find my boy now that you have got a clue, I know you will do your best, & am hoping to hear from you as soon as possible & that you will have good news for me, for I am nearly distracted, it is so long to wait for letters.
Yours Truly
Mrs Sarah Bolton
No 1 Waterloo Place
Off Church St
Bridge Rd
Melb. Vic. Australia
At the bottom left of the letter is written in a different hand:
No action taken. 82 sent 10.6.19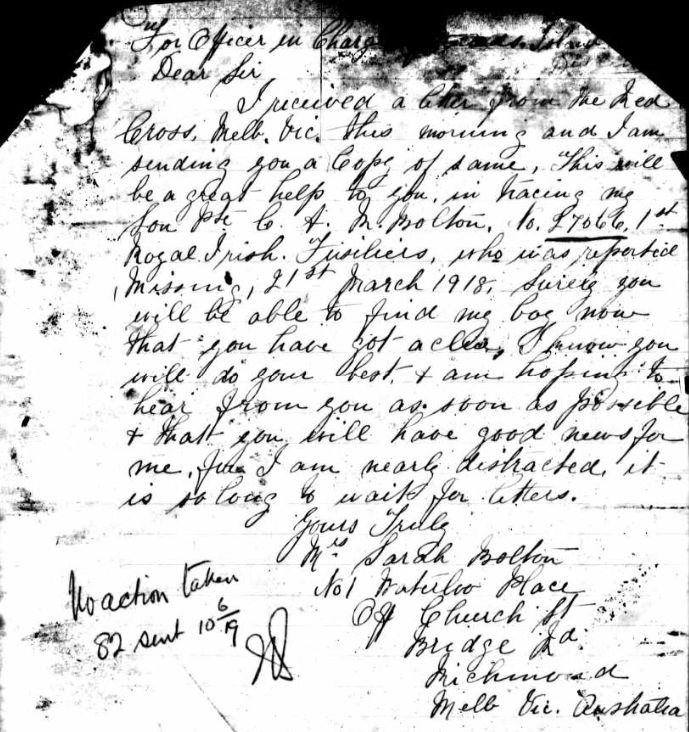 Letters regarding Pension and War Gratuity
On the 21st October 1920 Mrs Bolton, by now having had confirmation that Cecil was killed in action, appealed to the Officer in Charge, Victoria Barracks, Belfast about the level of pension and allowance she had been granted: (see below for copy of original letters)
Dear Sir
I beg to submit my case to you hoping that justice will be done to me by calling your attention to it.
My son, the late Cecil Arthur Reginald Bolton, No. 27566, 1 Royal Irish Fusiliers, embarked on the Transport 'Hororata' which left Australia on the 27 Sep 1915 to enlist in England, which he did, & was killed in France 21st March 1918. He was the sole support of myself his widowed Mother & his young brother then aged ten yrs. I never received any allotment or separation allowance either for myself or boy all the time he was fighting for his country, although we were terribly in need of it. I kept on writing to the War Office & other places, but received no reply. At last after my boy had been dead over a year I was notified (that) a pension of five shillings a week had been granted to me, not one penny for the boy. A …. was granted me of ten pounds: an insult (to my) dead boy! The pension for Mothers, I understand, is 25/- per week & the gratuity should have (been) £15 per year for each year served. I never received the 1914-15 Star, or Dependants Badge, or any badge whatever. I am entitled to them, & will you kindly send pension & separation allowance for boy.
I would be very grateful to you if you would kindly look into things for me and set them right, as I cannot work. I had a terrible nervous breakdown when my poor boy was killed & have never been well since. I cannot understand why I was ignored all that time & you will agree with me it is time something was done for us, surely we are entitled to the same benefits as other dependants of fallen soldiers. He was our all, keeping the little Home going and providing for us as far as he possibly could. He lived as he died "A Brave Soldier", & I beg you to see that justice is done to his widowed Mother & orphan brother.
Trusting you will give this your earliest consideration & oblige
Yours hopefully
Mrs S. Bolton
1 Waterloo Place etc
Letter from Army Pay Office, Dublin
On the 1st December 1920 a letter was sent to Mrs Bolton from the Army Pay Office, Dublin, advising her that full particulars of her late son's account had been sent by to the War Office, to whom she should address any further communication regarding pay, allowances or pension.   The letter also states that 'the Officer in charge of Records, Dublin, will no doubt deal with any decorations to which you may be entitled'.
In Cecil's 1916 military attestation papers, he gave his address as 11 Otter Street, Kirkstall Rd, Leeds (his sister Mrs Elsie Knapton's address), although he gave his next of kin as his mother Mrs Sarah Bolton. This may have led to confusion on the part of the authorities regarding the payment of allowances and war gratuity as the following letter from the Regimental Paymaster, Dublin to the War Office dated 1.1.20 shows:
re – 27577 Pte. C.A.R. Bolton Royal Irish Fusiliers
I enclose a letter received by me from the Officer Commanding Depot, Royal Irish Fusiliers Armagh. This soldier originally enlisted in the West Yorkshire Regiment on 6.5.16 and he was mobilized on 23.5.16. He was transferred to the Royal Irish Fusiliers on 23.5.17 and was reported missing 21.3.18. A.Fs 1838a completed by the man on 23.5.16 shows that no claim was made to an allowance for the mother or her younger son, but an allotment of 7d. per day was made to the married sister Mrs Elsie Knapton of 11 Otter street, Kirkstall Road, Leeds, and this was duly paid. A.Fs.O.1815 was rendered on 1.8.19 for £11.6.7d. which included £10 War Gratuity. I also enclose a copy of a letter which I have today sent to Mrs. Bolton. The Officer i/c Records has also been advised of the action taken.
Lieut. Colonel
1.1.20
Regimental Paymaster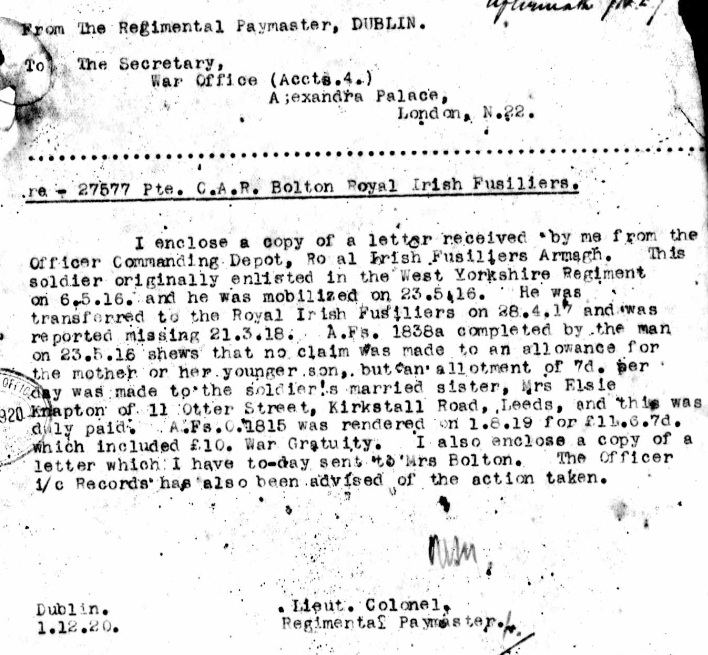 Cecil's British War and Victory medals were sent to his mother in November 1922 and she received her son's Memorial Scroll on 18th August 1920. There is no record of whether she received any further allowances or pension.