Grace Reynolds Durant Diary 1917/18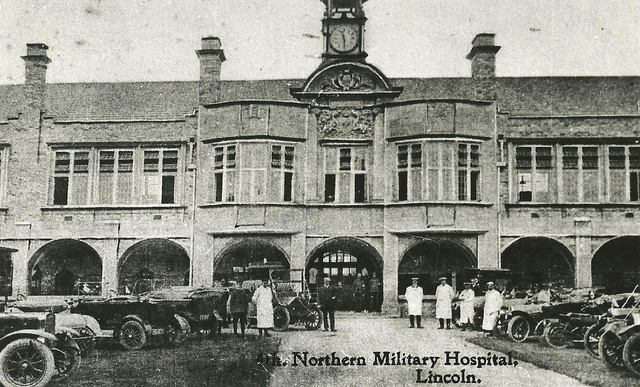 Postcard – no photographer named
Grace trained as member of the Notts 94 Red Cross Detachment in Radcliffe on Trent before the War. On the outbreak of war in 1914 she volunteered to serve where required. In 1915 she was posted to the 4th Northern General Hospital, Lincoln. She served there as a Senior Nursing V.A.D. for just over a year before being transferred to St. David's Hospital, Malta, arriving there at the beginning of December 1916. On 28th August 1917 she became very seriously ill with dysentery and almost died. After a long period of recovery she was discharged from hospital and returned to England.  Determined to return to nursing, after two months sick leave Grace was passed fit and she returned to serve at the 4th Northern General Hospital, Lincoln, at the request of the Matron.
At the 4th Northern, convoys were constantly coming in, usually late at night.  According to Grace, 'They came straight out of the trenches, just passing through a clearing station to receive first aid. They were a sorry sight, badly wounded, in blood stained clothes, dirty and often lousy'. In February 1918 Grace was put on night duty on the Officers' ward where the majority were aircraft crash cases.
The following extracts are from Grace's diary while she was serving in Lincoln in 1918.  In her diary the 1918 entries are preceded by a short summary of events in 1916/17 when she was in Malta, reproduced here as background information. For a fuller account of Grace's time there, see her Memoirs of Malta.
1916/17 (Malta)
Sailed to Malta on the Asturias Nov 30th 1916
Taken ill Aug 28th 1917
Reported sick Aug 29th 1917
Admitted in hospital, Imtarfa Sept 1st 1917
Discharged out of hospital Nov 9th
Invalided to Blighty Nov 12th 1917
NOVEMBER 1917
12 Monday Embarked on the Braemar Castle for England
13 Tuesday Sailed 10.15 a.m. Very rough indeed
14 Wednesday Sailing 12 miles. Death of a TB boy. Miles 245
15 Thursday Passed the B—-z. Another death TB.  Miles 288
16 Friday Passed by Spain and Algiers.  Miles 305
17 Saturday Arrived at Gibraltar 7.30 a.m. Engine trouble. Spanish Officers left ship, sailed again 2.45 p.m.
18 Sunday Attended service on deck.  Boarded by Germans
21 Wednesday 8.30 a.m. Bishop (Rock) Lighthouse.  Passed Scilly Isles. 5.20p.m. Lundy Lighthouse
22 Thursday 86 miles. Arriving Avonmouth 11 a.m. Disembarked 2.30.  Miles 2,473
JANUARY 1918
2 Wednesday Went to the Vicarage for tea and supper
8 Tuesday Arrived back at Lincoln
9 Wednesday Went on duty 7 a.m.
10 Thursday Half day, nothing doing
14 Monday Convoy 134
15 Tuesday Convoy
16 Wednesday Went to see Miss Sheppard
17 Thursday Half day. Benny up for tea. Pictures
18 Friday Pay day, out with Benny for lunch.
19 Saturday Evening off, very tired
20 Sunday Half day. Benny and Golden for tea. Went to Church
24 Thursday Half day. Went to pictures with Benny.
FEBRUARY 1918
8 Friday Went to the theatre. Stayed all morning. Went home at night
9 Saturday Day off
12 Tuesday Half day
13 Wednesday Night duty, Officers' Ward
15 Friday Lt Paine RFC, crash
25 Monday Lt Everitt RFC, crash
26 Tuesday Pictures. The Whip. Very good
27 Wednesday Lt Dyer RNAS, crash
28 Thursday Lt Gosse, crash
MARCH 1918
1 Friday 'Wind up'. Clean sheets. Sir W Robertson opened new stores
6 Wednesday Went to matinee The Better Ole
10 Sunday Lt Warrington RFC, crash
11 Monday Lt Shaw RNAS, crash
12 Tuesday Lt Prudrith RFC, crash. Pay day 7/6.
15 Friday Lt Murray RFC, crash
16 Saturday Lt Luke, crash
17 Sunday Stayed in bed
18 Monday Lt Patman RFC, crash
19 Tuesday Lt Lawler RFC, crash.  Convoy
22 Friday Lt Weir RFC, crash.  14 Officers in A8
26 Tuesday Lt Chapman RFC, crash
27 Wednesday Lt Mitkewiecz
30 Saturday Lt Sanders, crash. Died
31 Easter Sunday Early service. Cathedral in the evening
APRIL 1918
3 Wednesday Lt Pipbles(?) RAF killed
7 Sunday Lt Simpson RAF died 8 pm
8 Monday Lt Marriott RAF. Convoy 180
9 Tuesday A great day. King and Queen came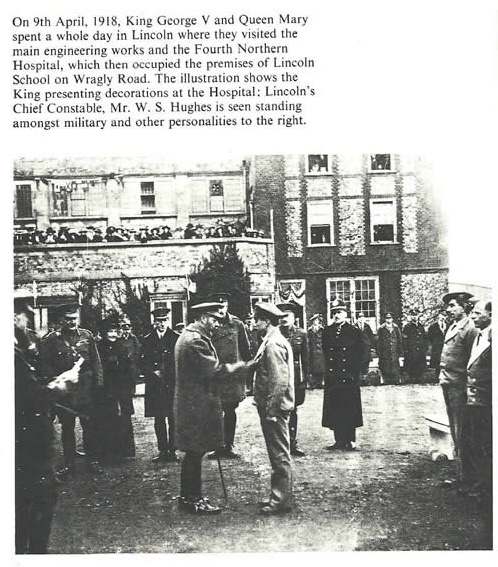 Newspaper cutting
11 Thursday Convoy 140 stretchers
16 Tuesday Pay Day
18 Thursday Lt Pudrith operation
20 Saturday Lt Latham RAF died
21 Sunday Lt Sawyer RAF, crash. Convoy. 2 killed
23 Tuesday Convoy
25 Thursday Convoy. Lt Widenkind RAF, crash, very bad
26 Friday Lt Summers RNAS, crash
29 Monday Lt Pudrith died 2.45
30 Tuesday Convoy 179
MAY 1918
1 Wednesday Lt Stall RAF, crash
3 Friday Cpt Moodie RAF, crash
4 Saturday Lt Stratton RAF, crash
9 Thursday Lt Jones RAF, crash
11 Saturday Lt Jones RAF, Lt Kite RAF, Lt Birkenshaw, RAF, crashes.  Convoy
12 Sunday Lt Kite died
16 Thursday Praise be given.  Night duty finished.  Arrive home 12 p.m.  Benny arrived 8 p.m.
17 Friday Went to Notts. Pictures. Empire at night
18 Pictures very good
19 Whit Sunday Service 7 a.m., 11 a.m., 6 p.m. Very good
20 Monday Out for supper
22 Wednesday Went to Nottingham, Bridgford for tea. Hippodrome in evening
23 Thursday Bored stiff. Raining
24 Friday Discovered Grandad Durant landed in Malta 22.7.1855. Visitors Mrs and Miss Bonsell for tea
25 Saturday Pictures
26 Sunday Church
27 Monday Went to Clifton. Top hole time
28 Tuesday Went up to Crosses. Mrs T Roses
29 Wednesday Basford for tea. Empire. Very nice too
30 Thursday The Manor for tea
31 Friday Letter from Silas
JUNE 1918
1 Saturday Came back from leave
2 Sunday Went to 9A. Met by Turnip and Hal
10 Monday Benny back from leave
11 Tuesday Pay Day. 7/6
23 Sunday Turner came for tea. Went to Cathedral and a walk by the river after
27 Thursday Did not feel well. Still ate chips for supper
28 Friday Went sick
29 Saturday Damn Flu
30 Sunday String broke. Lead dropped
JULY 1918
3 Wednesday Went to Theatre (Merely Mary Ann)
4 Thursday Benny's birthday
7 Sunday Turner, Golden for tea and supper
8 Monday Birthday
9 Tuesday Letter from the Navy
10 Wednesday Evening off. Went to Horncastle
11 Thursday Enjoyed myself
14 Sunday On duty
15 Monday Supper party. New spuds, pork and beans. Very nice too. Jam tarts
31 Wednesday Went up the river. Had a great time
AUGUST 1918
2 Friday Went home, had a good time
3 Saturday Empire in the evening. Jolly nice
4 Sunday Nelthorpe for tea
5 Monday Zepps
6 Tuesday Convoy 190
7 Wednesday Picnic up the river, very nice too. Pictures
8 Thursday Made china cabinet. Pay Day
9 Friday Evening off. Stayed in
21 Wednesday Tea party. Balderstone came
24 Saturday Tent burnt down
25 Sunday Very disgusted at having to scrub on Sunday. Cleaning
28 Wednesday Half day
SEPTEMBER 1918
1 Sunday Went to New York
2 Monday Had a ripping time. Arrived back 7.15
OCTOBER 1918
9 Wednesday Pay Day
11 Friday Went home. Fred killed
12 Saturday Day off
13 Sunday Half day. Went to Church. Had a lovely cup and saucer from Taffy Lewis
There are no further diary entries.
Fred was 26540 Frederick Samuel Allen 1/6 Bn Sherwood Foresters, age 29, who died on 10th October 1918. He is buried at Bellicourt British cemetery, Aisne, France.  His Army correspondence address was in the front of Grace's diary. His home address was Clifton, Nottingham.
In the diary entry for Thursday 15th November 'Passed the B—-z' probably refers to HMS Biarritz as Grace has a correspondence address for HMS Biarritz in her diary.