The Story of Claire Lloyd Birkin 1871–1934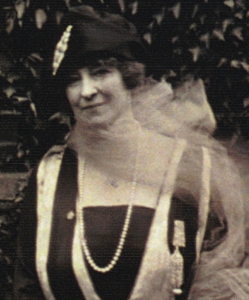 Claire Birkin was well known during her lifetime for performing outstanding work with the Red Cross. She was Commandant of the 94th Voluntary Aid Detachment and of Lamcote Auxiliary Hospital for Officers in the First World War. She was a staunch defender of Belgian refugees, raising significant amounts of money for them. After the war she became president of various voluntary organisations. However, her story is hidden behind a continuing fascination with the relationship between her daughter and the Prince of Wales. The celebrity status today of several Birkin descendants also serves to mask her achievements. Claire's story is significant for understanding women's responses to the outbreak of the First World War and their crucial role in managing its appalling consequences. Aspects of her life and war service, hidden for many years from the public domain, are discussed below.
Clara Lloyd Howe was born in New York City on 10th January 1871 (source: father's passport applications in 1881 and 1890). She was the daughter of Alexander Cummings Howe (born 1842) and Ada Howe (maiden name Webb). She was the older sister of Alexander Howe, born 1874; their father was an American money broker. Little is known of her childhood. Her father applied for passports for himself and family to travel to England in 1881 and again in 1890. She married Lieutenant Charles Birkin, an affluent son of 'lace king' Sir Thomas Isaac Birkin, on July 2nd 1892 in Kensington. Her parents had travelled to England beforehand, presumably for the wedding.The couple lived first in Nottingham then moved to Radcliffe on Trent where they resided for twenty years between 1912 and 1932. Local history books comment on her charming personality, beautiful singing voice, tireless philanthropic work and commitment to social causes. Her name appears as Clara on the 1880 U.S. Census, Marriage Register, 1901 Census and the England and Wales National Probate Calendar but she was always known as Claire.
The Birkin family had a long history of involvement with the military. Soon after her wedding Claire attended a military event in honour of the new couple. On August 20th 1892 a reception took place at the home of her father-in-law, Sir Thomas Birkin, for 'C' Company of the Robin Hood Rifles. The men marched out from Nottingham to his house, Ruddington Grange, some six miles away accompanied by a band playing 'lively tunes'. Following a 'substantial repast' in a large marquee on the lawn, Lt. Charles Birkin was presented with a pair of silver candlesticks by the Company. During the presentation, it was announced that Mrs Birkin's name had already been placed on the Roll of the Company and 'she would no doubt gain early promotion by being made a Daughter of the Regiment'. In response, Lt. Birkin thanked them 'for their kind and handsome present' and trusted that 'if he was ever promoted to a Captaincy he would have the honour of being made captain of the C Company' (Nottingham Evening Post, August 22nd 1892). Mrs Birkin then shook hands with the ninety Company men. Nobody present could have foreseen that twenty three years later Charles Birkin would be their Commanding Officer fighting alongside the 1st/7th Sherwood Foresters (Robin Hoods) on the Western Front and Claire would be organising aid for sick and wounded soldiers.
Despite his attachment to the Robin Hoods Charles Birkin was principally concerned with working for Birkin & Co, the family lace business. In 1901 the couple, now with two daughters, were living in The Park, a prestigious area of Nottingham. They had seven servants. Charles's profession is 'Lace Manufacturer' on the 1901 census. Ten years later and with two more children, the family were still at The Park; they moved to Lamcote House in Radcliffe on Trent around 1912. The luxuriant country property, built in the early nineteenth century, was the largest house in the village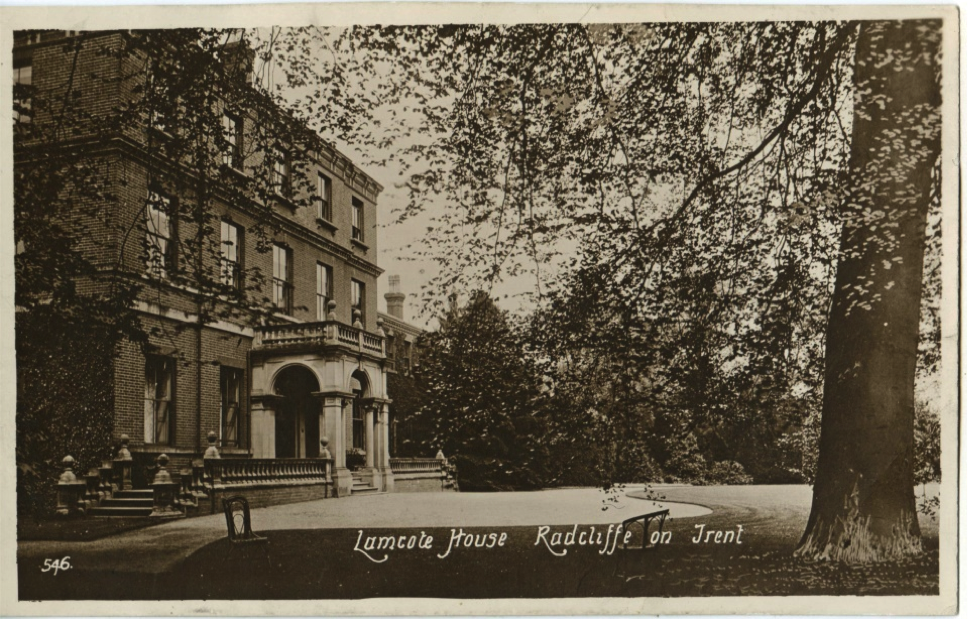 It was here that the Birkins enjoyed an upper class life style, combining working in the lace business with hunting, fishing, horse breeding, socialising, entertaining royalty and voluntary work. Mrs Charles Birkin, as she is always described in newspaper reports, was soon drawn into fund raising activities. The Annual General Meeting of the Midland Orphanage in Nottingham, 10th March 1913, for instance, reported that the 'excellent financial position of the orphanage' was largely due 'to the success attending a concert which was arranged by Mrs. C. Birkin, and realised £266 13s'.
First World War: working for the Red Cross
The International Red Cross Movement was set up in 1863 to provide neutral help to relieve suffering in times of war. The British Red Cross was created in 1870 as a branch of this movement to aid sick and wounded servicemen. It relied on a pool of volunteers; by 1907 local branches had been established all over the country. Voluntary Aid Detachments (VADs) were formed in each county with the aim of its members providing aid to territorial medical forces during war. A Detachment varied in size but typically consisted of a Commandant, Medical Officer, Quarter Master and twenty two female members. The group would meet at least once a month for training in first aid, nursing and hygiene. By July 1912 1,200 people had enrolled in detachments in Nottinghamshire; the county stood fourth in the country in terms of membership.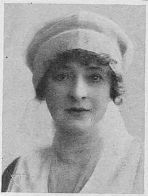 It is not known when Claire Birkin became involved with the Red Cross but immediately after she moved to the village the Birkins were busy organising lectures in the local school for the Notts. 94th Voluntary Aid Detachment, Radcliffe on Trent branch, of the British Red Cross Society. A letter dated November 6th 1912, sent to members and signed by Claire's daughter Freda, included the following paragraph:
The first lecture will be given by Dr Allaway on Monday, November 11th, in the Council Schools, punctually at 7.30 p.m. …In the first course there will be five lectures, of two hours each , and you are particularly requested to attend at least four out of the five (letter from a private collection held at the Imperial War Museum).
The twenty-three members of the Notts. 94th Detachment came from Radcliffe on Trent and neighbouring villages. Their names are as follows:
Susanna Addyman, Violet Bishop, Violet Birkin, Kathleen Boyle, Grace Durant, Olive Elnor, Mary Green, Norah Green, Aline Hales, Charlotte Haynes, Emma Haynes, Katherine Hickson, Marie Holmes, Constance Howard, Joyce Howitt, Philippa Howitt, Helena Leman, Louisa Long, Muriel Middlemass, Daisy Sharp, Lucy Sharp, Louisa Sherlock, Annie Smith. (Names in italics refer to eleven members who worked at Lamcote Auxiliary Hospital for Officers in Radcliffe between 1918 and 1919.)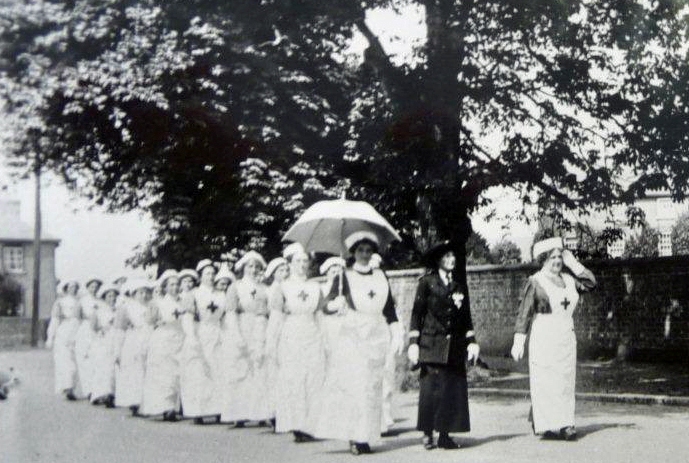 Mrs Birkin and the Notts. 94
th

 Detachment of the British Red Cross in Radcliffe on Trent, 1913
Image from the Cutler Collection (held at Radcliffe on Trent Parish Council Offices)
Other women from the wider Birkin family were involved with the Red Cross. Claire's sister in law, Ethel Lilian Birkin, who worked tirelessly for the Red Cross until her nineties, may have inspired them. She was one of the two honorary secretaries of the Nottingham branch. Following the outbreak of war, the secretaries began planning how to deal with the inevitable casualties. On August 8th, 1914 they put an appeal in the local paper:
It is expected of the Notts. Branch of the Red Cross to equip and take charge of 1,000 beds for the wounded. The executive are confident that they only have to appeal for the necessary help to have it supplied without hesitation. Will all those who have nursing experience and who are willing to act as nurses send in their names, addresses and nature of experience to a district secretary or to us?
The women realised new hospitals would be needed. Bayley Hospital, Derby Road, Nottingham was one of the first to open in October 1914 with Lilian Birkin as Matron and Commandant. Lilian went to the Western Front the following year and visited Belgian war hospitals at considerable risk to herself. She saw some very sad and terrible cases among the wounded in the hospital, for they had been brought thither direct from the firing line, most of the patients being Belgians and French. Bayley Hospital was one of fourteen Red Cross auxiliary hospitals that became established in Nottinghamshire. These hospitals were attached to central military hospitals and mainly treated less seriously wounded men who needed to convalesce. They tended to be staffed by female V.A.Ds (Voluntary Aid Detachment workers). Two of these new hospitals came under the charge of Birkin women. The Hon. Mrs Margaret Diana Birkin, sister-in-law of Charles Birkin, became Commandant at Arnot Hill, Daybrook. The hospital expanded from twenty to 150 beds and later became a training centre for staff. Claire Birkin became Commandant at Lamcote Auxiliary Hospital for Officers, opened in her home in 1918.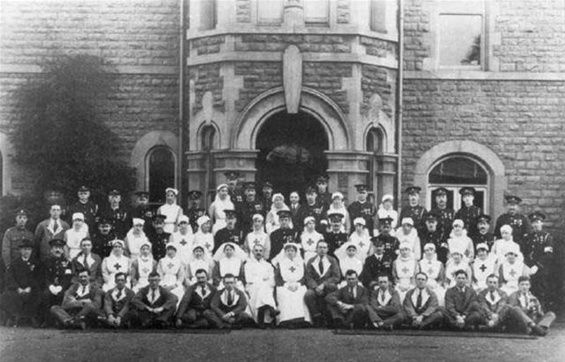 Arnot Hill Auxiliary Hospital, Commandant Hon. Mrs. Margaret Birkin
1914–1915: Fund raising for the Red Cross and other charities
The Birkin's lives were transformed by the First World War. Lt. Colonel Birkin raised the 1st/7th Battalion (Robin Hoods), The Sherwood Foresters, on August 5th 1914 and embarked for France in February 1915 at the age of fifty. He led his men into action as their Commanding Officer and was wounded in the head during the Battle of Hooge, July 1915. He returned to England with a fractured skull on a hospital ship in August. He suffered from the effects of concussion for at least a year and it was not until November 1916 that he was well enough to be transferred to the Reserves where he was employed by the War Office in an administrative capacity.
From the moment of Lilian Birkin's appeal in 1914, Claire became more involved with the Red Cross. She is listed as one of their district secretaries. Her work was diverse and included a considerable amount of fund raising.
In the autumn of 1915, while her husband was still suffering from his war injuries, she made an impassioned appeal in aid of the Comforts for Soldiers Fund:
Two meetings were held in the city yesterday for the purpose of organising the flag day which it has been decided to hold in aid of the Nottingham and Notts. Comforts for Soldiers Fund. The first was held at the Exchange Hall, and was attended exclusively by ladies, who were encouraged to do all they possibly could to ensure the success of the enterprise by a spirited appeal from Mrs. Charles W Birkin.
Mrs. Birkin urged that the object of such a collection it was intended to make on October 23rd, commended itself not only to those whose husbands, fathers and brothers had given up all the comforts and often luxuries of their homes to go out and endure every hardship and danger it was possible to imagine, but also those whose relations were not eligible, and who were saved the sad anxiety of having their nearest and dearest ones in the fighting line. She knew how much the men appreciated, not simply the contents of the parcel, but the fact that they were constantly in the thoughts of those at home. Mrs. Birkin concluded by observing that her husband (the commanding officer of the Robin Hoods) was so impressed with the necessity of doing all they could for the men at the front, and was so anxious that the fund should be a success, that he would give £250 now and a further £250 at any time later if it was required. Practically all present signified their intention of helping in the collection, by means of which it is hoped to raise at least £1,000, and if possible £1,500.
(Nottingham Evening Post, Saturday 9th October 1915)
Claire Birkin's fund raising carried on throughout the war. Her eclectic approach probably helped increase the overall amount she raised for war related causes. In 1916, for instance, she helped organise a lawn tennis and croquet tournament in The Park, Nottingham in aid of the French Red Cross. Shortly after, she organised a concert for disabled servicemen:
FOR DISABLED HEROES: FAMOUS ARTISTS PERFORM AT NOTTINGHAM MATINEE. Quite a galaxy of popular entertainers took part in the matinee performance organised by Mrs. Charles Birkin, and given this afternoon in the Nottingham Hippodrome on behalf of the fund for the Star and Garter home at- Richmond for soldiers and sailors disabled through the present war. Lady Churston, formerly a favourite with musical comedy patrons as Miss Denise Orme sung ballads with the grace and style and sweetness of tone which have always characterised her: and Mr. John Clarke, the gifted Nottingham tenor, sang the great aria from Pagliacci with impressively dramatic effect.
(Nottingham Evening Post, May 18th 1916)
Claire Birkin was president of the Belgian Red Cross committee in Nottingham and chair of the American Red Cross Society; her fund raising activities aided the different branches of the Red Cross.
1915-16: Supporting VAD members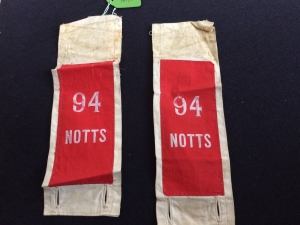 Armbands belonging to 94th V.A.D. member Grace Durant
From a private collection held at the Imperial War Museum
VAD members had to pass exams to receive their certificates in First Aid and home nursing. As Commandant of the Radcliffe on Trent branch, Claire Birkin had to ensure classes were run effectively and that her members became qualified to work in war hospitals. The letter below was written in the autumn of 1915 to member Grace Durant, who had recently taken a post at the 4th Northern General Hospital, Lincoln:
Dear Miss Durant,
Thank you so much for your letter. I was delighted you are so happy and like your work and I told the class about you last night and gave them your message. Mrs Smith is sending the cheque for your outfit today. Hoping you continue to be happy and it is splendid  to be able to do something for and help our poor wounded soldiers.
Yours faithfully,
Claire Birkin
Do come and see me when you get some leave.
Despite her various commitments Claire Birkin found the time to become a Red Cross Searcher. The Red Cross set up offices in London, Paris and Boulogne in late 1914 to trace wounded and missing servicemen. They began making enquiries at London hospitals in February 1915 for men whose families had reported them missing and no longer knew how to contact them. As the war continued a more efficient service for tracing missing servicemen abroad and at home was developed. Over a thousand voluntary searchers were employed in the UK to check names from the 'missing' list against hospital admissions. Mrs C. Birkin is recorded as being a Red Cross searcher from November 1916 onwards. Her neighbour and family friend in Radcliffe on Trent, Gerard Septimus Dowson, also worked as a searcher. He was the son of Benjamin and Alice Dowson, a politically engaged Nottingham family; his mother Alice was secretary of the Nottingham Branch of the Women's Suffrage Society from 1894-1896.
1917: Voluntary work intensifies
The Battle of the Somme had created an unprecedented number of casualties and the war raged on in 1917. Money was desperately needed for the war effort and fund raising efforts increased. A huge Patriotic Fair was opened by the Duke of Portland in Nottingham market square on Whit Monday with the aim of raising £20,000 for the city's war charities including the War Hospital, Supply Depots in the city and county, the Soldiers' Clothing Depot in Bridlesmith-gate, the Comforts for Troops and Prisoners of War Fund, the Red Cross, St John's ambulance and the proposed Lord Roberts Memorial Workshop for disabled soldiers and sailors..
Women across the city and surrounding villages were called upon to help run the event. Claire Birkin contributed by organising a Gentleman's and Millinery hat stall staffed by herself, two older daughters and four other helpers. Gerard Dowson's wife Hilda, who was also a friend of Claire's, helped on a 'Miscellaneous' stall with other women from Radcliffe on Trent. Hilda was a member of the National Union of Women's Suffrage Societies and Church League for Women's Suffrage. The NUWSS suspended its political activities when war was declared; many members agreed to help with the war effort even if they were opposed to the war in principle. The Fair exceeded its target and had raised over £31,000 by the next day.
1917: Continuing support for the Detachment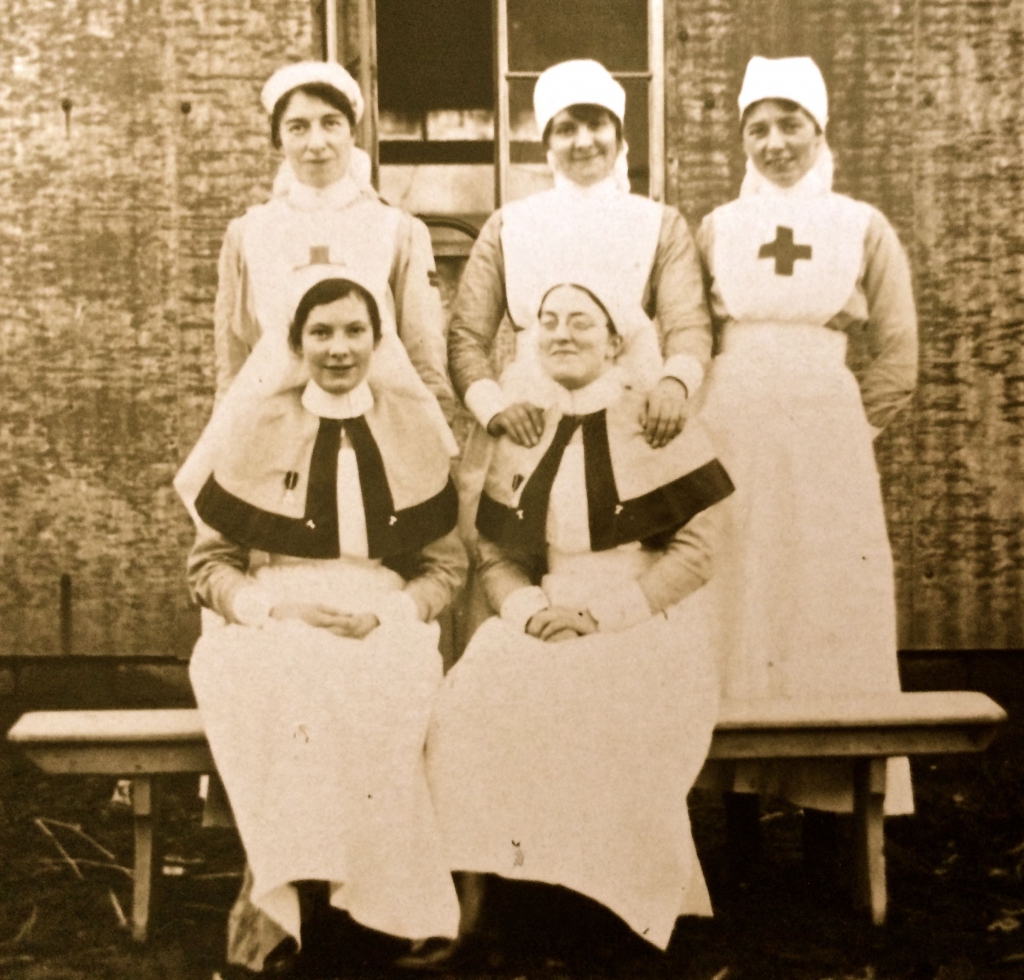 Grace Durant (standing, far right) and St David's Hospital staff, Malta
Photo from a private collection held at the Imperial War Museum
Claire's concern for the welfare of the 94th Detachment members once they were placed in war hospitals is illustrated by a private letter she sent to Grace Durant, a nurse from Radcliffe on Trent who was by now serving in Malta. Grace had attended the Red Cross courses organised by the Birkin family in 1912. She soon became a V.A.D. and embarked for Malta in 1916 after serving in the 4th Northern General Hospital, Lincoln. She was dangerously ill there in September 1917.
Claire wrote to her after word had got back to the village she was recovering.
Dear Miss Durant,
I am so relieved to hear that you are better and I was so sorry for your mother. She was so dreadfully upset and unhappy about you and one felt so helpless and you so far away. But she is greatly comforted now by the charming letters she has received about you from the matrons of your own hospital and the one you are now in. They praised you very much for your work and your patience during your illness and it makes me very proud! In that one of my detachment should have made so many friends and earned so much approval from those about her. I am wondering now if you will get leave to return home and get quieter living – you can imagine the joy it would be to your mother. Nearly all the members of the detachment are working now here, certainly all those not over age. But no more classes and consequently no terrifying exams! Everyone nursing here seems very busy working at various things and our boys long for the war to cease. But I fear it will not this year. Though all last summer people were so hopeful it was bound to end before Xmas. Do let me hear from you sometime and I am so pleased you are feeling well again.
Yours kindly,
Claire Birkin
(letter from a private collection held at the Imperial War Museum)
1918 – 1919: Lamcote Auxiliary Hospital for Officers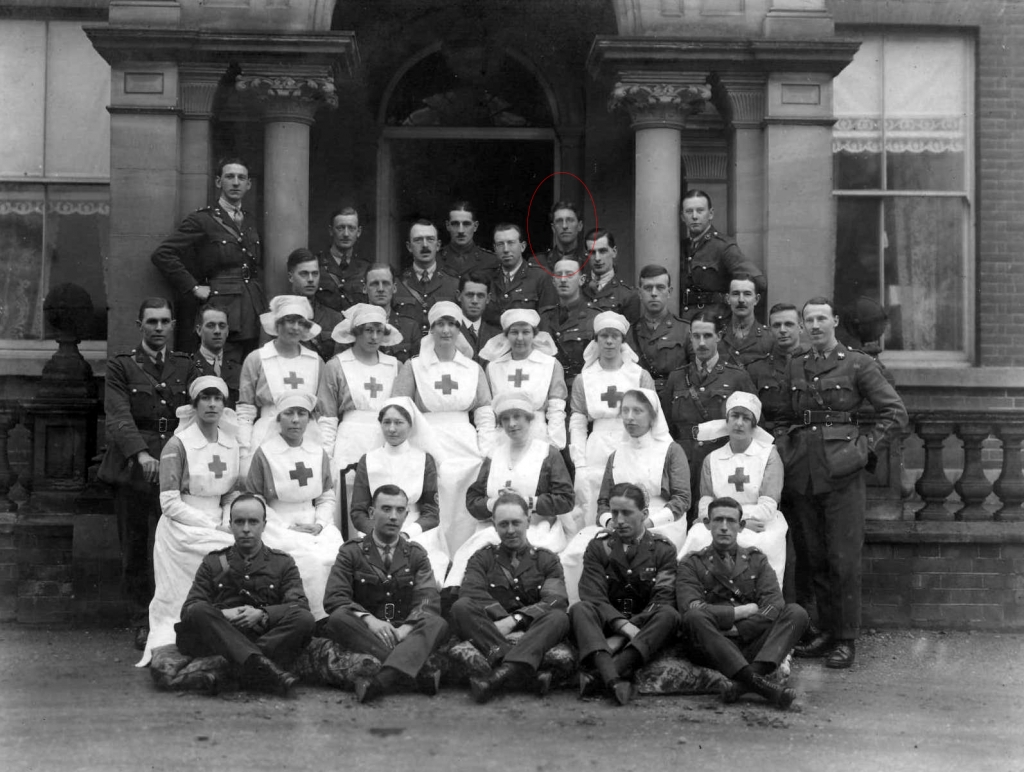 Patients and staff outside Lamcote Auxiliary Hospital for Officers in 1918/19. The staff on the photo have not been identified but it is known that the following women from Notts. 94 V.A.D. worked at the hospital: 

Violet Mary Bishop

, Violet Blew-Jones (Birkin),  Alice Holt Hales, Katherine Doris Hickson, Joyce Howitt, Philippa Constance Howitt, Helena Doris Leman, Louisa Mary Long, Muriel May Middlemass,

Daisy Carolina Sharp

,

Lucy Elizabeth Sharp

. 

Photograph courtesy of descendants of patient Lt. Reginald Tivey.
Claire Birkin converted her home into a war hospital in April 1918. Lamcote Auxiliary Hospital opened with twenty beds for officers and stayed in use until April 1919. Some of the V.A.D. staff came from the village: they included Violet Bishop, Olive Elnor and sisters Daisy and Lucy Sharp. Violet's brother John was in the Robin Hoods and Olive was the daughter of a neighbouring farmer. Training took place at the new hospital where Claire Birkin was Commandant. This role put her in overall charge, although she was not responsible for medical matters and food supplies.
Claire Birkin was keen to ensure that her patients were not confined to hospital. She organised several theatre trips to Nottingham for patients who were able to make the journey, including one to the revue below:
NOTTINGHAM WOUNDED SEE REVUE. 3,400 PRESENT AT "THE PASSING SHOW." The enormous audience which "The Show 1918 " is drawing nightly at the Nottingham Hippodrome this week were paralleled this afternoon by the great gathering of wounded soldiers assembled, by invitation, to witness a special performance of the revue, the entire company, from Miss Ella Retford, the star, to the choristers, giving their service for the occasion. There were some 3,400 'boys in blue' present, with many nurses and V.A.D. workers, and the auditorium presented a wonderful spectacle. In all 29 hospitals were represented, including each of the local institutions and in addition Southwell, Welbeck, Eastwood, Ilkeston, South Wingfield, Eaton, Radcliffe, and Lamcote House (officers)…
(From the Nottingham Evening Post, 19th September 1918).
Claire's daughter Violet began working as a V.A.D. in 1917 and moved from the Pavilion Hospital in West Bridgford to Lamcote in April 1918. She met her future husband, Lt. Douglas Blew Jones there while he was convalescing; they married in December 1918. A guard of honour formed of patients and nurses lined the approach to the nearby village church where the couple were married.
Voluntary work after the War
The Red Cross in Nottingham celebrated the end of the war on March 29th, 1919. There was a 'great gathering of workers' in Albert Hall to 'celebrate the happy termination of the work which they have so nobly performed during the war' (Nottingham Evening Post, March 29th, 1919). Claire Birkin and her sister-in-law, the Hon. Mrs Birkin, whose son Thomas was killed in action in 1917, were among those gracing the event. Speeches were given by the Duke of Portland and Captain J.A.H. Green and were followed by a concert.
Lamcote Auxiliary Hospital closed in April 1919 and the Birkins regained sole use of their home. Lt. Colonel Birkin bought Lamcote Farm from Thomas Elnor in 1920 and spent the following years building up the herd and developing a dairy business. Mrs Birkin continued to expand her role in local voluntary organisations. She became president of Radcliffe Women's Institute in 1920, president of the Nottinghamshire Cancer Campaign and president of the City of Nottingham Women's Conservative Association. She was also chair of the Women's Advisory Committee for Notts. and the Monday Afternoon Club, a political organisation for women. She became a popular public speaker. Her voluntary work during the war was recognised in her investiture on July 31st 1924 as a Lady of Grace of The Grand Priory of the Order of the Hospital of St. John of Jerusalem in England. She was decorated with the award of the Médaille de la Reconnaissance Française, the award of the Médaille de la Reine Elisabeth of Belgium and the American Red Cross Medal for her war service. Her sister-in-law, the Hon. Mrs Margaret Diana Birkin received the Order of the Red Cross. Lilian Birkin was awarded an O.B.E., the Médaille de la Reine Elisabeth of Belgium and the 1000th Mons Red Cross Medal.
Claire Birkin did not neglect voluntary work in Radcliffe on Trent after the war was over. Some of her activities centred on church matters. On July 20th 1920, she hosted a summer fete and flower show at Lamcote House in aid of a heating system for St Mary's Church, Radcliffe on Trent. Tea was provided at Lamcote for two hundred people on the day. In 1921 she was elected as a member of the diocesan conference during the Ruridecanal Conference held in Bingham. She was known to have a good singing voice; following the resignation of the church organist in 1925, she promised £10 per annum to the church restoration fund if a capable organist and choirmaster were appointed.
Freda Dudley Ward and the Prince of Wales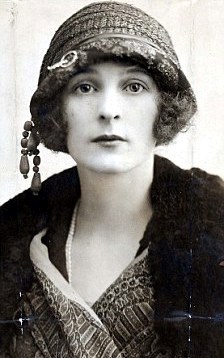 Winifred May Birkin (Freda Dudley Ward)
Claire Birkin's leading role in voluntary organisations during the 1920s took place alongside an affair between her married daughter Freda Dudley Ward and the Prince of Wales. Their relationship began in 1918. H.R.H. was a frequent visitor to Radcliffe on Trent from the end of the war to the early 1930s, often staying under guard at Lamcote House and Brick House, home of Freda's married sister Vera Seely. He hunted with the Belvoir Hunt (Duke of Rutland's Hounds) and the Quorn, was an honorary member of Radcliffe on Trent golf club and participated in various social occasions in the area. The relationship was handled discreetly by Freda although it was well known among the aristocracy and politicians. Winston Churchill commented acerbically; "It was quite pathetic to see the prince with Freda. His love is so obvious and undisguisable." (cited in Motion, A. (2015) 17 Carnations: the Windsors, the Nazis and the Cover Up (London: Michael O'Mara Books)).
Radcliffe residents were well aware of the Prince of Wales's visits to the village. It has been said that he bought cigarettes in the Red Lion Inn, played the piano in 'The Cliffe Inn', gave half a crown to people opening gates for him when on horseback and on one occasion delivered Christmas parcels from the Birkins to less fortunate villagers (Lowe, J. and Priestland, P. (1999) Radcliffe Remembers Reminiscences collected to celebrate the Millennium Blidworth: Ashbracken.)
 Claire Birkin and wedding guest, H.R.H. Edward, Prince of Wales
Courtesy of Radcliffe on Trent Local History Society.
The Prince of Wales was a 'surprise' guest in 1925 at the marriage of Freda's sister Vera to Frank James Seely (known as Jim) at St Mary's Church, Nottingham. The bride was given away by her mother Claire Birkin. Colonel Birkin was indisposed. The description of the service below illustrates Claire's propensity to take a leading role, the continuing close relationship between the Birkin family and the military and their more recent association with the Royal Family:
"PRINCE AT WEDDING "SURPRISE" GUEST AT MARRIAGE OF MRS. DUDLEY WARD'S SISTER. The Prince of Wales paid a surprise visit to Nottingham yesterday, for the purpose of attending the wedding of Mr James Seely, eldest son of Lt. Colonel Seely, of Ramsdale Park, Nottingham and Miss Vera Birkin, third daughter of Col. Charles Birkin and sister of the Hon. Mrs. Dudley Ward."
(From the Portsmouth Evening News, 6th February 1925)
"The church was beautifully decorated. The bride wore a gown of ivory velvet embroidered with pearls and having a long velvet train lined with Nottingham lace. There were twelve bridesmaids … Their dresses were of pale yellow velvet, lined with rich material in jade green and finished with a jewelled girdle. They also wore jewelled lace caps and paste shoe buckles, a gift from the bridegroom. Colonel Birkin, the bride's father, was indisposed, and could not attend. The bride was accordingly accompanied to the altar by her brother, Mr. Charles Birkin, and was given away by her mother. Col. F. K. acted as his son's best man. The service was fully choral. The bridal party were met by the choir at the west door of the church, having previously been received by an escort of the South Notts. Hussars Yeomanry. The officiating clergy were the Bishop of Winchester, the Right Rev. Dr. Woods, relative of the Seely family marriage, and the Rev. H. I. Havman, of Thornhill, Yorkshire. An anthem was sung during the signing of the register, and at the same time sprigs of white heather were distributed. As the wedding party left, Mendelssohn's Wedding March was played. A reception was held at Lamcote House. The gifts included one from the Prince of Wales to the bride, this taking the form of a sapphire and diamond brooch, whilst Prince George sent a blue enamelled gold clock. There were many representative gifts, including a silver salver from the officers of "The Hoods," the battalion which Colonel Birkin commanded in France, and several gifts from Conservative associations".
(Yorkshire Post and Leeds Intelligencer, Friday 6th February, 1925)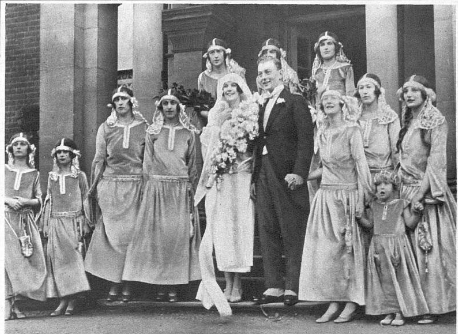 The marriage of Vera Birkin and James Seely
Contact between H.R.H. and Freda ended abruptly in the early 1930s soon after he began his relationship with Wallis Simpson.
Claire Birkin: Funeral and Will, 1934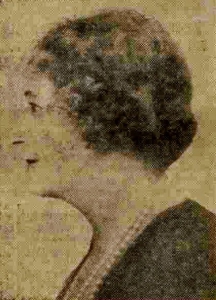 Claire Birkin became unwell around the time of her husband's death in 1932. She moved from Lamcote House to West Manor, Ruddington where she travelled from that address to America for two weeks in 1933 with her nurse, Janet Kinghorn. The two women left Liverpool on June 3rd 1933 and sailed on S.S. Georgic. Claire died from complications assosciated with her gall bladder at Ruddington on September 27th 1934; her children were with her. The funeral, held at Wilford Hill, Nottinghamshire, was a grand occasion with four presiding clergy, members of many notable families in attendance and wreaths sent by the Prince of Wales and Prince George (later King George VI). Prince Edward sent pink roses and a formal card inscribed 'In remembrance, Edward P'. Prince George sent a wreath of pink carnations, roses, anemones, orchids and a warmer message: 'With my sincerest sympathy, George'.
(Nottingham Evening Post, October 1st and December 19th, 1934). Her obituary in the Nottingham Evening Post began:
The death of Mrs Birkin leaves a gap in the social, political and philanthropic life of the city and district which will be difficult to fill. For many years she has been the acknowledged leader in more good causes than it is easy to recall and no effort was too great for her to make in furtherance of any movement for the amelioration of the lot of those less fortunate than herself.
She left an estate with a gross value of around £28,000, a much smaller sum than the £200,000 left by her husband. She bequeathed £200 to Nurse Janet Kinghorn, £100 each to her butler Frederick Smith and housekeeper Mrs Barlow, £25 to her chauffeur Clifford Smith, if still in her service, £10 for Ronald Wroe, son of her late chauffeur and, apart from a few specific bequests and small legacies, the residue to her son Charles Lloyd Birkin.
Claire Birkin's death began a process in which she came to be defined in relation to other members of her family. Newspapers from outside Nottinghamshire announced her death usually by referring to the 'Death of Mrs Dudley Ward's mother'. The New York Times chose the headline 'Widow of prominent race horse owner dies' for its coverage. This process, which has been repeated over many years, belittles her many lifetime achievements, obscures the part she played in the First World War and conceals the vital importance of women's work with the Red Cross.
Author: Rosemary Collins, December 2016
Descendants of Claire Birkin
Children: Winifred (Freda) May Birkin, (1894-1983), Violet Hilda Margaret Birkin (1899-1953), Vera Lilian Margaret Birkin (1903-1970), Charles Lloyd Birkin (1907-1985)