Battle of the Somme August 1916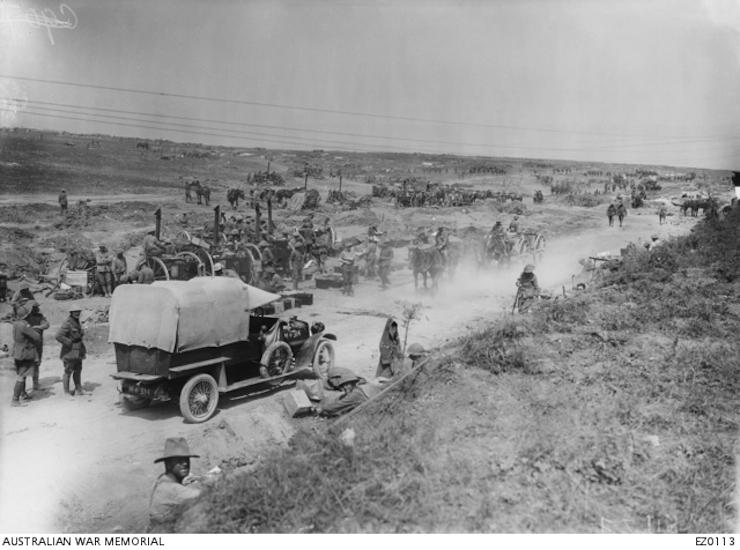 Australians behind the lines, Sausage Valley near Pozières
The second half of July and the month of August on the Somme were dominated by conflicts involving Australians at Fromelles and Pozières and conflicts involving the British at High Wood and Delville Wood, where they experienced bloody attacks and counter attacks.
Battle of Pozières, Mouquet Farm,
July 23rd – September 26th 1916
The Battle of Pozières was primarily an Australian conflict which cost them 23,000 casualties. Pozières is situated on the Albert-Bapaume road. Having seized the village on July 23rd to gain control of the uplands around Thiepval, the ANZACS were subjected to violent counter attacks and shell fire by determined German defences which lasted for weeks. By August they had moved up the ridge where they encountered brutal fighting at the high point of Mouquet Farm, which fell finally on September 26th.
"Pozieres, a small village in the Somme valley in France, was the scene of bitter and costly fighting for the 1st, 2nd and 4th Australian Divisions in mid 1916. The village was captured initially by the 1st Division on 23 July 1916. The division clung to its gains despite almost continuous artillery fire and repeated German counter-attacks but suffered heavily. By the time it was relieved on 27 July it had suffered 5,285 casualties. The 2nd Division took over from the 1st and mounted two further attacks – the first, on 29 July, was a costly failure; the second, on 2 August, resulted in the seizure of further German positions beyond the village. Again, the Australians suffered heavily from retaliatory bombardments. They were relieved on 6 August, having suffered 6,848 casualties. The 4th Division was next into the line at Pozieres. It too endured a massive artillery bombardment, and defeated a German counter-attack on 7 August; this was the last attempt by the Germans to retake Pozieres". (source https://www.awm.gov.au/military-event/E72/)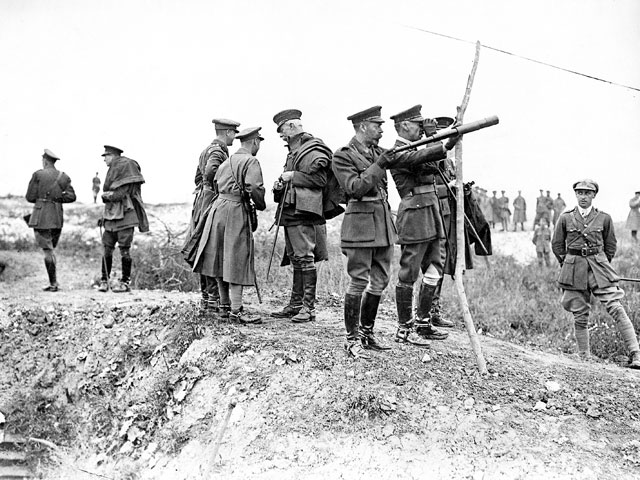 King George V, with telescope, and the Prince of Wales standing on captured ground behind the lines
Battle of Pozières, August 10th 1916 (photo by official British photographer Lieutenant Ernest Brooks)
August 5th 1916, Mouquet Farm. Death of Private 688 Charles Paine, 24th Infantry Battalion, 6th (Victoria) Brigade, 2nd Division, I ANZAC Corps, Australian Imperial Force, former printer from Radcliffe who emigrated to Australia immediately before the war to work as a farmer. Killed in action, age 21. The 2nd Division of 1 ANZAC Corps were in position east of Pozières and captured the original German trenches at Pozières Mill on 4th August; it is  now the site of the Pozières Australian Memorial.
From the War Diaries of the 6th Infantry Brigade, Australian Imperial Force, August 1916 (www.awm.gov.au):
Aug 5th, Pozières. Fine weather. Germans counter-attacked our new position along whole front at 5 am. Attack repulsed with heavy losses. New lines held by 22nd & 23rd Bns subjected to severe bombardment by large calibre H.E. 3 machine guns and about 150 prisoners captured during 4/5 Aug. Work of consolidating proceeded but men much shaken. 5th Aust Inf Bde on the right of divisional front relieved by 12th Aust Inf Bde. 7th Aust Inf Bde on our right and 36th Bde on left. 15th Bn, 4th Bde attached to Bde and moved to relieve 22nd Bn whose place in front line was taken over by 24th Bn. Relief completed at 5 am.
Casualties 5.8.16:- Killed: 5 Officers 57 Other Ranks
Wounded: 12 Officers 373 Other Ranks
Missing: 2 Officers 49 Other Ranks
Eye witness accounts of the death of Charles Paine on August 5th were collected later from fellow servicemen by the Australian Red Cross.
"I saw Paine killed by shrapnel; we were coming out of Pozières Ridge about 1 o'clock in the afternoon. I was his Corporal. I went to his assistance but he died before we could get his equipment off. He did some excellent work as a voluntary stretcher bearer and was recommended for a medal. We were afterwards relieved by the 4th Div." (Informant: Cpl. Harry Coleman, 3484, 24th, A.I.F. 3rd London General Hospital, Wandsworth)
"Casualty was a friend of mine. He was 5ft 7in called "Charlie". Casualty was being relieved from the support trenches at Pozières on the 5th August when a Whizzbang hit him, wounding him in several parts of the body. I put a blanket round his shoulder. I then went to fix up another man. He was wounded by the same shell. I had hardly finished bandaging the 2nd man when casualty died. He was not buried." (Informant: D. Pys. Ho. 690, 23rd Btn.).
"His body had to be left there as we were being relieved. He was in C Coy." (Informant: Pte. G.A.Scattergood, 944, C.Coy. Etaples 2.12.16) (Source: Australian Red Cross Wounded and Missing Lists, www.awm.gov.au)
August 8th 1916, Boulogne. Death of Sergeant 479 John Ould, 24th Infantry Battalion, 6th (Victoria) Brigade, 2nd Division, I ANZAC Corps, Australian Imperial Force, former printer from Radcliffe who emigrated to Australia with Charles Paine, above. He died, age 20, in No.13 General Hospital, Boulogne. He was one of the 373 men from the 2nd Division who were wounded on August 5th at Pozières, and was evacuated from 3rd Casualty Clearing Station at Puchevillers to Boulogne. He arrived at the hospital on August 7th and died the following day. "He had gunshot wounds with compound fracture of femur, which then became infected" (source: Australian Red Cross Wounded and Missing Lists).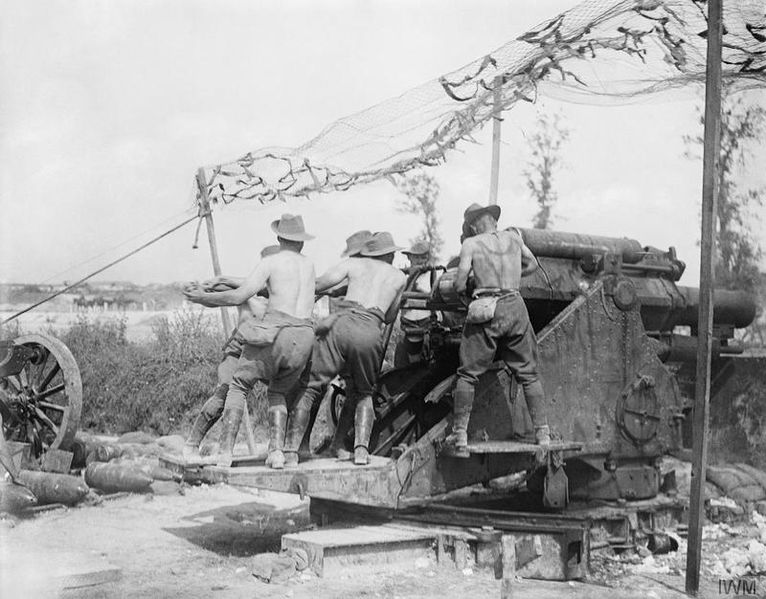 Australian gun crew serving a 9.2 inch howitzer, Fricourt, Somme, August 1916.
Image no. Q4079 by official British photographer Lieutenant John Warwick Brooke, courtesy of Imperial War Museum.
Other deaths
August 28th, Death of Sapper 3366 Harold Pell, 1st Life Guards, 3rd Cavalry Division, from Holme Pierrepont, Notts. The 3rd Cavalry Division were not actively involved in the conflict on the Somme, remaining close behind the lines with their horses while waiting for the break through that never came. However, some men were deployed as infantry, attached to regiments in the trenches. Harold Pell was missing in action on August 28th. A letter to his family from the War Graves Registration department of the War Office in 1919 said 'I beg to say that Trooper H.W. Pell is stated to be buried at a point South East of Thiepval, which is North North East of Albert. It is regretted that in spite of a thorough and methodical re-search of this area made by Working Parties specifically detailed for this purpose, no trace of the grave can be found.' Harold Pell might have been killed at conflicts either at Delville Wood or Guillemont, which were taking place at this time and correspond to the map reference given.