WILLIAM WOODWARD 1868–1934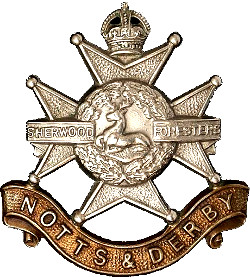 Born 1868 in Radcliffe on Trent
Baptised 21st March 1869 St Mary's Church, Radcliffe on Trent
Married Ann Best on 4th April 1898 at Nottingham Registry Office
Children: Florry born 1889, Beatrice Ellen born 1898, Harold William born 12th June 1904, and Lily E. born 12th July 1911.
Died 1934 in Nottingham, age 68
1871 Census
Age 3, living on Radcliffe Hill, Radcliffe on Trent with father Isaac 46, labourer, mother Ann 44, dressmaker, sister Ruth 19, lace worker, brother Samuel 10, farm servant, sisters Emily 8, and Lilie 9 months.
1881 Census
Age thirteen, a scholar living with his widowed mother Mary Ann, dressmaker, and sister Lilie Mary in the house of James and Louisa Brewster and family at 164 Long Hedge lane, Sneinton, Nottingham. Louisa was William's sister. His father had died in 1878.
1891 Census
A soldier serving in South Africa.
1901 Census
Still in the army and serving in South Africa in the second Boer War, having also served in Egypt and India in the 1890s. His wife, Ann, a cotton weaver, was living with her daughters Florence, and Beatrice Ellen, two, in the household of her widowed mother Charlotte on Urban Road, Carlton.
1911 Census
Age forty-two a general labourer for the Urban District Council, having left the Army in 1903 after sixteen years of service. He was living at 6 Bridge Street, Long Eaton, Derbyshire with wife Ann, daughters Florry, Beatrice Ellen and son Harold William, six. Ann's mother Charlotte Best was living with them.
Military Service before 1914
Rank: Private
Service Number: 2699 (Derbyshire Regiment), 2613 (East Yorkshire Regiment)
Military Unit: East Yorkshire Regiment, previously 4th Battalion, Derbyshire Regiment
Theatre of War: Second Boer War, South Africa, 1900-02
Also served in Egypt (East Yorks) and India (East Yorks)
Attested 15th November 1886 in Nottingham, age 18 years 7 months, trade: hosiery, height 5ft 4¼ins, chest 32ins, weight 113lbs, complexion fresh, eyes grey, hair light brown, religion Church of England, address 44 Hooton Street, Sneinton Elements, Nottingham.
15.11.1886: Private 2699, 4th Battalion, Derbyshire Regiment
Second attestation in Leicester 28th March 1887; Private 2613 East Yorkshire Regiment. He states that he has previously served in the 4th Battalion Derbyshire Regiment. Height 5ft 5¼ins, weight 116lbs, chest 33¼ ins, eyes blue, hair fair.
Home (Depot) 29.3.1887 to 31.5.1888
1.4.1887: Joined East Yorkshire Regiment at Beverley, Yorkshire
South Africa 1.1.1889 to 5.5.1893
1.1.1889: Posted 1st Battalion, South Africa, Private
13.1.1890: Appointed Lance Corporal, 1st Battalion
17.5.1890: Reverted to Private
23.6.1891: G.C. (Good Conduct) pay at 1d
21.1.1892: Appointed Lance Corporal
2.4.1892: Passed class of instruction for promotion to Corporal
8.8.1892: Promoted Corporal
Permitted to extend his Army service to complete 10 years with the Colours
21.1.1893: Corporal
6.5.1893 to 25.11.95 Egypt
15.7.1893: Reverted to Private at own request
In addition to his basic pay William received pay for good conduct (G.C.):
16.7.1893 G.C. pay at 2d; 3.1.1894 G.C. pay at 1d; 3.7.1894 G.C. pay at 2d; 26.11.1894 G.C. pay at 1d; 26.5.1895 G.C. pay at 2d restored
India 26.11.1895 to 7.4.1897
Home 8.4.1897 to 13.3.1900
10.4.1897: Transferred to Reserve
29.3.1899: Re-engaged for 4 years, Sec. D
5.3.1900: Recalled to service, Private
South Africa 14.3.1900 to 25.6.1902
Home 26.6.02 to 11.1.1903
1.7.1902: Demobilised; South African War Gratuity issued: £6.10 shillings
12.1.03: Re-transferred to Reserve
28.3.03: Discharged: termination of engagement; service in Reserve not allowed to reckon towards G.C. pay: 2 years 329 days. Service not allowed to reckon towards pension: 76 days
Military History sheet:
Total service 16 years
Certificates of education: 4th class 1.9.1887; 3rd class; 2nd class 17.6.1892
Character: Good
Medals Awarded: (Boer War): Queen's South Africa medal, (Wittenberg, Cape Colony); King's South Africa medal 1901, 02.
Military Service 1914-19
Rank: Private
Service Number: 4255 (Sherwood Foresters), 702 (Royal Defence Corps)
Military Unit: 451st Protection Company, Royal Defence Corps, previously 5th Battalion, The Sherwood Foresters
Theatre of War: Served in the U.K. and therefore did not enter a theatre of war or receive WWI campaign medals
31.3.15: Attested at Derby and embodied, age 46, Private 4255, The Sherwood Foresters. Terms of service 4 years
Height 5 ft 7 ins, weight 143 lbs, chest 35 ins. Trade gas fitter
29.4.16: Transferred to 101 Protection Company, Private 702, Royal Defence Corps
13.11.16: Transferred to 149 Protection Coy
11.2.17: Transferred to 115 Protection Coy
29.9.17: Northolt. Absent off pass from 9.30 am to 11.10 am. 10 days confined to barracks
1.12.17: Transferred to 114 Protection Company
9.4.18: Posted 451 Protection Coy (Irish Command)
28.6.18: Medical Board: classified B2
19.8.18: From the 'Particulars of soldier's family form': wife Mrs Ann Woodward, 92 Bridge Street, Long Eaton
16.3.19: Demobilised
Home 31.3.15-16.3.19, service 3 years 349 days.
Other information
The Royal Defence Corps  formed in March 1916  was made up of soldiers who were too old or unfit to be sent on active service overseas. Their role was to provide security by guarding strategically important places such as ports, railway yards and bridges as well as prisoner of war camps.
1921 Census
Address: Long Eaton
Employment: Scavenger, Long Eaton Urban Council
Household: wife Ann, daughter Beatrice, lace worker, wire spring machinist at Leslie Marshall, Lace Web Co., upholsters, son Harold, messenger, Midland Railway Co. Chilwell, granddaughter Lily.
See below for further details of his military service prior to WWI:
Reasons for inclusion on Radcliffe on Trent Roll of Honour
Born and lived in Radcliffe on Trent