WILLIAM LISLE ROCKLEY 1896–1917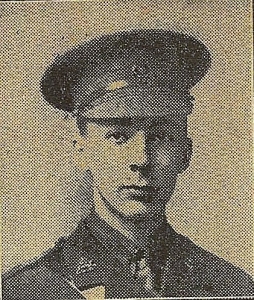 Born: 7th May 1896 in New York, U.S.A.
Baptised 28th June 1897, All Saints Church, Nottingham
Died: Vierstraat Area, Belgium, on October 10th 1917 (according to his regiment's war diary, Medal Cards, UK Army Registers of Soldiers' Effects). The date of October 11th 1917 (date of death according to the telegram received by his parents, obituary, Tyne Cot Memorial and plaque in Rockley Park, Radcliffe on Trent) has been crossed out on some military records held at the National Archives, Kew, and replaced with October 10th.
Commemorated on Tyne Cot Memorial as William Lisle Rockley M.C.
Commemorated on Mapperley War Memorial, Woodthorpe Drive and Plains Road, Nottingham as Rockley, L.W.
Commemorated on University College, Nottingham Officer Training Corps War Memorial as William L. Rockley
Commemorated at Rockley Memorial Park, Radcliffe on Trent as William Lisle Rockley, M.C. 10th York and Lancaster Regt.
Commemorated on Grosvenor School War Memorial, Nottingham as Rockley, W. L.
William Lisle Rockley was born in the U.S.A. (listed as Lisle William Rockley on U.S.A. birth records). He never lived in Radcliffe on Trent but his father was born and brought up in the village where he was still living in 1891 at the age of thirty-one.
1901 Census
The Rockley family returned to England from the U.S.A. in the summer of 1896. In 1901 William, age 4, was living with his father Lisle 41, manager of a bill posting company, mother Margaret Lizzie 31, sister Janet Letitia 3, and two servants: Evelyn Lamb 35, and Annie Bow 20. They were living at 13, All Saints Street, Nottingham.
On reaching school age, William was educated at Grosvenor School, Waterloo Crescent, Nottingham and Waverley School, Nottingham. He attended Gresham's School, Holt, Norfolk from January 1906 to August 1906.
1911 Census
Age fourteen, a boarder at Laleham School, Lower Northdown Road, Margate, Kent (Lisle W. on school register). His parents were still in Nottingham living in Cyprus Road. His father was a company director of a bill posting company.
After leaving school, he completed his education in Paris, July 1914.
Military Service
Rank: 2nd Lieutenant at commencement of service. Promoted temporary Lieutenant, seniority date 18.2.17
Military Unit: 6th Battalion, York and Lancaster Regiment, then 10th Battalion, York and Lancaster Regiment, 63rd Brigade, 37th Division
Theatres of War: Gallipoli, then France and Flanders (date of entry to France: February 1917)
William joined the University College Nottingham Officer Training Corps. He received his commission in the York and Lancaster Regiment in December 1914. He fought at Gallipoli with the 6th Battalion, York and Lancaster Regiment. They embarked on 3.7.15, landing at Sulva Bay in August. The battalion were involved in various actions including the Battle of Scimitar Hill and attack on Hill 60. At some point he was wounded. He was awarded an M.C. for conspicuous gallantry at Gallipoli.
20.12.15: He was evacuated from Gallipoli
23.12.15: Kephalos, admitted to hospital with impetigo
8.1.16: Disembarked Malta from the Gloucester Castle, admitted to Hamrun military hospital with septic eczema. The Medical Board in Malta reported on 28.1.16. that:  He went to Suvla in September. At the end of November first noticed spots on neck and face. On December 22nd went to hospital at Imbros with boils on legs, arms and face. On December 25th he had a rigor and temperature of 104 degrees. Temperature was raised in the evenings to about 100 degrees till beginning of January. Admitted Hamrun hospital January 8th. On admission general condition thin and weak. Boils had healed except on the face. Glands in right groin were enlarged and he was slightly jaundiced. Present condition: is anaemic and much dehydrated.
5.2.16: To England from Malta. Embarked on hospital ship Formosa for Naples and from there to England on hospital ship Acquitania. Medical records states he was unfit for service for three months.
18.2.16: Arrived in Southampton
22.2.16: Medical board at 3rd S.G. Hospital, Oxford, reported him unfit for general service for six weeks, to be at home one month, light duties one month.
20.3.16: Medical board Nottingham reported: this officer has improved but has not yet recovered his strength to be able to do any duty. He is very easily fatigued.
17.4.16: Medical board reported he was at his home in England suffering from scarlet fever: he is now peeling which is the worst time for carrying infection
18.5.16: Medical board reported out of quarantine for scarlet fever
22.6.16: Joined 11th Battalion, Yorks and Lancaster Regiment
23.6.16: Reported for duty at Rugeley Camp, Cannock Chase
22.7.16: Medical Board at Rugeley Camp reported that he has improved and is gaining strength slowly
28.8.16: Medical Board in Newcastle on Tyne reported he had been granted leave since 22.2.16 for catarhal jaundice caused by insanitary conditions while on active service and except for occasional attacks of dysentery he's in good physical condition. There is no jaundice and his appetite is in good order. He is fit for duty now.
Military Cross
Gazette date 21.1.1916. The citation reads 'For conspicuous gallantry and ability in the Gallipoli peninsula. He made two valuable reconnaissances of the enemy's positions and working parties and sited a work under heavy fire. The latter operation was one of great risk and difficulty and he showed great coolness and determination.'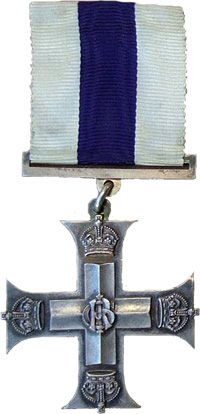 William was in Gallipoli in the autumn of 1915 and was evacuated with his regiment in December. His obituary states he was with the battalion at the point of evacuation and entered France in February 1917. His medical records above show that he spent most of 1916 in England recovering from illnesses contracted while at Gallipoli. He entered France in February 1917.
He was promoted temporary Lieutenant on 18.2.17 and served with the 10th Battalion, York and Lancaster Regiment, 63rd Brigade, 37th Division until he was killed in October 1917.
From July 1917, the 10th York and Lancaster Regiment were engaged in the Third Battle of Ypres in Belgium. They fought in the following battles (up to the point of William Rockley's death, after which they were in action at the First Battle of Passchendaele)
31.7.17–2.8.17: Battle of Pilckem Ridge
20.9.17–26.9.17: Battle of Menin Road Ridge
26.9.17–3.10.17: Battle of Polygon Wood
4.10.17: Battle of Broodseinde
9.10.17: Battle of Poelcapelle
From the war Diary of the 10th Battalion, York and Lancaster Regiment, October 1st -15th 1917
Trenches, Oct.1st Battalion reoccupying front line. Right sub-section, Right Brigade section of 37th Divisional section immediately on right of the YPRES-MENIN Road, 4th Middx Regt. on left and Unit of 19th Division on the right.
Night 1/2nd Battalion relieved in front line by 8th Som. L. I. (Somerset Light Infantry) and moved to close support previously occupied by 8th Som. L.I. After relief Coys distributed as follows – 3 Coys close support to 8th Som. L.I. 1 Coy close support to 8th Lincoln Regt.
Night 5/6th 63rd Inf. Brigade relieved by 112th Inf. Bde. Battn. relieved in close support by 6th Beds. Regt. and moved on relief. 2 Coys to support area SHREWSBURY FOREST and 2 Coys and HQ to Reserve Area east of MOUNT SORREL. Battn. now in support 112th Inf. Bde.
Oct. 8th VIERSTRAAT Battalion relieved in support and reserve Area by 13th R.B. and proceeded by bus to the VIERSTRAAT Area, 1 Coy and HQ joining Details at BEAVER Camp and 3 Coys at WILLEBEKE Camp. Tents occupied.
Oct. 10th TRENCHES 63rd Inf. Brigade relieve 11th Royal Warwick Regt. in support
Oct. 14/15th Night MONT KOKEREELE 63rd Inf. Brigade relieved by 116th Inf. Brigade, 39th Division. Battalion relieved by 13th Sussex Regt. and proceeded by Bus to the MONT KOKEREELE AREA.         
Casualties during October 1917
Officers Lieut. W.L. Rockley killed 10/10/17
Capt. W.J. Jarrard wounded 11/10/17
2/Lt. W. Cameron wounded 5/10/17
Capt. W.C. McConnell R.A.M.C. wounded 10/10/17, died of wounds 13/10/17
Other ranks  29 killed in action
59 wounded in action
1 missing in action
49 evacuated sick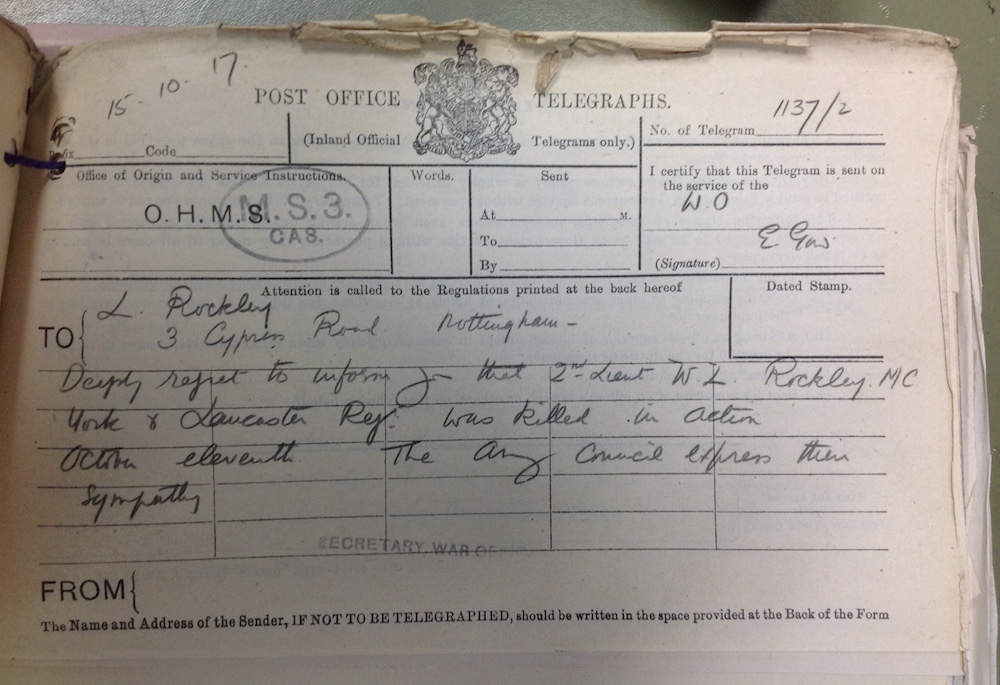 Effects sent home after death
1 leather letter case
Photos
1 cheque book
1 Advance book
1 wristwatch with strap and guard
1 fountain pen and clip
Letters, etc.
1 address book
Medals Awarded: M.C., 1914-1915 Star, British War and Victory
Obituary from the Nottingham Evening Post, Tuesday October 16th, 1917
'Lieut. W L Rockley MC: Mr and Mrs L Rockley, Cyprus-road, Nottingham, have received information that their only son, Lieut. William Lisle Rockley, was killed in action on October 11th. He was educated at Waverley School, Nottingham; Laleham, Margate; and in Paris, completing his education at the end of July 1914. He immediately joined the Nottingham University Officers' Training Corps and gained a commission in the York and Lancaster Regiment in December. He proceeded to Gallipoli in the summer of 1915 and in addition to being wounded served with such distinction that in November he was awarded the Military Cross for conspicuous gallantry and ability. He made two valuable reconnaissances of the enemy's positions and working parties, and sited a work under heavy fire. The latter operation was one of great risk and difficulty, and Lieut. Rockley showed great coolness and determination. The gallant young officer remained on the peninsula until the evacuation, in which he took an active part. In February of this year he was sent to France and shortly afterwards he was appointed 'Intelligence Officer' for his battalion. At the time of his death he was acting adjutant. Lieut. Rockley was killed instantaneously by a shell when proceeding to the lines in the company of his CO and the medical officer (see information from War Diary above re Captain McConnell), the latter being dangerously wounded at the same time.'
Go to WWI Timeline to see how this man's death is part of the wider story of the war.
Other Information
Lisle Rockley created Rockley Memorial Park and Cliff Walk at Radcliffe on Trent, Nottinghamshire, in memory of his son. Although William Rockley never lived in Radcliffe on Trent, his father left an outstanding legacy in his name for the people of Radcliffe on Trent to enjoy in perpetuity.
Click here to return to Rockley Memorial Park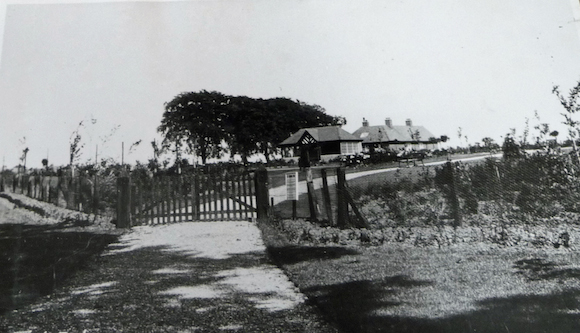 Rockley Memorial Park 1928
Photograph courtesy of Radcliffe on Trent History Group