WILLIAM HENRY BEE 1890–1957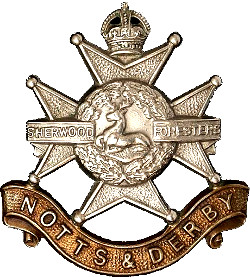 Born 21st September 1890, Osbournby, Lincs
Married 17th February 1912 to Ada Vickerstaff at Bingham Register Office.
Children: George Herbert, born April 22nd 1912, baptised in Radcliffe on Trent May 19th 1912; Frank William born May 16th 1913; Frederick Verdun born 23rd March 1916, Robert 1919, Kenneth 1923.
Died 1957
1901 Census
Age 10 living in Gamston with family. Father a waggoner.
1911 Census
Age 20, living at the Harlequin, Radcliffe on Trent, with parents Thomas, 53 and Louisa, 48, sister Edith, 25 and brothers Charles, 18, Robert  15 and Frank 13. He was working as a farm labourer.
Military Service
Rank: Private
Service Number: 20811
Military Unit: 11th Battalion, The Sherwood Foresters, 70th Brigade, 23rd Division
Theatre of War: France and Flanders, date of entry 12.10.15, total war service abroad five months
Attestation 14.12.14.
Age 24 years 3 months.
Height 5ft 7ins, chest 37½ ins. Scar back of left calf and left forearm. Spouse: Ada Vickerstaff
Home: 14.10.14 to 10.10.15; France: 12.10.15 to 22.3.16; Home 24.3.16 to 6.11.17
30.12.14: Posted
12.10.15: France
2.3.16: Wounded (from Sherwood Foresters 11th Battalion War diary)
From pension records:
23.3.16: Posted home in hospital ship to Northern General War Hospital, Newcastle on Tyne
11.8.16: Transferred to Class W, A. reserve so long as it is necessary to retain him in employment with Gedling Colliery Co. Nottm.
2.11.16: Transferred to Class P, A reserve
Note: Class P Reserve and Class P(T) were introduced by the same Army Order 355/16. These classes consisted of men 'whose services are deemed to be temporarily of more value to the country in civil life rather than in the Army' and who were not lower than medical grade C iii and as a result of having served in the Army or TF would, if discharged, be eligible for a pension on the grounds of disability or length of service.
Army Reserve Proceedings on Transfer form (in pension records):
Private 20811, 11th Bn, Sherwood Foresters;
Age: 25 years 11 months; height 5ft 7⅛ ins, chest 37½ ins, waist 32 ins. Exact size of helmet  21½;  exact size of boots 8.4.
Complexion fresh, eyes light brown, hair dark brown
Trade: coal miner
Intended place of residence: Lamcote, Radcliffe on Trent
Musketry classification: 2nd Class shot
Military character: good.
6.11.17: Discharged due to wounds (from Silver War badge records)
8.2.18: Documents to Chelsea
Disability: gunshot wound to chest
Character very good
Address: 136, Curzon St, Netherfield, Notts
Age on discharge: 27 years 53 days
Medals Awarded: 1914-1915 Star, British War and Victory. Silver War Badge no. 306922
Pension Record Card
William Bee was discharged from service on 6 November 1917 due to a gunshot wound to his chest and was awarded a pension from 7.11.17–3.6.31. It was assessed at 8 shillings (40p) for 20% disablement for two years from November 1920. His wife received 5 shillings 11d (30p). William Bee's pension was then increased to 11 shillings 6d (58p) in November 1922, due to a re-assessment of the degree of his disablement, for a period of two years. He was also given a gratuity of £20. Pension payments continued until 1931. Address 136 Curzon Street, Netherfield, Nottingham
Other information
Ada (wife) born 1891, servant to George Bell, Shelford Rd, Radcliffe on Trent in 1911.
1921 Census
Address: Florence Road, Gedling
Employment: Out of work miner
Household: Wife Ada, sons George, Frank, Fred and Robert.
1939 Register
Address: Florence Road, Carlton
Occupation: labourer, steel construction
Household: living with wife Ada, sons George, assistant chemical process works, Robert, Kenneth, apprentice bricklayer.
Reasons for inclusion on Radcliffe on Trent Roll of Honour
Lived and married in Radcliffe on Trent.