WILLIAM HENRY BARRATT 1888–1916
Courtesy of the Sherwood Foresters Regiment roll of honour website.
Born 1888 in Barkston, Lincolnshire
Baptised 16th December 1891 at St Mary and All Saints Church, Bingham
Killed in action 3rd September 1916, age 28
Buried in Ancre British Cemetery, Beaumont-Hamel V1 D28
Commemorated on Radcliffe on Trent War Memorial, Saxondale Memorial and the Bingham Memorial
1891 Census
Age 3 living with father John 29, a farm labourer, born in Halam, Nottinghamshire and mother Emma 25 (née Daft), brother Sam 2 and Walter 6 months. They lived on Long Acre East, Bingham.
1901 Census
Age 13 employed as an agricultural labourer living with father John 28, a waggoner, step-mother Ruth 41 and brothers Sam 12, Walter 10, John L. 6 and sister Elizabeth 1. They lived on Fairfield Street, Bingham.
1911 Census
Age 23, employed as a painter and paper hanger, living with father John 48, step mother Ruth 52, 3 brothers and 2 sisters. They lived on Morrises Row, Chapel Lane, Bingham in a 6 roomed house. His mother Emma died in 1892 and his father married Ruth Parnham.
1914 Electoral Register
His address was Notts County Asylum, Saxondale.
He was employed at Notts. County Asylum (Saxondale) after 1911; he is listed in their records as an attendant who left to serve in the Armed Forces.
Military Service
Rank: Sergeant
Service Number: 28393
Military Unit: 17th (Service) Battalion, The Sherwood Foresters, 117th Brigade, 39th Division
Theatre of War: France and Flanders
Enlisted: Nottingham
Wiliam Barratt was killed 3.9.16 during the Battle of the Somme (July 1st–November 18th 1916) in an attack due south of Beaumont Hamel. The 17th Battalion were in the main battle area, south of the River Ancre, from the beginning of September until mid November when the Battle ended. The Battalion went into attack at 5.10.a.m on September 3rd and continued fighting until 7.30p.m. Casualties were very heavy.
Medals Awarded: British War and Victory
Pension record
A pension form was received on 11.3.19 citing Mrs. Ruth Barratt, mother, of Chapel Lane, Bingham, as a dependant. The pension application was refused.
Go to WWI Timeline to see how this man's death is part of the wider story of the war.
From the War Diary of the 17th Battalion, The Sherwood Foresters Sept 1916
Trenches
3rd Sept 1916 5.10 a.m. Battalion move to attack under Artillery Barrage at 6.0 a.m. Message received from Major. G. Stollard Comdg. A Coy. that we have occupied first line of german trenches.
At 6.10 a.m. Message received from Captain H.V. Walters that the enemy's 2nd line  strongly held with Machine guns and that our Casualties are very heavy and reinforcements are urgently needed.
At 7.15 a.m. 2 Companies of K.R.R. Corps. move up to reinforce. The Action is against us, the enemy being very Strong in Artillery and Machine guns, and at 2.0.p.m. orders are despatched for all to withdraw to our trenches.
At 7.30 p.m. the Battalion remaining, withdrew to a Hill-side at Mailley­ Maillet wood for the night.
Our casualties are very heavy.
Bertrancourt
4th. At 5 p.m. the Battalion moves into Hutments at Bertrancourt. Casualties in yesterday's action as follows:-
Killed. Major G. Stollard, Captains R.G. Hopewell, S.F. Brookfield, F.C. Singleton, G.P. Littlewood.
Wounded. Captains F.R. Turner  and R.S. Wight. Lieut. B.J. Ross. 2nd Lieut. W.N.Birkin, E.P. Acrill-Jones, T.C.Nugent, J.W. Salsbury.
Missing . Lieut. B.F. Buck.
Wounded and missing. Captain H.V. Walters, 2nd Lieut. M.A. Ellison.
Total 15
Other ranks killed 59, wounded 155, missing 221, wounded at duty 1
Total 436
Lieut. L. D. Woodhouse attached L.T.M. battery killed
Other Ranks – 1 wounded .
Attached 117th machine gun coy. 1 Other Rank wounded.
Total casualties as far as known Officers 16. Other ranks 438. A good proportion of other ranks reported missing in the foregoing are known to be wounded but no other details are at hand.
Draft of 70 men arrive from 11th Bn. Sherwood Foresters.

5th. Organisation of Battalion. 11.0 a.m. Brig. Gen. R.D.F. Oldman inspects remainder of Battalion and sympathises with them in the loss of their Comrades and compliments them on their fighting spirit shown on the 3rd Sept. and their devotion to duty. He remarks that their Sacrifice was not in vain.
Battalion move to Mailley Maillet wood (Map Reference Sheet 57d.P.18.b.). Battalion becomes Brigade Support.
Other information
Nottinghamshire County Council minutes of the Committee of Visitors of Notts. County Lunatic Asylum, 25 July 1916, Item 4, Staff: 'The Committee regret to report that W H Barratt of the Sherwood Foresters, late attendant, was killed on 3 September.'


Obituary, Nottingham Evening Post, September 3rd 1917, on the anniversary of his death
Reasons for inclusion on Radcliffe on Trent Roll of Honour
Worked in the parish of Radcliffe on Trent at Notts. County Asylum, Saxondale.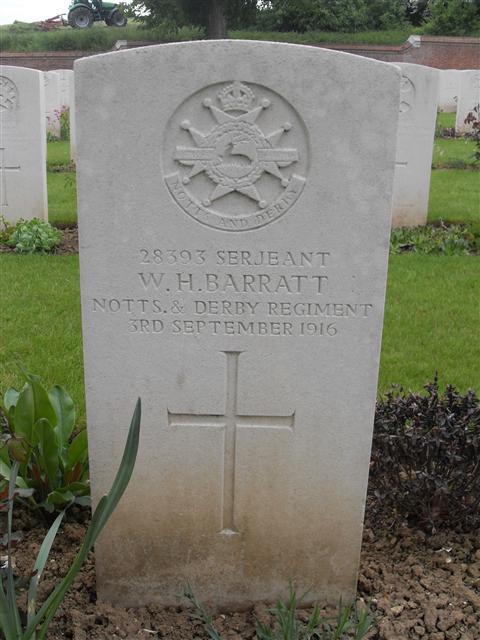 Ancre War cemetery
Courtesy of the Sherwood Foresters Regiment roll of honour website.