SAMUEL OLIVER 1891–1915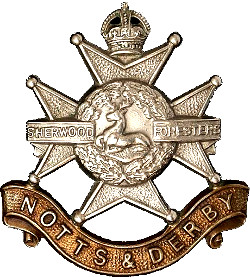 Born 1891 in Radcliffe on Trent
Killed in action on 30th July 1915 during a German attack at Hooge, Belgium
Commemorated on Panel 39 and 41, Menin Gate, Ypres, West Flanders, Belgium.
Also Commemorated on Southwell Minster Parishioners War Memorial and Southwell Wesleyan Church Memorial.
Not Commemorated on Radcliffe on Trent War Memorial.
Radcliffe on Trent School Register
Admitted 10th January 1898
1901 Census
Age nine, living in Osmaston, Derby with father Albert, thirty-three, a striker, railway, mother Alice, thirty-two, born in Radcliffe on Trent, and his sisters, Annie, three, and May, one.
1911 Census
Age 20, living at Spring Lane Farm, Mapperley Plains. He was employed as a waggoner on a farm.
Military Service
Rank: Private
Service Number: 2750
Military Unit: 1/8th Battalion, The Sherwood Foresters (Notts. and Derby Regiment), 139th Brigade, 46th Division
Theatre of War: France and Flanders, date of entry 2.3.15. Total war service abroad 4 months.
Attested: 20.10.14, Southwell
Age 23 years 10 months
Occupation: Carter employed by J H Kirkby, Southwell, Notts.
Height 5ft 6ins, chest 35ins
20.10.14 to 1.3.15:  Home
2.3.15: Posted to British Expeditionary Force, France
2.3.15 to 30.7.15: Expeditionary Force France
30.7.15: Killed in action in the field during a German attack at Hooge, 4 months after arriving in France
From the War Diaries of the 1/8th Bn, The Sherwood Foresters, July 1915 (diary held by the Worcestershire and Sherwood Foresters Regimental Museum, Nottingham):

30th June 3.30. am. Enemy commenced heavy bombardment on HOGGE. At same time 84 reported wood on fire in front of them and subsequently attack by a party of bombers. This was beaten back and they left 2 officers dead behind them.
On enquiring position from left from Officer Commanding 7th K.R.Rs. he stated that enemy had attacked with liquid fire and that his Brigade had lost the trenches G3 to Gl4, and he could not say whether his Battalion was in touch with the Battalion on left or support line or not. Reported situation to General who stated that we were to hold the line at all costs and that if as we feared the enemy came through ZOUAVE WOOD he would counter attack with his reserves. Officer Commanding 88 took steps to strengthen the flank of his trench in case G12 was evacuated by troops on our left.
2.00pm.Bombardment of the trenches taken by enemy.
2.45 pm Counter attack – failed utterly owing to exhaustion of the men – (the Brigade on our left). 7th Battalion Sherwood Foresters were subsequently placed at disposal of the 14th were ordered to line across from 88 to ZOUAVE WOOD. On our urgent representations the Brigade Commander 42nd Brigade allowed them to dig themselves in in order to protect our flanks.
2664 Pte. Coy A.
1616 Pte. Rudkin J.
1717 Pte. Thorpe C.
2739 Pte.Downham R.
2750 Pte. Oliver S.
1858 Pte. Huckerby R..
2507 Pte Ingham F.W.
2448 Pte. Parker F.
2688 Pte. Lines S.
1421 Pte. Jubb J.W.
2256 Pte. Rossington J.
2599 Pte. Taylor H.
978 Pte. Walker A.R .
1329 Pte. Raynor H.W.
2186 Pte. Walster F.
All killed in early hours of morning.
31st 2pm. Very heavy bombardment by both sides on our left though no infantry attack matured. Bombing party of enemy again attacked 84 but were driven out by bombs and rifle fire.
Remainder of day quiet except for desultry shelling. 41st Brigade on our left relieved by 43rd Brigade. Heavy shelling of ZOUAVE WOOD during night.
1424 Cpl. S. Humberstone
975 Cpl. I. Webster
2104 Cpl. R.J. Holston (?)
All killed.
Next of kin: Albert Oliver (father), mother Alice (born in Radcliffe). Address Forest St, Shepshed, Loughborough. Personal effects sent home included a packet of letters, disc, hymn book, gospel, testament, 2 knives, razor, and folding mirror.
His father wrote:
'Dear Sir, We have received Pte S Oliver 1/8th Battalion Notts. and Derby private belongings quite safe. Thanking you all for your sympathy in our sad bereavement. Yours truly, Albert Oliver'.
His mother, Alice who had moved to Shepshed, received 5 shillings (25p) per week for life
Medals Awarded: 1914–1915 Star, received by father March 1922, British War and Victory received 4th Oct 1921
Go to WWI Timeline to see how this man's death is part of the wider story of the war.
Reasons for inclusion on the Radcliffe on Trent Roll of Honour:
Born and went to school in Radcliffe on Trent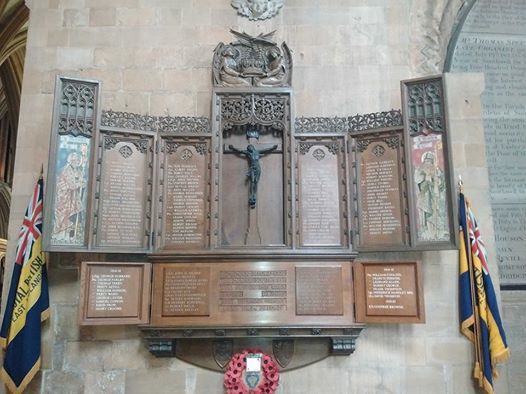 Southwell Minster Memorial
Photograph by a member of the research team
Menin Gate, Belgium