SAMUEL HAYNES 1880–1957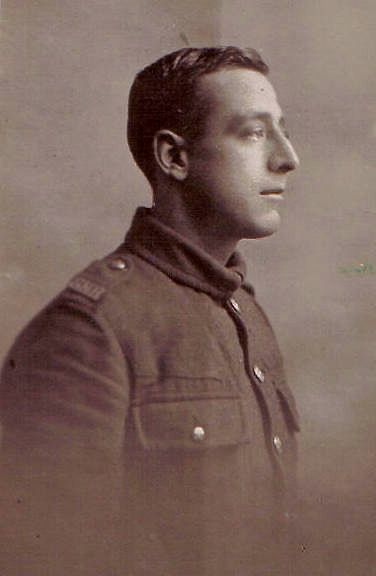 Photograph from family collection
Brother of Harry, George and William
Born 9th August 1880 Radcliffe on Trent
Married  in 1901 to Grace Phipps, children Winnie, Florrie and Phyllis
Died 1957, Nottingham
1881 Census
Living in Lenton Street, Nottingham with parents and brother Henry Percy.
1891 Census
Living in Nottingham with father Henry, ironmongers assistant, and Zillah (both born Radcliffe on Trent), brothers Henry Percy and William Brewster, who also served in the military, and George.
1901 Census
All four brothers are still living with parents, Cooper St, Nottingham
1911 Census
Cabinet maker, Nottingham, living with wife Grace and 3 daughters, mother in law and brother in law.
Military Service
Rank: Private
Service Number: 2040, then 164643
Military Unit: 1/1st Nottinghamshire Yeomanry (South Notts. Hussars) 1st Mounted Division, then Machine Gun Corps.
Theatre of War: Egypt
10.6.15: Enlisted
The division arrived in Egypt in July 1917 and were placed under orders of Desert Mounted Corps. In April 1918 they merged with the Warwickshire Yeomanry to form Battalion B of the Machine Gun Corps. In May they sailed back to France on HMS Leasowe Castle, which was torpedoed. Rescued men returned to Egypt then finally arrived in Italy, June 21st 1918 from where they moved on to Etaples, France arriving August 19th 1918. They were then renamed 100 Battalion MGC (source www.1914-1918.net).
Information from granddaughter:
Enlisted 1915
Torpedoed in the Mediterranean, May 27th 1918
"He clung to wreckage for several hours which resulted in loss of the use of both thumbs for the rest of his life."
On May 27th, 1918, Samuel Haynes was being conveyed on the troopship HMS Leasowe Castle from Alexandria to Marseilles. The ship was carrying 2,900 troops plus crew in a convoy consisting of six transports including HMS Lily. The ship was struck on the starboard side at 12.25 a.m. approximately 100 miles from Alexandria by a torpedo fired from a German submarine. Around forty boats and rafts were thrown overboard and troops began leaving the ship. HMS Lily returned to assist, narrowly escaping going down with the Leasowe; rescue operations were carried out until about 2 a.m. when the ship sank rapidly at the stern. 102 men lost their lives including eight officers and forty four other ranks from the South Notts. Hussars. The majority of the men on board were saved. William Vickerstaff, from Radcliffe, lost his life in the incident.
For more information including survivors' accounts see www.greatwarforum.org, also www.scotlandswar.co.uk
8.12.19: Discharged due to sickness. Silver War Badge 519810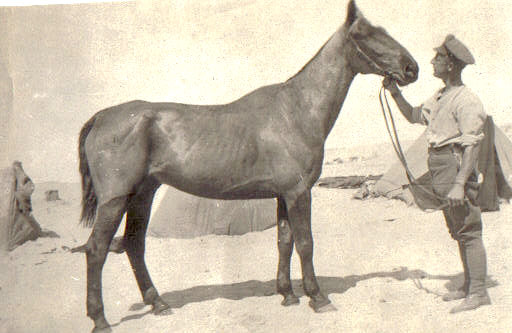 Sam Haynes with Phyllis in Mesopotamia. Photograph courtesy of family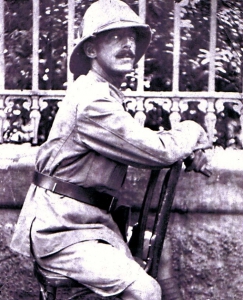 Medals Awarded: British War and Victory
Other information
His brother George emigrated to Canada with his family in 1913. He fought in the war with the 2nd Battalion of the Canadian Expeditionary Force with the rank of Lance Sergeant; he was injured at Vimy Ridge on 12th March 1917. A third of his leg was amputated in France, however when he was invalided back to Canada the remaining section of his leg up to the thigh was removed and he was provided with an artificial limb and a 75% disability pension.
From the 1939 Register
Address: 10 Charlton Street, Nottingham
Occupation: Joiner
Household: he is a widower and Helena Haynes is his housekeeper
Reasons for inclusion on Radcliffe on Trent Roll of Honour
Born in Radcliffe on Trent.