WALTER REGINALD HOUSELEY 1895–1966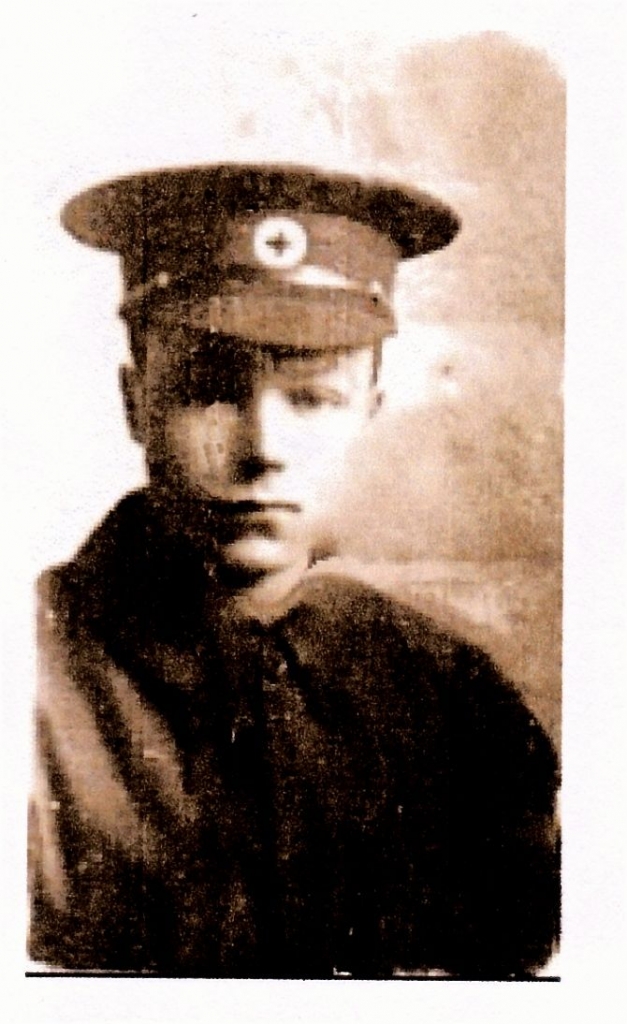 Photograph courtesy of family
Brother of Wilfred
Born 19th October 1895, Orston Grange, Notts.
Married in 1931 to Doreen Olive Todd. Children: Son Woodrow (Frederick R. W.), born 1937
Died 19th September 1966, address 1 Wharf Lane, Radcliffe on Trent, age 71
Buried in Radcliffe Cemetery, grave reference L109
1901 Census
Age 6, living at Orston Grange, Notts with his father Frederick 48, a farmer, mother Sarah 40, (née Hoyte), brothers Edwin Evelyn (known as Evelyn) 18, a schoolteacher, Cyril 17, a farm worker, Wilfred 2 and sisters, Lucy 13, and Margaret 11.
From Railway Employment Records 31 October 1939:
1910 Commenced work as a railway clerk on 14.11.10, employed at Basford station, Nottingham.
1911 Census
Age fifteen, name given as Reginald, a railway clerk at Basford station, living at Hampden Villa, Lorne Grove, Radcliffe on Trent, a house with seven rooms. He was living with his father Frederick, an unemployed schoolmaster, his mother Sarah, sisters Lucy, twenty-three, a schoolmistress at Skegby Margaret, twenty-one, a schoolmistress at Holme Pierrepont, and brothers Frederick, thirty, a butcher with his own shop in Granby and Wilfred, twelve, at school. Another brother, Edward Evelyn, twenty-eight, a schoolmaster at Wandsworth Tech has been crossed off the census. Frederick and Sarah Houseley had been married for 34 years and had eight children, one of whom had died.
Military Service
Red Cross records for Walter Reginald Houseley show that he was an orderly from 13.2.17 to 30.1.19 working with the Friends Ambulance Unit. Certificate number 11927.
He was a Conscientious Objector and served on the western front where he was based at Dunkirk (sources: Friends Ambulance Unit British Red Cross and Order of St John of Jerusalem page 401; www.fau.quaker.org.uk).
Brassard number 11927, cap badge number 500, unit number 816. He paid for his kit expenses.
28.3.16: Having appeared at a military service tribunal to claim absolute exemption on grounds of conscientious objection, his application was refused. County appeal on March 28th granted him exemption from combatant service. Tribunal recommended him for the F.A.U. (Friends Ambulance Unit). Occupation – junior clerk, Great Northern Railway. Qualifications – shorthand and typewriting.
27.6.16: Contracted to Friends Ambulance Unit
27.6.16 – 29.7.16: Trained at Jordans, Buckinghamshire (see italicised note below)
2.8.16: Worked at King George Hospital for four and a half months.
13.2.17: Dunkirk
11.7.17: Queen Alexandra's Hospital, Dunkirk, orderly
18.10.17-27.10.17: leave
18.7.18-1.8.18: leave
3.9.18-17.9.18:  leave
25.10.18: Queen Alexandra's Hospital, night guard
30.1.19: Left France
Medals Awarded
British War and Victory
Military Personnel Address on 1918 Electoral Register
Lorne Grove, Radcliffe on Trent
1921 Census
Address: Lorne Grove, Radcliffe on Trent
Employment: clerk, Great Northern Railway, Victoria Station, Nottingham
Household: mother Sarah, sister Lucy, school mistress Bath Street, girl's school, and brother Wilfred
1922 Electoral Register
Address: Lorne Grove Radcliffe on Trent
Household: living with sister Lucy and brother Wilfred (Frederick Houseley, father, died in 1918)
1939 Register
Address: 'Sylvania', Grantham Road, Radcliffe on Trent
Occupation: railway clerk Household: living with wife Doreen and one person whose record is officially closed. Family descendants have confirmed that the closed record is that of their son Woodrow, age two.
Reasons for inclusion on Radcliffe on Trent Roll of Honour
Lived and died in Radcliffe on Trent.
Work of the Friends Ambulance Unit
Excerpt from Quakers website www.quaker.org (in 2014 – the site has since been updated)
Within 3 days of the outbreak of the war the Friends held a conference. Outside the official sessions, a group of Young Friends worked on the idea of an ambulance unit. They were convinced that ambulance services would be woefully inadequate, so that offering such services could save many lives. It would also enable conscientious objectors to make a vital contribution. There was no conscription then, so none of them had to get involved – their response came from their commitment to participating in a nonviolent way.
Early in September the first training camp took place at Jordans, in Buckinghamshire, for about 60 young men. Initially neither the British Red Cross nor the army wanted to involve a group of independent and pacifist volunteers, but the situation changed dramatically when the Belgian army collapsed in late October.
They left for Belgium. A few miles out they met a torpedoed and sinking cruiser, rescued the victims, and carried them back to Dover.  Setting out again, they came to Dunkirk, and worked for three weeks in the military evacuation sheds, looking after several thousand wounded soldiers until they could be evacuated on hospital ships.  The Unit set up their administrative headquarters nearby, at Malo les Bains. There was a terrible typhoid epidemic that winter, and this led to the establishment of the first of four hospitals, the Queen Alexandra, at Dunkirk.
The FAU expanded as the needs grew, and many non-Quakers joined.  There were two sections:  the Foreign Service and the Home Service.  After the initial emergency at Dunkirk, the Foreign Service started on a programme of civilian relief in France; they were soon noticed by the French army medical headquarters, and this led to the staffing and running of French ambulance convoys (Sections Sanitaires Anglaises), and helping in both civilian and military hospitals.  In 1915, they started running ambulance trains, and in early 1916 they had two hospital ships.
The Home Service set up and/or helped to run four hospitals in England. Two were in Quaker premises – one in part of the Rowntree factory in York, and the other in a Cadbury house in Birmingham; the other two were in London. They had an office in London, a clothing department, and ran training camps, mostly at Jordans.
Late in 1915 the Anglo-Italian Ambulance Unit was set up separately.
In August 1916 the Military Conscription Act provided a sudden influx of conscientious objectors, and a General Service section was started to offer them alternative training, if required.  
FAU continued with these many different kinds of work, both in England and on the European mainland. There were eventually at least eight hospitals in France and Belgium staffed by the FAU.  At the end of the war in 1918, there were 640 men working on the European mainland, and 720 men were working in Britain. 21 died in action, and a further 420 were involved at some stage during the war. They had driven over two million miles and had transported 277,000 sick and injured people. If the work of the Italian unit is included, these figures increase by about 50%.  Their funding (about £140,000 in total) had come from Quakers and many other sources. Women served as nurses in the Queen Alexandra Hospital in Dunkirk and also with the Anglo-Italian Ambulance Service. One hundred and two women served in the FAU out of a total of 1800, 54 of whom served abroad.
FAU's unofficial motto was 'find work that needs doing. Regularise it later, if possible'. In the heat of the conflict, that is exactly what they did. They were never officially regularised, but it didn't matter.
After the armistice in 1918, the Unit worked for another year on civilian relief and repatriation. FAU was finally laid down in 1919.