PERCY THOMAS KITCHEN 1890–1916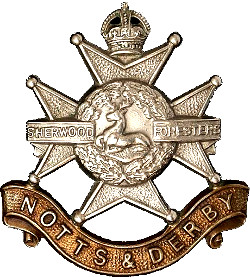 Born 1890, Coates, Cottam, East Retford
Married 10th February 1914 to Alice Edith Corton at Sturton, Notts., daughter Violet Alice born 12th December 1914 in Bingham
Killed in action 27th June 1916 when serving in the line at Ferme De Bois, France
Buried Le Touret Military Cemetery, Richebourg-L'Avoue, grave III.H.11
Commemorated on Littleborough cum Cottam Memorial, Radcliffe on Trent War Memorial and Notts. County Asylum Memorial (Old Chapel), Saxondale.
1891 Census
Age 1 living at Coates, near Gainsborough with father John 46, farmer, mother Sarah 37, brothers Joseph 12, Herbert 10, Ernest 8, sisters Frances 18 and Eva 4. They also employed three farm servants.
1901 Census
Age 10 and living at Coates, mother Sarah now a widow, sisters Frances 28, Eva 14, brothers Joseph 22, Ernest 16, and Reginald 8. Only one farm servant living with them now.
1911 Census
Age 20 employed as a horseman on farm in Scofton, Worksop. He took employment at Notts. County Asylum (Saxondale) and is listed in their records as a farm horseman who served in the Armed Forces.
Military Service
Rank: Private
Service Number: 26277
Military Unit:16th (Service) Battalion, The Sherwood Foresters (Chatsworth Rifles), 117th Brigade, 39th Division
Theatre of War: France and Flanders, date of entry 6.3.16
Attestation 19.5.15 in Nottingham
Occupation: farm servant, of Lings Cottage, Cropwell Butler. Height 5ft 6ins, 35ins chest expansion.
May 15 – March 16: Home
6.3.16: France
Medals Awarded: British War and Victory
Go to WWI Timeline to see how this man's death is part of the wider story of the war.
Details of death
Percy Kitchen was killed in action after just three months in a theatre of war, Richebourg L'Avoue area which is north of Arras and north-east of Bethune.
From the War Diaries of the 16th Bn, The Sherwood Foresters, June 1916 (diary held by the Worcestershire and Sherwood Foresters Regimental Museum, Nottingham):


26th.  OPERATIONS. There was considerable artillery activity during the day, mostly on our part. Between 1pm and 1.15pm the enemy put about 20 shells on PRINCES ROAD, several of which failed to explode. There was slightly more rifle and machine gun fire than the night before, especially at "stand to" this morning. An Officer patrol (2nd LIEUT. F.H. CHAPPELL) went out from the left company to examine the ditches between our front line and the FERME COUR D' AVOUE. At 7.10pm a man's head was seen above the parapet at S.22.a.6.3. and was shot by our snipers. He was wearing a forage cap.
LIEUT. D.W. STEVENS returned from leave.
CASUALTIES. One man wounded (Rifle bullet). 2nd LIEUT. A. SCRAGG accidently wounded.
27th.  OPERATIONS. The enemy were exceedingly quiet throughout the day. Between 9.45am and 10.15am 13 .77 shells fell just behind the line on the extreme left of our sector, but no damage was done. Our Artillery retaliated on the enemy parapet. One victim is claimed by our snipers.
CASUALTIES. One man killed (Rifle bullet) .
(The man in question could have been Percy Kitchen)
Other information
Percy's widow Alice received 15 shillings (75p) per week from 29 April 1917 which terminated when she married George William Hindley at Retford June 1920 and lived in Sturton. George had served with the 6th Lincoln Regiment. They had 4 more children and in 1939 Percy's daughter Violet was living with her mother, stepfather and siblings at Glanford Brigg, Lincolnshire. Violet married Thomas Snoad in 1941. Allowance in respect of Violet continued until 12 December 1930 when she was 16 years old.
From Nottinghamshire Great War Roll of Honour:
Nottinghamshire County Council minutes of Committee of Visitors of Notts County Lunatic Asylum, 24 April 1917. Item 5, Staff and War Service:
'News has just come to hand that P T Kitchen, late Farm Horseman, was killed in action in June last [1916].'
Reason for inclusion on the Radcliffe on Trent Roll of Honour
Working in the parish of Radcliffe on Trent when war was declared.
Le Touret Military Cemetery, France