PERCY DRAPER 1887–1915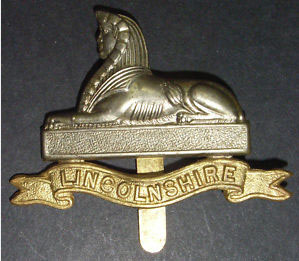 Born 1887, September quarter, Woolsthorpe, Lincolnshire
Baptised 6 November 1887 at Woolsthorpe.
Married Sarah Etta Potter in 1914 in Bingham District
Daughter Mary born 25th January 1915, died aged 16 in Wallingford Hospital and buried Mickleover, Derbys.
Killed in action  22nd February 1915, age 27
Buried Hooge Crater Cemetery, Belgium
Commemorated on La Chapelle Farm Memorial 4, Radcliffe on Trent War Memorial, Saxondale War Memorial
1891 Census
Age 3, living, with father Daniel, a groom and gardener, mother Mary and brothers Ernest 4 and George 1 in Scarrington, Nottinghamshire.
1901 Census
Age 13, a farm worker, living with father Daniel, gardener, mother Mary, brothers Ernest 14, a house boy, George 11 and sisters Mabel 8 and Lilian 3 in Culverthorpe, Lincolnshire
Military service before 1914
In 1911, age 22 serving with 1st Battalion, Lincolnshire Regiment abroad: Arabia, Cyprus, Gibraltar
After completing his terms of service with the army he took employment at Notts. County Asylum (Saxondale); he is listed in their records as an attendant who left to serve in the Armed Forces.
Military Service 1914–15
Rank: Private
Service Number: 7888
Military Unit: 1st Battalion, Lincolnshire Regiment, 9th Brigade, 3rd Division
Theatre of War: France and Flanders, entry date 27.8.1914
Enlisted in Grantham.
Killed in action 22.2.15 during attack on Bellewaarde, near La Chapelle Farm, Belgium.
11.10.15: His widow Sarah was awarded a weekly pension of 15 shillings (75p) for herself and their daughter Mary Bettine
Medals Awarded: 1914 Star, British War and Victory
Go to WWI Timeline to see how this man's death is part of the wider story of the war.
Other information
Percy Draper was one of twelve soldiers killed in action in 1915 who were buried at La Chapelle Farm. The graves were  destroyed in later battles; the bodies were removed to Hooge cemetery (source: www.cwgc.org).
His widow married in 1919 in Mickleover.
Reasons for inclusion on the Radcliffe on Trent Roll of Honour
Worked in the parish of Radcliffe on Trent at Notts. County Asylum.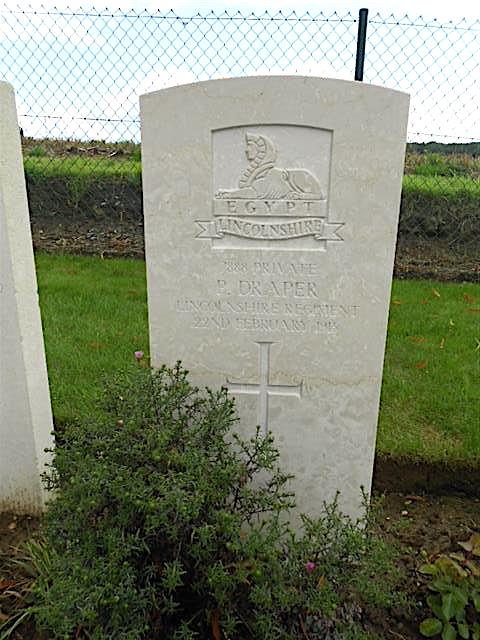 Courtesy of Peter Gillings
Hooge Crater Cemetery, Belgium