MARY ELIZABETH GREEN 1896–1983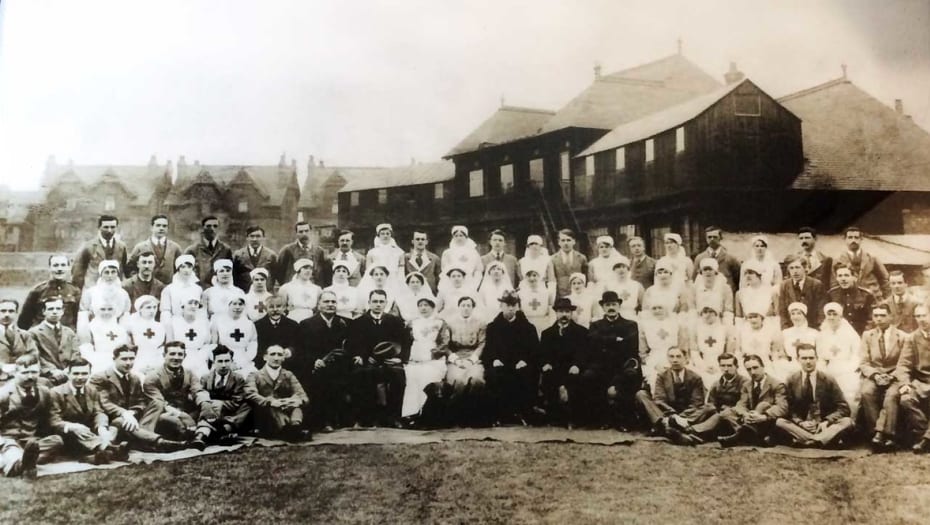 Photograph from www.trentbridge.co.uk courtesy of Peter Wynne-Thomas
Before the War
Mary was born in Cropwell Butler Nottinghamshire on 8th December 1896 to parents William Pacey Green, born in Radcliffe on Trent and Ellen Susannah Green, née Sheldon, born in Swinderby Lincs. Mary was baptised on 27th April 1897 at Holy Trinity Church, Tithby, Notts. In 1901 she was living in Cropwell Butler with father William, farmer, 37, mother Ellen, 37, sister Norah, 3, and brother John, 10 months. The family had two servants: Laura Jones, mother's help and Ellen Thorpe, general servant.
In 1911 Mary, 14, and her sister Norah, 13, were at school and living at The Chestnuts in Radcliffe on Trent with their aunt Sarah Green and domestic servant Mabel Footitt.
During the War
The following information about Mary Elizabeth Green has been extracted from transcribed Red Cross V.A.D. records, available at www.redcross.org.uk
Mary's home address was given as The Rookery, Cropwell Butler when she volunteered to serve as a General Service V.A.D. in the Notts 94 Voluntary Aid Detachment of the Red Cross. A General Service section of the V.A.Ds was established in September 1915, carrying out roles such as dispensers, clerks, cooks and storekeepers. She was engaged full time in voluntary kitchen work from July 1915 to July 1917 at the Pavilion Red Cross Hospital, Trent Bridge, West Bridgford. Mary then served full time as a storekeeper in the same hospital from 17th June 1918 to 14th March 1919, receiving pay of £1-12-6 per week.
1921 Census
Address: 11 Malvern Road, Nottingham
Employment: Home
Household: husband Francis, Warehouseman Lace Mfg, Donald and Co, Kayes Walk, Nottm., Emma Burton, Domestic servant
After the War
Mary married Captain Francis Percival Holmes in 1920 in Nottingham District. He lived at Campbell House, Radcliffe on Trent. During the war Francis Holmes served with the 1/1st Nottinghamshire Yeomanry (South Notts. Hussars) 1st Mounted Division, then the Machine Gun Corps (see his biography). During the 1920s they lived at Manor Park, Ruddington, Notts, moving to Elm Bank, Nottingham in 1929.
In 1939 Mary and Francis were living on Main Road, Bingham, Notts with Mary's widowed father William, retired farmer, her brother Charles Green, poultry farmer and two other members of the household whose records are officially closed. Francis was a plain net manufacturer and Mary was engaged in unpaid domestic duties. Francis died in 1969 in St Marylebone, London.
Mary died in December quarter 1983 in Wandsworth district, London, age 87.
Other Information
Francis' sister Marie Mabel Holmes worked as a V.A.D. in Nottingham during the war (see her biography)