JOHN WILLIAM RICHARDS 1886–1916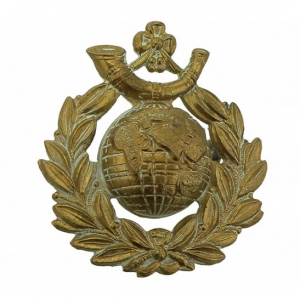 Born 26th November 1886, Lorne Grove, Radcliffe on Trent
Killed 13th November 1916, age 29
Burial: Ancre British Cemetery, Beaumont-Hamel I V A. 32
Commemorated on Radcliffe on Trent War Memorial, Nottingham High Pavement Unitarian Church War Memorial and Grosvenor School War Memorial.
1891 Census
Age four living at 99 Foxhall Road, Radford, Nottingham with father John, a clerk, mother Mary (née Posnett Lamb), sisters Ellen, eleven,  Alice, eight, and a domestic servant, Harriet Richardson
1901 Census
Age 14, living at 18 Pelham Road, Sherwood Rise, Nottingham with father John, deputy Town Clerk, his sisters and Fanny Cook a domestic servant (mother not present).
1911 Census
Age 24, a solicitor, boarding at 45 Osborne Road, Forest Gate, Essex, (West Ham).
Military Service
Rank: Lieutenant
Military Unit: 1st Royal Marines Battalion, Royal Marine Light Infantry, 63rd (Royal Naval) Division
Theatre of War: France and Flanders
ex Inns of Court Officer Training Corps
30.8.15: Commissioned Temporary 2nd Lieutenant Royal Marines
16.2.16: Draft for Mediterranean Expeditionary Force
28.2.16: Joined 1st Royal Marines Battalion
By the end of the Division's part in the Gallipoli campaign, very few men with sea service remained. The Division transferred from the authority of the Admiralty to the War Office on 29 April 1916 and was redesignated as the 63rd (Royal Naval) Division on 19 July 1916. The Division moved to France, arriving Marseilles 12-23 May 1916, after which it remained on the Western Front for the rest of the war.
30.8.16: Temporary Lieutenant
Details of death
John Richards was killed on the 13th November 1916 in France, during an attack on Beaucourt.
From Westlake, Ray (2009) Tracing British Battalions on the Somme (Barnsley: Pen & Sword) p.307
63rd Royal Naval Division to Engelbelmer (25/10). Front line (28/10), Engelbelmer (30/10), Varennes (31/10), Puchevillers (5/11), front line (7/11), Engelbelmer (8/11), Varennes (9/11), front line (10/11). Attack at Beaucourt (13/11), – on left side of 188th Brigade's assault – heavy casualties including all 4 company commanders) soon after leaving start positions – small parties only fighting through to German third line. Relieved and via Hedauville to Ouchenvillers (15/11).
Medals Awarded: British War and Victory
Go to WWI Timeline to see how this man's death is part of the wider story of the war.
Other information
Probate to John Henry Richards, deputy town clerk.
From the Nottinghamshire Roll of Honour:
Nottingham Corporation minutes of council meeting 1 January 1917:  records 'Expressions of sympathy to the relatives of Lieutenant J W Richards RM … killed on active service.' (he was the  son of John Henry Richards, deputy town clerk of Nottingham, and Mary J.P. Richards, Caledon Road, Nottingham.).
Reason for inclusion on Radcliffe on Trent Roll of Honour:
Born in Radcliffe on Trent. His name is on the Radcliffe on Trent War Memorial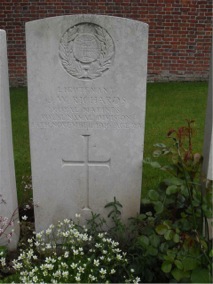 Ancre British Cemetery, Beaumont-Hamel, France
Photograph courtesy of Notts County Council Roll of Honour