JOHN WILLIAM NOWELL 1885–1960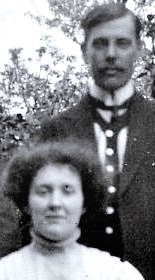 Photograph courtesy of family
Born 16th November 1885 in Radcliffe on Trent
Married 30th July 1910 to Matilda Chester at Arkwright Street Chapel, Nottingham. Children: John Sinclair born 16.9.11, Ralph Chester born 13.1.15 and Jeanne born 1921.
Died 1960 in Nottingham district
Radcliffe on Trent School Register
Admitted 3rd July 1889. Father John, address Lamcote
1891 Census
Age 5, living on Back Lane, Radcliffe on Trent with father John 33, a milkman, mother Harriet 33, his sisters Ellen 9 and Hester 7, widow Ann Vickerstaff, baker and grocer, (Harriet's mother), and her daughter Ellen age 33.
1901 Census
Age 15, living on Hogg Lane, Radcliffe on Trent with father John, a milk dairyman, mother Harriet and his sisters Nellie and Hettie, both of whom were dressmakers.
1911 Census
Age twenty-five living with wife Mathilde, twenty-one, at 31 Shakespeare Villas, Nottingham, employed as a dairyman.
Military Service
Rank: Private during the War then Driver after May 1919
Service Number:  41780, later M/411224 (8.5.19)
Military Unit: 1st/4th Alexandra Princess of Wales's Own (Yorkshire Regiment), 150th Brigade, 50th Division; after the war F Corps, Royal Army Service Corps (Mechanical Transport); previously Gunner 174648 Royal Field Artillery for two months in 1916.
Theatre of War: France and Flanders, date of entry 28.12.16.
Attestation: 8.12.1915
Age 30. Occupation, dairyman. Height 5ft 6⅜ins, weight 172lbs, chest 40ins. Address: 3 Dryden Street, Nottingham. Employer John Nowell, Dairyman, 3, Dryden Street.
Reserve 9.12.15 to 2.10.16; home 3.10.16 to 27.10.16
10.10.16: Posted – Gunner 174648 Royal Field Artillery
28.12.16: Posted to 12th Yorks Regiment and embarked for France, Private 41780
29.12.16: Joined base depot, France
6.2.17: Joined battle in the Field
14.5.17: To England: ICT finger (Inflammation of connective tissue)
15.5.17: Sick, admitted to Southern General Hospital, Dudley Rd. section, Birmingham
31.8.17: Discharged from hospital
1.11.17: Posted 13th Yorks
4.11.17: Posted 4th Yorks
12.11.17: Joined Field
27.5.18: Shrapnel wound to face and hand
27.5.18: Missing C.1602
Records state: 'Prisoner of War: P.C. from Soldier seen'
The 1st/4th Alexandra Princes of Wales's Own (Yorkshire Regiment) were fighting at the Battle of the Aisne when John Nowell was captured.
According to the WW1 POW records of the International Committee of the Red Cross John Nowell was wounded and captured on 27.05.18 at Craonne, and sent to Langensalza POW camp in central Germany. The camp was opened in 1914 and held 10,000 men.
( Report on Langensalza POW camp by Corporol Golding, 8th Battalion, Leics Regiment)
https://www.edinburghs-war.ed.ac.uk/sites/default/files/pdf_Langensalza_POW_Camp.pdf
31.12.18: Repatriated
23.1.19: Posted to depot
Jan 1919: Granted 2 months Prisoner of War leave
4.3.19: Posted to Yorks regiment
8.5.19: Transferred from 3rd Bn Yorks regiment to Royal Army Service Corps, No.1 Reserve Mechanical Transport Depot, RASC, Grove Park. Light duty: pains in both legs.
Discharged 19.11.19, with pension of 20% disability due to Debility: 8 shillings per week (40p) plus 4 shillings 8d (23p) for wife and children, to be reviewed in 26 weeks.
Medals Awarded: British War and Victory
1921 Census
Address: 3 Dryden Street, Nottingham
Employment: Dairyman
Household: wife Matilda, sons John and Ralph
1939 Register
Address: 5 Stratford Square, Nottingham
Occupation: Dairyman
Household: living with wife Matilda born 30.4.1889
Reason for inclusion on Radcliffe on Trent Roll of Honour
Born and grew up in Radcliffe on Trent.