JOHN VELLAM STAFFORD 1897–1917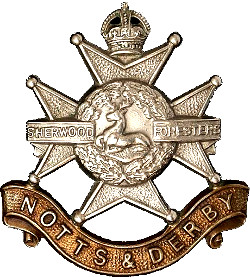 Known as Jack
Born May 1897 in Radcliffe on Trent, baptised 28 August 1903 St Edmund's Church, Holme Pierrepont together with brothers Samuel and Sydney and sister Evelyn.
Killed in action on 24th January 1917, age 19
Burial: Foncquevillers Military Cemetery IF15. Commemorated on Radcliffe on Trent War Memorial
Radcliffe on Trent School Register
Admitted 14th May 1900
1901 Census
Age three, name is recorded as Jack. He was living on The Green, Radcliffe on Trent with father William, forty-five, a railway platelayer born in Radcliffe on Trent, mother Sarah, forty-five (née Gibson) born in Newark, and five siblings: Harry, nineteen, railway engine stoker, Minnie, twelve, Evelyn, ten, Samuel, eight, Sydney, six.
1911 Census
Age 13 still at school, living at The Green, Radcliffe on Trent with his parents, older brothers Samuel, confectioner, and Sydney, baker's apprentice,  sister Evelyn and a granddaughter of the family, Dorothy. His father was a platelayer. John (Jack) was one of nine children, seven of whom were alive. The family lived in three rooms.
Military Service
Rank: Private
Service Number: 4368
Military Unit: B Company, 1/8th Battalion (Territorial Force), The Sherwood Foresters, 139th Brigade, 46th (North Midland) Division
Theatre of War: France and Flanders, date of entry 17.3.16. Total war service abroad 10 months
John's name is recorded as Jack in his military records.
Attested 10.10 1915, in Nottingham.
Height 5ft 2ins, chest 32ins.  Next of kin: William Stafford
10.10.15–16.3.16: Home
16.3.16: Embarked
17.3.16: France
19.3.16: Arrived 46 (North Midland) Division Base Depot (Rouen)
31.3.16: Joined unit in the Field
John Stafford's Battalion was heavily involved in fighting on the first two days of the Battle of the Somme, as reported by Westlake.
From Westlake, Ray (2009) Tracing British Battalions on the Somme (Barnsley: Pen & Sword) p. 193
To assembly posiitons in front of Foncquevillers during night (30/6). Attack on Gommencourt (1/7) – from reserve line advanced about 8 a.m. – forward British trenches blown in and crowded with dead and wounded. Took over British front line during evening – 'A' Company searched No Man's Land for casualties. Relieved and to Gaudiempré (2/7). Arrived Neuvillette from Le Souich (1/11). To Maison Ponthieu and Third Army Training Area (3/11).
His service record continues:
12.12.16: Accidental injury: injured back caused by fall of dugout roof while on duty.
An enquiry from 12.12.16–13.12.16  as to whether disciplinary action should be taken was carried out by his Commanding Officer.
Pte Stafford gave the following evidence:
'No. 4368, Pte Stafford, J., B Coy states that he was going down the dugout steps when part of the roof fell down on him and he was unable to extricate himself.  He was brought down to the regimental aid post and sent to the Field Ambulance station suffering from an injury to back on Dec 12th'.
Cpl L H Milnes, 2370 stated 'I was in the L.G. dugout about 9 pm on Dec 12th when I heard Pte. Stafford call out.  I went out and found him buried by the collapse of the entrance.  He was unconscious but revived a few minutes later. I had previously noticed that the dugout was not in very good repair, and it must have been at the moment that Pte. Stafford entered that the fall occurred'.
16.12.16 Commanding Officer states that 'Disciplinary action will not be taken'
The Medical Officer states: 'Probable period incapacitated 14 days'.
24.12.16: Contusion Back – adm.
24.1.17: Killed in action in the field.
Personal effects sent to his father were:
2 discs, letters, postcard, testament, pocket book, photos, note book, tinder, 1 lighter and refill, pipe, pouch, visiting card, religious book, tin containing cigarette cards, tin of foot comfort, badge L.G., 2 tins of ointment, cap cover, belt, recipe, 2 titles, small key.
6.11.18: His father William received a dependant's pension of 5 shillings (25p) per week from this date.
Medals Awarded: British War and Victory, received by his father on 5.10.21
Go to WWI Timeline to see how this man's death is part of the wider story of the war.
War Diary of the 8th Battalion Sherwood Foresters,  January 1917
(diary held by the Worcestershire and Sherwood Foresters Regimental Museum, Nottingham):

19th:  11am Souastres Battalion relieved by 7th SF, moved to Divisional reserve
19th – 23rd: Some training hard frost
23rd:  11am Trenches Foncquevillers
23rd – 27th: Fairly quiet time – hard frost and snow
Casualties: Killed 3 Other Ranks, Wounded 9 Other Ranks
View a copy of the original War Diary showing action at the time of John Stafford's death
Other information:
John's mother had died (1913) by the time of his death. His brothers, Samuel and Sydney, served in the war and survived.
Date of death and cause
Killed in action 24.1.1917 after ten months of active service. The 1st/8th was under heavy bombardment and gas shelling around Arras at the time.
Reasons for inclusion on the Radcliffe on Trent Roll of Honour
Born and lived in Radcliffe on Trent.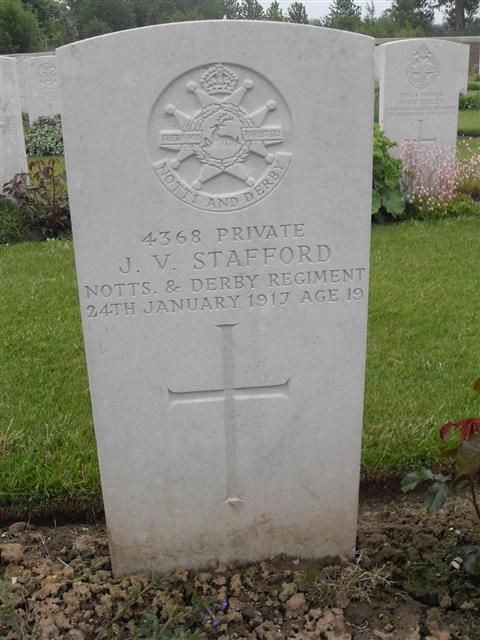 Photograph courtesy of CWGC
Foncquevillers Military Cemetery