JAMES BRAITHWAITE 1895–1966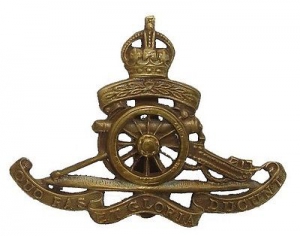 Born 21 March 1895 in Orston, Nottinghamshire.
Married 18 April 1916 to Annie Stopford at St John's Church, Bulwell, Nottingham.
Sons James Edward born 1918 and Alan born 16 July 1923 in Nottingham.
Died 10 January 1966.
1901 Census
Age three, living in Bingham Workhouse, Nottinghamshire with mother Ann, forty-seven, a lace clipper, and sisters Clara, ten, Ada, seven and Edith, three. His father Reuben, an agricultural labourer, was also in the workhouse but died later in 1901.
1911 Census
Not found.
A man named J Braithwaite took employment at Notts County Asylum, Saxondale; he is listed in their records as a temporary attendant who served in the Armed Forces. His Military Unit is given as Royal Field Artillery. Although there is no direct evidence of James Braithwaite having worked at the Asylum, on his marriage certificate in 1916 his residence was recorded as Radcliffe on Trent and his rank as Bombardier, a rank used in the Royal Artillery.
Military Service
Rank: Bombardier. Service Number: 42400. Military Unit: Royal Field Artillery, 178th Brigade. Theatre of War: Unknown. Served abroad.
No service records available. The following information is from Forces War Records:
Wounded
29.09.18: Gun shot wound, right leg. Admitted to No. 19 and No. 38 Casualty Clearing Stations. Anti tetanus serum 1500 units given.
10.02.19:  Discharged. Awarded a pension of 9 shillings (45p) per week due to gun shot wound, right knee. Pension card states previous service number as 42361, Norfolk Regiment.
Medals awarded
British War and Victory.
1921 Register
Address: 130 Logan Street, Bulwell, Nottingham.
Occupation: caller up, Great Central Railway.
Living with wife Annie, her father Edward Stopford, a railway engine driver, Great Central Railway and son James Edward, two.
1939 Railway Employment Records: Goods shunter Class III at Bulwell Common, employed since 15.05.22.
1939 Register
Address 130 Logan Street, Bulwell.
Occupation: railway shunter. Railway ARP Service.
Household: living with wife Annie, son Alan, a railway messenger boy and Edward Stopford, Annie's father.