HENRY JACKSON 1876–1955

Portrait of Captain Henry Jackson  by Bernard Hailstone (1910-1987)
Government Art Collection, gift from the War Artists' Advisory Committee via the IWM 1946
Born 1876 in London
Married Helen Johnson on 8 April 1913 at St Guthlac church in Branston, Leicestershire
Daughter Helen Mary born May 1914
Died 4 November 1955
1891 Census
Age fourteen living with his family at Eglanfire, Cheam Road, Epsom in Surrey. The household comprised his father George, an architect and surveyor, mother Wilhelmina, four brothers – Charles Clement age 13, George Russell age 7, William age 4, Frank age 2 – and three sisters, Margaret Elizabeth, age 11, Helena Minnie, age 9 and Evelyn Mary, age 4.
1901 Census
No trace of Henry in the census as he was serving with the Merchant Navy.
1911 Census
No trace of Henry in the census as he was serving with the Merchant Navy.
His parents and three siblings were now living in Herne Bay, Kent. The hosehold included his sister Helena Mary, brother William who was now a Seaman, first mate, and sister Evelyn Mary who had married Francis James Rush and they had a son George James.
Military service
Serving with the Imperial Merchant Service with a rank of Captain
No: O.C. 030424
Awarded Mercantile Marine medal and British medal
Military personnel on Electoral Roll
Registered as an absent voter in 1918,1922, 1923 and 1935 address given – Albert House, Cropwell Road, Radcliffe on Trent
Other information
Henry served in the Merchant Navy all his life joining as an apprentice in June 1891 and obtaining his Masters in 1902, eventually becoming a Commodore of the Shell Tanker fleet. He was invested with the OBE by the king in 1944 at the age of 68. In his investiture it was noted that he had just returned with his ship in which he had sailed 130,000 miles and delivered 140,000 tons of cargo.
Henry's wife Helen Johnson was born in Branston, Leicestershire to Joseph, a farmer and Hannah M A Johnson. Her father died in 1877 and her mother continued to run the farm along with her son Joseph Walter and Helen who specialised in keeping poultry. Hannah, Joseph, Henry, Helen and their daughter moved after 1914 to Radcliffe and they are first recorded as living in Albert House, Cropwell Road on the 1918 Electoral Register.
Hannah died 4 March 1935 and left the house to her children, Joseph and Helen. Joseph Johnson died the following year on 13 February 1936 and the house was then sold by Helen and her daughter Helen Mary in June 1937. They then moved to Sussex where on 4 November 1955 Henry Jackson died in Bognor War Memorial Hospital.
Reason for inclusion on the roll of honour
Lived in Radcliffe for a number of years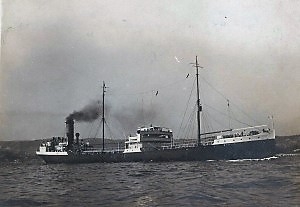 S/S Mytilus 1918-1920 in vicinity of Aden
From the 1922 Electoral Register
Address: Albert House, Cropwell Road, Radcliffe on Trent
Absent military voter
Household: Joseph Walter Johnson and Hannah Mary Anne Johnson