GEORGE NORTON 1878–1940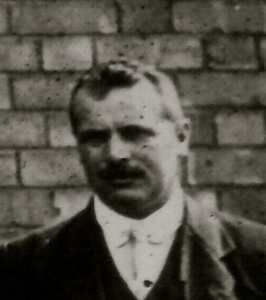 Photo from Radcliffe on Trent Local History Society
Born 26th April in Staveley, Derbyshire
Baptised 30th May 1878 at Staveley
Married 15th August 1906 to Mary Jallings, at St Mary's Church, Radcliffe on Trent. Son George born 18th August 1912
Died 1st January 1940 on Shelford Road, Shelford, Notts. Buried Radcliffe Cemetery (B35, no headstone)
1881 Census
Age 2 living in Hartington Cottages, Staveley, Derbys with father William, a coal miner and mother Frances Emma.
1891 Census
Age 12, scholar, living with father William, a coal mine deputy, mother Frances Emma, brothers Ernest 9, Edgar 5 and William H 1 at 60, Wood Lane, Treeton, near Rotherham.
1901 Census
Boarding with the Bush family at 19 Radford Street, Coventry. He was a school teacher.  His family are recorded as living at 75 Wood Lane, Treeton, parents and brothers Ernest, Edgar and Basil 9.
1911 Census
Age 32 living on Lorne Grove, Radcliffe on Trent, with wife Mary 34. He was employed as a Head Teacher (Elementary School).
1914 Electoral Register
Living on Lorne Grove, Radcliffe on Trent
Military Service
Rank: Corporal
Service Number: 118365
Military Unit: Royal Garrison Artillery
Theatre of War: France and Flanders, date of entry 31.12.16
Attested: 1 Dec 1915 at Nottingham
Address: Lorne Grove, Radcliffe
Age 37 years 7 months. Occupation: School Teacher. Height 5ft 6¾ ins, chest 38½in. Previously served in Prince of Wales' Own (York Vol. Battalion)
2.12.15: To Army Reserve
10.8.16: Mobilised
14.8.1916: Attestation confirmed at XIth Battalion Lines, Shoreham-by-Sea. Royal Garrison Artillery, no.118365
14.8.16: Posted to Siege Depot
7.10.16: Promoted Bombardier.
7.10.16: Appointed Acting Corporal
11.10.16: Posted to 247 Siege Battery
30.12.16: Embarked Southampton
31.12.16: Disembarked Le Havre
31.3.17: Confirmed rank Corporal
Illness
31.10.17: Invalided to England per HS(hospital ship) Stad Antwerpen. Contusion – body.
1.11.17: Sick. Admitted to Western General Hospital, Manchester. Contusion sacro-lumbar region. Onset 27.7.17. Severe ecchymosis (discolouration of skin through bruising).
7.11.17: Massage to back Dec 19th. Fit for class II massage and exercises.
22.12.17: Discharged from hospital after 52 days as patient.
13.3.18: "A" Siege Depot
2.4.18: Letter from his Commanding Officer to the Officer Commanding RGA Records, Dover states 'Ref attached memo of 25.3.18. Please forward the parcel of effects belonging to no. 118365 Norton, G. to this office as this NCO is serving in the unit under my command'. Parcel was received 8.4.18
26.4.18: Attached No 2 B Brigade RFA, Preston Barracks, Brighton pending posting to Royal Artillery Cadet School
19.6.18: Posted No. 2 RGA OCS (Officer Cadet School), Maresfield Park, Brighton
22.12.18: Proceeded to Dispersal Centre, N Camp, Ripon
23.12.18: From Protection Certificate and Certificate of Identity: Medical category A1 at date of discharge.
Specialist military qualification B6A ?
Medals Awarded: British War and Victory,  received 27.10.21
Military Personnel Address on 1918 Electoral Register
Living at 20 Lorne Grove, Radcliffe on Trent
Other Information:
George Norton resumed his duties at Radcliffe on Trent school after being discharged from the military. Nickname from his return "Winkie" (shell shock?) see newspaper article below.
Directories: 1912 Kelly's: Private resident, Lorne Grove, 1916 Kelly's: Master, Public Elementary School 1916 and 1920 Wright's: schoolmaster, Lorne Grove, 1925 Kelly's: Lorne Grove.
1921 Census
Address: Lorne Grove Radcliffe
Employment: Elementary School Teacher
Household: wife Mary, son George
1922 Electoral Register
Address: Lorne Grove, Radcliffe on Trent
Household: wife Mary
1939 Register
Address: Council Villas, Lorne Grove, Radcliffe on Trent
Occupation: Head Teacher Radcliffe on Trent Council School
Household: living with wife Mary and son George, a solicitor.
Address at date of death: 20 Lorne Grove, Radcliffe on Trent. Widow Mary died 1 May 1969 – address 20, Lorne Grove.
Reasons for inclusion on the Radcliffe on Trent Roll of Honour
Lived and worked in Radcliffe on Trent
Nottingham Journal 2 January 1940
Radcliffe Funeral of Mr George Norton
Mr George Norton, headmaster of Radcliffe on Trent school died yesterday at the age of 61. In the last war he served in the Royal Garrison Artillery and was wounded. One of the founders of the Radcliffe branch of the British Legion he was its treasurer and was also treasurer of the local Services Comforts Fund Committee, which was formed recently. A former pupil of York Training College, Mr Norton had teaching experience at Rotherham, Coventry and Birmingham before coming to Radcliffe in 1910.
Mr Norton's death was tragically sudden, for he collapsed while walking near 'No Joke Wood', a small spinney on the Shelford Road, and although not known at first was at once recognised by Dr Thomas when he visited the scene. Death had then taken place. Mr Norton had resided in Lorne Grove for many years.
Nottingham Journal 4 January 1940
His favourite hymn 'When morning gilds the sky' was sung at the funeral of Mr George Norton at Radcliffe on Trent yesterday. For thirty years Mr Norton was headmaster at the local school and he was also the treasurer of the Radcliffe branch of the British Legion and of the Radcliffe Services Comforts Fund Committee.The coffin was covered with the Union Jack and the British Legion provided a guard of honour.
A service in the parish church was conducted by Canon A D Allen, rector of Holme Pierrepont. The interment was at Radcliffe cemetery where Mr F Duke, secretary of the local branch recited the British Legion Act of Homage.
The British Legion sent a wreath of Haig poppies, and other wreaths were sent by teachers and scholars at Radcliffe school, the National Union of Teachers, Radcliffe school managers and caretaker and Radcliffe ARP first-aid depot.
Recollection of a former resident of the village
As a young child in the village he recalls seeing a lorry/cart outside the police station on the Main Road. There appeared to be a body lying flat on the back of the vehicle, covered up with just some boots showing. His elder brother happened to be passing by and took a quick sneak under the cover and immediately shouted 'that's Winkie Norton'.