GEORGE LAMIN 1896–1970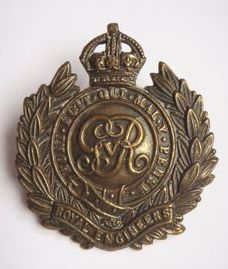 Born 1896 Radcliffe on Trent.
Baptised 8th May 1899 at St Mary's Church, Radcliffe on Trent
Married Nellie Tooth, date unconfirmed. His son Kenneth Albert was born in 1926
Date  and place of death: 22nd October 1970, Australia
1901 Census
Age  four  living on Station Terrace, Radcliffe on Trent with Arthur Howitt Lacey, age 48, a shoemaker born in Shelford, his wife Kate E. age 38 and their children Arthur H. age 16 an apprentice shoemaker born in Shelford and George 13, a co-operative stores shop assistant born in Radcliffe on Trent. George Lamin is recorded as a nurse child (possible a foster child). George's mother Ann was from Awsorth, no father indicated in the parish register.
1911 Census
Age 14 a joiner's apprentice living as a boarder at 164 Upper Brook Street, Chorlton cum Medlock, Manchester with Arthur Lacey, boat repairer, and Kate Lacey and their son George, now a baker.
Military Service
Rank: Sapper
Service number: 440567 (R.E.), previously (T)3239 (R.E.)
Military unit: Royal Engineers, then 3rd Reserve Battalion, 497th (Kent) Field Company: Royal Engineers
Theatre of War: France, date of entry 2.3.1917
George enlisted on 15th January 1916 at Manchester and was declared A1 medical category. He gave his occupation as a shoemaker. He was 19 years of age. Height 5ft 8½ ins, weight 127lbs, both legs bowed, next of kin Arthur H Lacey (Guardian).
In 1916 George was working for Charles Mackintosh & Co Ltd an India Rubber Manufacturer in Manchester. They sent a memo dated 13th January 1916 to The Recruiting Officer in Manchester informing them that 'George Lamin wishes to join the army for immediate service and we have released him from munition work for this purpose'.
12.02.16: Proficient: eng. pay 1 shilling per day
01.08.16: Skilled: eng. pay 1 shilling and four pence per day
2.3.17: Arrived in France
12.9.17: Admitted to hospital
18.10.17: Re-joined his unit
11.7.18: 14 days leave in UK
Transferred to 497th Kent Field Company, Royal Engineers.
25.3.19: 14 days leave U.K.
24.08.19: Examined at Burscheid, North Rhine-Westphalia, Germany, prior to discharge: A1 medical category
30.9.19: Discharged from the army
Medals Awarded: British War and Victory
After the War
On 26th February 1921 he sailed for Melbourne, Australia on the ship Orvieto giving his occupation as a bootmaker. He arrived in Melbourne on 31st March, having travelled 3rd class. He returned to London on 4th April 1924 with his wife Nellie Victoria age 19 on the ship Demosthenes. Their son Kenneth Albert was born in Manchester in 1926 and they all returned to Melbourne on 2nd September 1929 on the ship Barrabool. George gave his occupation as a salesman. He must have returned to England at a later date as he is recorded as returning to Melbourne on 11th November 1949 but he was unaccompanied. He gave an address in Ilkeston where he was staying whilst in England. In the 1939 register the Ilkeston address is given by William H. and Ethel Lamin and their son William. George returns to the UK on 26th April 1954, unaccompanied, but then returns to Australia on 13th October 1954. George and Nellie are recorded as living in Australia up until 1968. In 1944 he was executor for a will and gave his address as Toorak, a suburb of Melbourne. He died on 22nd October 1970, described as a retired bootmaker. Nellie is on the 1977 Electoral Roll. George's natural mother Ann married Enoch Hartshorne in 1919.
George was the nephew of Harry Lamin whose diaries were transcribed by Bill Lamin over several years and published on line http://yldiaries.blogspot.co.uk/2008/09/
Reason for inclusion on Radcliffe on Trent Roll of Honour
Born in Radcliffe on Trent.