GEORGE HENRY WALKER 1882–1917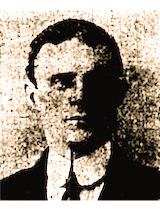 Photo from The Sherwood Foresters Museum, Nottingham Castle
Born 1882 in Radcliffe on Trent
Baptised 21st January 1883 at St Mary's Church, Radcliffe on Trent. In the baptismal register his mother's name is given as Anna.
Died August 3rd 1917, age 35
Commemorated on Panels 19 and 41 Ypres (Menin Gate Memorial), Belgium, as G H Walker, Pte 9006, 16th Battalion, The Sherwood Foresters. Commemorated on white marble Roll of Honour Plaque, Sawley Church.
1891 Census
Age 8, living on Bessel Lane, Stapleford with father Thomas 43, mother Hannah (née Bass) 32 and his siblings Sarah 10, Gertrude 6, Elizabeth 5, Mary 3 and Ann 1.  Ann, age 1, was born in Radcliffe and the census indicates George too was born in Radcliffe so he must have been living in Radcliffe until he was at least 7.
1901 Census
Age 19, living on Bessel Lane, Stapleford with father Thomas, mother Hannah and his siblings Gertrude, Elizabeth, Alice, Thomas and Lilian.  Occupation:  Lace hand.
1911 Census
Age 29, serving in the Military in India, 1st Battalion Sherwood Foresters, Notts. and Derbyshire Regiment.  Single.
Military Service before 1914
Attested 11.12.1903 at Derby
Occupation: Threader. Height 5ft 3¾ins, weight 116 lbs, chest 32ins. Religion: Wesleyan
Military Service from 1914

Rank: Private
Service Number: 9006
Military Unit: 16th Battalion, The Sherwood Foresters, 24th Brigade, 23rd Division. Previously 1st Battalion, The Sherwood Foresters
Theatre of War: France and Flanders, date of entry 4.11.14. Total war service abroad 2 years 9 months
4.11.14: Embarked with 1st Battalion and served with 'D' Company. Entry reads H. 4.12.14   D. 18.1.15 W.
From 1st Bn Sherwood Foresters Roll book 1914-18
8.12.14: Admitted Majestic Hotel Paris with frostbite
18.12.14: Discharged to duty. Transferred from Motor Ambulance Convoy.
28.12.14: Awarded 28 days Field Punishment No.1: when on active service, absent from parading with party to re-join unit at 12.30 pm until 2 pm and returning therewith.
Note: Field Punishment Number One, often abbreviated to "F.P. No. 1" or even just "No. 1", consisted of the convicted man being placed in fetters and handcuffs or similar restraints and attached to a fixed object, such as a gun wheel or a fence post, for up to two hours per day. During the early part of World War I, the punishment was often applied with the arms stretched out and the legs tied together, giving rise to the nickname "crucifixion". This was applied for up to three days out of four, up to 21 days total. It was usually applied in field punishment camps set up for this purpose a few miles behind the front line, but when the unit was on the move it would be carried out by the unit itself.
In Field Punishment Number Two, the prisoner was placed in fetters and handcuffs but was not attached to a fixed object and was still able to march with his unit. This was a relatively tolerable punishment.
In both forms of field punishment, the soldier was also subjected to hard labour and loss of pay. (Wikipedia)
4.3.15: Awarded 14 days Field Punishment No.2:- Absent from parade when on duty in the trenches.  Stating a falsehood to an N.C.O. Trying to obtain intoxicant liquor
9.4.15: Awarded: 28 days F.P.:- 1. For absence; 2. Causing a disturbance and deprived 10 days' pay for absence, 3. Being in Armentieres without a pass, 4. Drunk.
31.7.15: Appointed Lance Corporal
23–29.10.15: Granted leave
6.1.16: Deprived of Lance stripe for misconduct
28.6.16: Awarded 28 days Field Punishment No.1 for:  Drunk in his billet about 11.15 pm
15.10.16: Awarded 14 days F.P. No.2 for: Disregarding Battalion Standing Orders taking liquor away from an Estaminet
23.10.16: G.S.W. (gun shot wound) thigh right
24.10.16: General Hospital Camiers
30.10.16: Hospital Ship to Newhaven
6.12.16: Residence given as Radcliffe in War Office 'Wounded' report
8.2.17: Transferred to 4th Battalion Sherwood Foresters, Private
10.5.17: Bounty of £20 allowed
9.6.17: Posted British Expeditionary Force.
1.7.17: To 16th Battalion Sherwood Foresters
3.8.17: Killed in Action
From the Long Eaton Advertiser August 17th, 1917:  'He was a Lewis Gunner – was hit in the head by a piece of shrapnel. He enlisted soon after the Boer War and served in India and China with the 1st Battalion. He was discharged in 1912 to the Reserve. He was recalled to the Colours on 4.8.1914 and went to France with the 1st Battalion. Was wounded in the thigh in November 1916 by shrapnel and after recovering in England returned to France and was posted to the 16th Battalion'.
Medals Awarded: 1914 Star, British War and Victory 22.2.1922 (sent to his sister Eva Gertrude Bass Walker of Loughborough).
 Go to WWI Timeline to see how this man's death is part of the wider story of the war.
War Diaries
Sherwood Foresters 16th Battalion 
1st-3rd August 1917
The Battalion were at St Julien, Ypres Salient.  August 2nd About 6pm orders received to take over Divisional Front.
16th Battalion SF relieved the 13th Royal Sussex in and behind St Julien.
Relief was completed by 9.30pm
During the process of relief a high velocity shell entered Venheulle Farm killing and injuring 30 other ranks including 3 officers.
August 2nd A and B companies heavily shelled in their dugout position and suffered heavy casualties. These positions became untenable…..
View a copy of the original War diary for the day George Walker died
Other Information
In the UK Army Registers of Soldiers Effects (available on www.ancestry.co.uk) George's account shows a credit of £16.18s.2d.  His relatives are given as brother, Thomas Walker, sisters Eva Gertrude Walker, Mary Fletcher, Alice Bosworth and Lillian C. Walker. Thomas, Eva and Mary were authorised to receive £3.5s.8d each and Alice and Lillian £3.5s.7d each, making a total of £16.18s.2d.
Reason for inclusion on the Radcliffe on Trent Roll of Honour
Born in Radcliffe on Trent. Radcliffe residence during WW1
Menin Gate Memorial