GEORGE FLOWER 1887–1957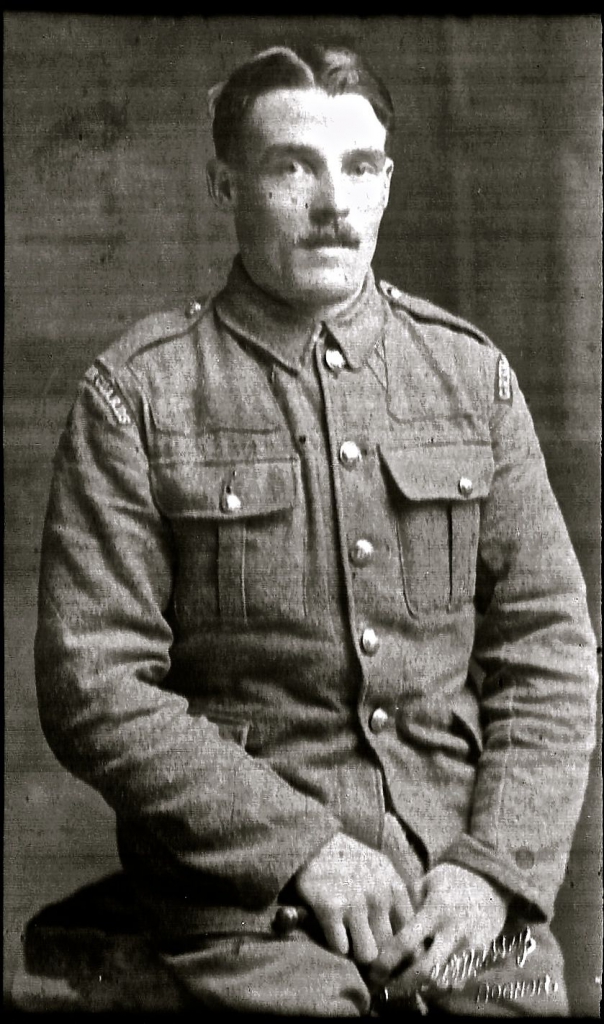 Photograph by kind permission of family
Brother of Harold, Herbert, William, Fred and Sam
Born 13th November 1887, Holme Pierrepont
Baptised 18th December 1887 St Edmund's Church, Holme Pierrepont
Married February 5th 1916 to Edith Ellen Holland at Bognor
Died in 1957
1891 Census
Age 3 living with father William, age 29, a groom and gardener, mother Agnes and sisters Mary Ann 6 and Olive, 1, in Holme Pierrepont.
1901 Census
Age 13 employed as agricultural farm boy living with father William, mother Agnes, sisters Mary Ann 16, Olive 11 and brothers William 9, Fred 7, Harold 5, Herbert 3, and Sam, 1. They lived on Main Road, Radcliffe on Trent.
1911 Census
Age 22, single, a Private with the 3rd Battalion, Grenadier Guards, employed as Officer's servant, stationed at Wellington Barracks, St James Park, Westminster.
Military Service before August 4th 1914
Enlisted: 7  November 1908 at Caterham, 2nd Bn, Grenadier Guards, terms of service 3-9 years
Age when enlisted: 19 years 11 months
Occupation: farm labourer
Height 5ft 7⅛ins, weight 140lbs, girth 36½ins, range of expansion 2 ins, complexion fresh, brown eyes, dark brown hair. Distinguishing marks: 2 small scars on left buttock. Religion: Church of England.
November 1908 Caterham and March 1909 London
Obtained a 3rd class Certificate of Education 9 November 1909
Extended service to complete 7 years with the colours
Military service 1914-1919
Rank: Guardsman
Service Number: 2604172, previously 14061
Military Unit: 1st Bn, Grenadier Guards by end of war, previously 5th Reserves, formerly 2nd Battalion.
Theatre of War: France and Flanders, date of entry 6.4.15
6.4.1915: Transferred to 1st Battalion from 4th (Reserve) Battalion
6.4.15: Expeditionary Force France
15.7.15: To HQ 5th Brigade from 2nd Battalion, as servant to Lieutenant Colonel Corkran
1.2.16- 9.2.16: Leave
29.5.16- 6.6.16: Leave
22.2.17: Transferred to 5th (Reserve) Battalion on arrival in England (not a casualty), where he remained for a year
23.4.18: Transferred to General Base depot, embarked Folkestone
23.4.18: Disembarked Boulogne
23.4.18: Arrived 'J' Dept. Etaples
27.4.18: Joined 1st Battalion in the field
18.7.18: To 5th Battalion HQ
6.3.19: Transferred to 183 Infantry Brigade
13.5.19: In 2nd Battalion
10.7.19: Transferred to England
17.7.19: Transferred to Section B Army Reserve on demobilisation
6.11.20: Discharged on termination of first period of engagement
Total service 12 years; "Exemplary character".
Medals Awarded: 1914-1915 Star, British War and Victory, Good Conduct Badge.
Other information
His military records have conflicting information about medals awarded. His service records state he entered France 6.4.15 and received the 1914-1915 Star. His medal card states he entered France on 12th August 1914, received the 1914 Star and the 1914-1915 Star was returned as a duplicate. According to Forces War records the 2nd Bn, Grenadier Guards were:
04.8.14 Stationed at Chelsea as part of the 4th (Guards) Brigade of the 2nd Division.
15.8.14 Mobilised for war and landed at Havre and the Division engaged in various actions on the Western Front including; The First Battle of Ypres after which only 4 officers and 140 men remained of the Battalion.
20.8.15 Transferred to the 1st Guards Brigade of the Guards Division and engaged in various actions on the Western Front.
George Flower returned to France in 1918 with the 1st Bn, Grenadier Guards. They saw action in 1918 at:
The Battle of St Quentin, The Battle of Bapaume, The First Battle of Arras 1918, The Battle of Albert, The Second Battle of Bapaume, The Battle of Havrincourt, The Battle of the Canal du Nord, The Battle of Cambrai 1918, The pursuit to the Selle, The Battle of the Selle, The Battle of the Sambre.
In view of the fact that his military service record states, in handwriting, that he entered France in 1915 and received the 1914-1915 Star, we are assuming he received the 1914-1915 Star until further confirmation of a possible 1914 Star becomes available.
Address after marriage: 18 Argyle Terrace, Argyle Road, Bognor, Sussex
1921 Census
Address: Epping Green, Little Berkhampstead, Herts
Employment: Groom, Sir B Henderson, Civil Engineer
Household: wife Edith
1939 Register
Address: 36 The Brickyard, Eastwood Road, Radcliffe on Trent
Occupation: general labourer
Air Raid Precautions warden –  demolition
Household: living with wife Edith
Reasons for inclusion on Radcliffe on Trent Roll of Honour
Lived in Radcliffe on Trent.