GEORGE BREWSTER 1886–1916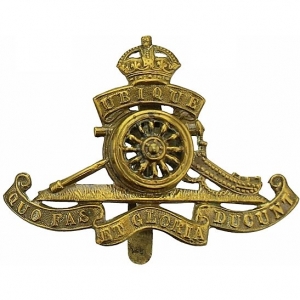 Born 1886 in Radcliffe on Trent
Baptised 13th January 1889 at St. Mary's Church, Radcliffe on Trent
Killed in action 14th July 1916, age 30
Buried at Bronfay Farm Military Cemetery, Bray sur Somme, 11 A17
Commemorated on Radcliffe on Trent War Memorial
Brother of Henry
1891 Census
Age 5 living with father John 29 a railway platelayer, mother Ann 26, brothers William 7 and Henry 1 and a relative Eliza Hopewell.  They lived in Carlton.
1901 Census
Age 15 and employed as a porter on the railway and living with father John a platelayer on the railway, mother Annie, brothers William, 17, a railway labourer, Henry, 11, John, 7 and sisters Annie,  4 and Mabel, 2.  They lived on Station Terrace in Radcliffe on Trent.
1911 Census
Age 25 and now classed as a soldier living with father John a railway flagman, mother Annie, brothers John 17 a farm labourer, Frank, 7 and sisters Annie, 14 servant (at home) Mabel, 12, Florry, 10, Emily, 5, all at school, Mary, 2. They lived at The Harlequin, Radcliffe on Trent, in a 5 roomed house. George was one of 13 children, 3 of whom had died.
Military Service
Enlisted in Nottingham
Rank: Gunner
Service Number: 23394
Military Unit: 12th Siege Battery, Royal Garrison Artillery
Theatre of War: France and Flanders, date of entry 8.3.15. Total war service abroad 1 year 3 months.
Date of entry to theatre of war (France) 8.3.15.
Killed in action near Bronfay Farm, SE of Albert, Bray-Sur-Somme, during the Battle of the Somme.
Medals Awarded: 1914-1915 Star, British War and Victory
Go to WWI Timeline to see how this man's death is part of the wider story of the war.
From the UK, Army Registers of soldier's effects:
Sole legatee is recorded as Mrs Catherine Ould who was awarded £11 5 shillings 5d (£11.27p) on 29.1.1917 and £11 on 16.8.19.  Mrs Ould's son John died of wounds on 8.8.16 in France, age 20.
Obituary
'BREWSTER. – In loving memory of Gunner George Brewster, killed in action July 14th, 1916. One of the best. Never forgotten by his faithful friend.' From the Nottingham Evening Post, 14th July 1917.
Reasons for inclusion on Radcliffe on Trent Roll of Honour
Lived in Radcliffe on Trent.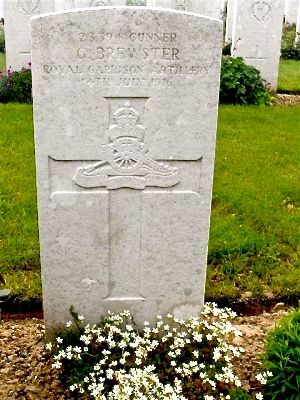 Notts County Counil Roll of Honour