GEORGE ANDREW HENDERSON NOWELL
1891–1916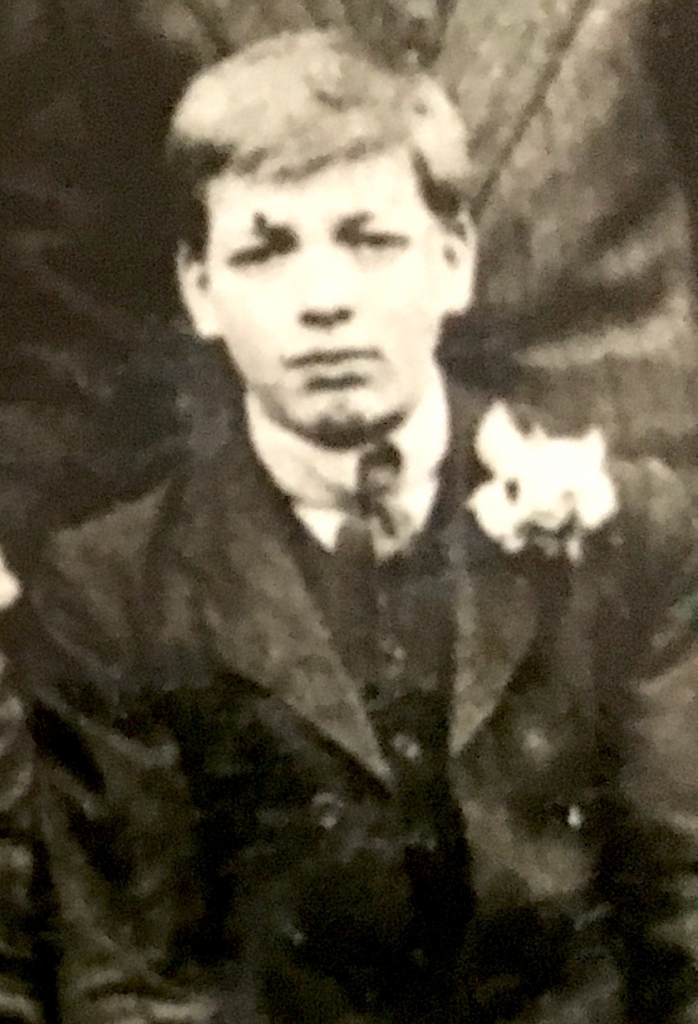 From photograph in Cutler collection 1912
Brother to Horace and Edgar, who was killed 28th June 1917
Born Oct – Dec 1891 in Radcliffe on Trent
Baptised 24th March 1892 at the Wesleyan Methodist Church, Radcliffe on Trent
Killed in action 7th July 1916 during the attack at Quadrangle Support, near Contalmaison, the Somme, France, age 24 (not 26 as shown on Commonwealth War Grave photograph below)
Burial: Dantzig Alley British War Cemetery, Mametz. Grave reference IV. L. 6
Commemorated on Radcliffe on Trent War Memorial
1901 Census
Age 9 living at The Green, Radcliffe on Trent with father Walter 37, bricklayer, mother Annie 37 and his siblings: brothers Horace 7, Edgar 3 and sisters Gertrude 15, Ethel 13, Constance 11 and Irene 2.
1911 Census
Age 19, living at Estate Cottage, Back Lane, Radcliffe on Trent, with his father Walter, foreman bricklayer, mother Annie and his 9 siblings: brothers Horace 16 and Edgar 13, both printer's assistants, sisters Gertrude 25, Ethel 23, Constance 21, Irene 11, Ivy 8, Gladys 5 and Edna 2. He is employed as a printer's assistant.
Military Service
Rank: Sergeant
Service Number: 19087
Military Unit: 3 Platoon, A Company, 10th (Service) Battalion, The Sherwood Foresters, 51st Brigade, 17th (Northern) Division
Theatre of War: France and Flanders
7.7.16: Killed in action during the attack at Quadrangle Support near Contalmaison, during the Battle of the Somme (source: The Sherwood Foresters Roll)
15.9.16: Reported in Red Cross Enquiry List as wounded and unofficially missing on 7.7.1916
From the War Diary of the 17th Battalion, The Sherwood Foresters, July 1916 (diary held by the Worcestershire and Sherwood Foresters Regimental Museum, Nottingham):
July 4th 1916 On relief the companies marched independently to camp at VILLE marching from battle positions during a heavy bombardment by our guns on QUADRANGLE TRENCH.
The following booty was captured during these operations :- 2 Field Guns, 4 Machine Guns with 9 spare barrels, 1 artillery periscope, numerous rifle bayonets and other equipment including 25,000 rounds S.A.A. many maps and documents. Casualties: Lieut. A .E.   SPENCER   killed   2nd.   Capt. E.R. OAKDEN, 2/Lt. A .G. BOWRING, 2/Lt. J.W . DAVIDSON (attd 51 T.M.Batty) wounded 2nd . Lieut. W .H.V. NELSON wounded slightly at duty 2nd. 2/Lt. J.H.IDESON wounded 3rd. O.R. Killed 13. Missing 8. Wounded 103 includes 11 slightly at duty.
5th. The battalion arrived at CAMP at VILLE from 2 a.m. till 4 a.m. had tea and a sleep. Baths were available at the MILL and each man obtained a clean set of underclothes. Day spent reorganising and requipping as far as possible.
6th. Remained in camp. Orders to be ready to move at a moment's notice were received at 10.30 a.m. but further information was received later that no movement was to be made that day. Major G.D. WALKER and Lieut. R.G. MILWARD were sent forward in the afternoon for reconnaissance work but both these officers were unfortunately wounded. In the evening preliminary orders were received to be ready to move up at half an hour's notice from 6 a.m. the following morning.
7th. At 4 a.m. orders were received to be in position on line of original British Front Line trench by 9 a.m. with right of battalion resting on cross roads F.9.a.5 .3. Tools, Lewis Guns, Signallers kit and M.O. Stores were sent on in advance and dumped at these crossroads.
The battalion moved off from camp at 6.30 a.m. and was in position as ordered by 9 a.m. A and D Coys. in front line, B and C Coys. in support. BORDER REGT.on the right. On arrival a message was received that a preliminary attack on QUADRANGLE SUPPORT undertaken by 52nd Bde. had failed and that attack was being renewed at 8 a.m. At 9.40 a.m. an order was received to move to neighbourhood of LONELY COPSE. These new dispositions were taken up by 10.35 a.m. the companies being put into disused trenches near WELL LANE and LONELY TRENCH. Bn. H.Q. established at F.3.b.2.6.
At 11.20 a.m. the following message was received "You are to move forward into QUADRANGLE TRENCH with a view to relieving 52nd LB. AAA. On no account commit yourself to an attack without orders AAA Report your next position by bearer."
At this time there was a certain amount of shelling along the line RAILWAY ALLEY – LONELY COPSE and the rain had begun to fall.
Accordingly companies were sent forward independently with orders to reorganise in valley S.W. of hedge between BOTTOM WOOD and SHELTER WOOD. On arrival at this point, C and D Coys. were sent forward to QUADRANGLE TRENCH, A and B Coys. were retained near Bn. H.Q. which was established in a shell hole at X.28.d.3.3 by 12.1 5 p.m.
The following situation report was dispatched at 12.20 p.m.- "C and D Coys. in QUADRANGLE TRENCH where there are also representatives of three battalions of 52nd Bde. AAA Trench seems crowded AAA A and B Coys. SHERWOOD FORESTERS in support near Bn. H.Q. AAA portions 52nd Bde. also in dugouts in C.T. from RAILWAY ALLEY to CRUCIFIX TRENCH AAA 0.C.
MANCHESTERS passed by me 20 minutes ago stating he had orders to organise details of 52nd Bde. in QUADRANGLE SUPPORT for fresh attack on QUADRANGLE SUPPORT AAA My Adjutant was informed in QUADRANGLE TRENCH by an officer of 52nd Bde. that QUADRANGLE SUPPORT was in our hands AAA not yet verified statement AAA barrage heavy in vicinity of RAILWAY COPSE to the North.
The shelling in the valley became more intense and several casualties both to officers and men incurred. A and B Companies were therefore moved to the right in shell holes and trenches near BOTTOM WOOD.
At 5 p.m. orders were received to relieve all units of 52nd Bde. in QUADRANGLE TRENCH, to clear up situation in PEARL ALLEY and to prepare for an attack on QUADRANGLE SUPPORT, details to be notified later. During the shelling 4 Lewis Guns were either buried or destroyed but subsequently two of these were recovered. A patrol sent to clear up situation in PEARL ALLEY found this trench not in our hands: further QUADRANGLE TRENCH from the point where it bends Northwards was little more than a ditch and in full view of CONTALMAISON (still in the enemy's hands) and sniping was active. A bombing squad was however, sent down this trench and made PEARL ALLEY good almost as far as the CEMETERY.
By this time Bn. H.Q. had been re-established in dugout bin RAILWAY COPSE and the rain had stopped. The ground, however, was very heavy and extremely difficult to move over.
At 6.45 p.m. orders were received to attack QUADRANGLE SUPPORT at 8 p.m. after 30 minutes bombardment. An attack on CONTALMAISON was also to be delivered by 3rd Corps on the left at the same time. This latter attack was not launched.
The time allowed for the organisation of the attack was not sufficient and consequently the necessary advantage could not be taken of the bombardment, and the attack was ragged. The attack was launched but Machine Gun Fire from both flanks, rifle and Machine Gun Fire from the objective and an enemy barrage prevented the troops from advancing over the heavy ground, and a withdrawal was ordered, and carried out in excellent style. The men were wet through and cold, the ground was heavy and both flanks were in the air.
At about 9 p.m. orders were received that the 7th BORDER REGT. were to relieve the battalion and on relief the battalion to proceed to area WILLOW TRENCH and RED COTTAGE. This relief was a difficult matter and it was still not till 2 a.m .that the relief was complete. A, C and D Coys. took up positions near FRICOURT TRENCH and B Coy. in LONELY TRENCH Bn. H.Q. under the crucifix at F.3.c.central. 3 a.m. Rations, including an issue of Rum, were fortunately available and the troops were enabled to have a meal and sleep.
8th.  A quiet day as far as the battalion was concerned remaining at rest in positions taken up in the early morning.
Obituaries

Nottingham Evening Post 7th July 1917
'NOWELL. – In loving memory of our dear sons & brothers, Private G. Nowell, S.F., killed in action June 28th, 1917, also Sergt. H. Nowell, S.F., missing July 7th, 1916, of Radcliffe-on-Trent. Death divides, fond memories cling. From father, mother, sisters, brother, Connie and Cyril, Gert, and Cis, and Hendy's fiancée Edith."
 Nottingham Evening Post, 28th June 1918
Medals Awarded: British War and Victory
Go to WWI Timeline to see how this man's death is part of the wider story of the war.
Reasons for inclusion on the Radcliffe on Trent Roll of Honour
Lived and worked in Radcliffe on Trent.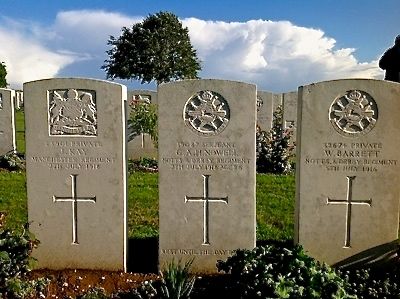 Dantzig Alley British War Cemetery, France
Photo taken in September 2015 by Radcliffe WWI team member.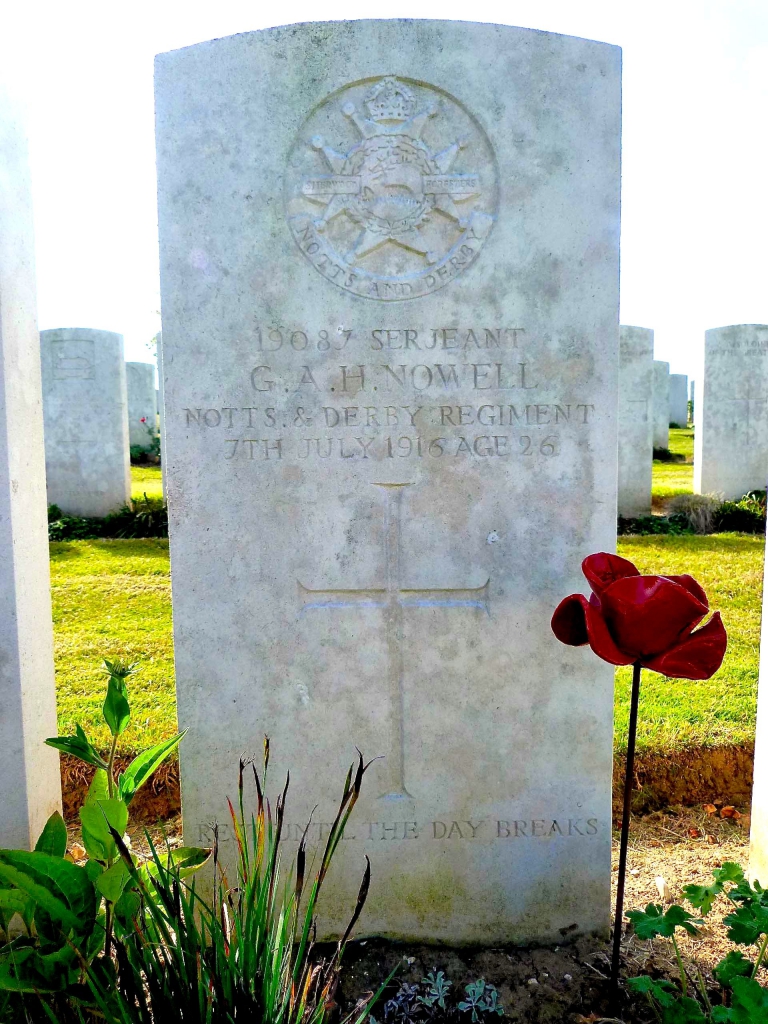 This photograph was taken by a Radcliffe on Trent resident in August 2016 during a family commemorative trip to the Somme. After paying respects to her relatives, she visited two of the graves of men from Radcliffe on Trent. The poppy, from the Tower of London installation, was placed at graves and memorials of all the places the family visited before they took photographs.