ERNEST FRANCIS HUMPHREY 1886–1920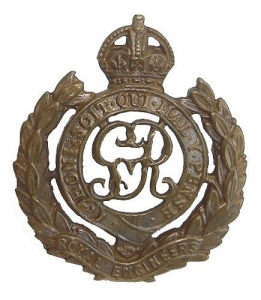 Born 1886, December quarter, in Nottingham.
Baptised 26th January 1887, St. John's Church, Nottingham.
Married 1912 to Myra F. Allen. They had 3 children, George Tyrell born 27th December 1912, Florence  born 1917 and Frances born 1920.
Died 5th February 1920, age 33
Commemorated in Nottingham General Cemetery and on Notts. County Asylum Memorial. Not remembered on Radcliffe on Trent War Memorial.
1887
At the time of his baptism, he was living with father Elijah and mother Elizabeth née Tyrrell at 16 Queen's Road, Nottingham.
1901 Census
Age 14 employed as an errand lad for a stone yard and living with father Elijah 46 a railway policeman, mother Elizabeth 46, brothers John W. 23, labourer, George 17, moulder in iron foundry, and sisters Edith 21, Florence 20, Kate 11 and Gertrude 9. They lived at 111 Kirkewhite Street, Nottingham.
1911 Census
Age 24 employed as a stonemason and living at Fort Monkton, Alverstoke, Gosport. Serving with the 42nd Company of Royal Engineers.
He later took employment at Notts. County Asylum (Saxondale) and is listed in their records as an attendant who served in the Armed Forces with the Royal Engineers. He is also reported as wounded in their records.
Military Service
Rank: Corporal
Service Number: 17671
Military Unit: Royal Engineers, 7th Field Company, 4th Division
Theatre of War: France and Flanders, date of entry 23.8.14
Medals Awarded: 1914 Star with Clasp, British War and Victory
20.1.16: Admitted to 4th London General, University College with shell shock. Lance Corporal with 8 years service at this date
4.2.16: Discharged from hospital
3.2.19: Discharged from service
4.3.19: Awarded a pension due to otitis media
Other information
Ernest Humphrey died in Nottingham General Hospital on 5th February 1920 and was buried in Nottingham General Cemetery. CWGC headstone: '17671 Corporal E F Humphrey Royal Engineers 5th February 1920 age 33'. Son of Elijah and the late Elizabeth Humphrey, husband of Myra F Humphrey of 73 Annesley Street, Nottingham. Address at time of death was 111 Kirkewhite Street, The Meadows. His widow Myra applied to the War Office for a pension.  On the pension application card Ernest's cause of death is given as 'otitis media and neurasthenia'. A £7 grant was paid to Myra on 17.12.20 and it appears that she did receive a pension: an entry on the card notes that she died in 1933 but no further details are given.
From www.wartimememories.com
"7th Field Company, The Royal Engineers served with 4th Division. 4th Division was held back from the original British Expeditionary Force by a last minute decision to defend England against a possible German landing. The fate of the BEF in France and the lack of any move by the Enemy to cross the channel, reversed this decision and they proceeded to France in late August. They were in action at the The Battle of the Marne, The Battle of the Aisne and at The Battle of Messines in 1914. In April 1915 they transferred to 50th Division. In 1916 they fought on the Somme at The Battle of Flers-Courcelette, The Battle of Morval and The Battle of the Transloy Ridges. Between the 17th of October 1916 and the 29th of January 1917 they were attached to British III Corps, engaged in Light Railway Work on the Somme. They rejoined 50th Division at Albert. In 1917 they were in action at Arras during The First Battle of the Scarpe, The Capture of Wancourt Ridge and The Second Battle of the Scarpe before moving north for the Third Battle of Ypres. In 1918 they fought on the Somme, in the Battles of the Lys and The Battle of the Aisne, leaving the troops exhausted. The original infantry units were withdrawn and others arrived to take their place. The reformed Division went back into action in October in the Battles of the Hindenburg Line, The pursuit to the Selle and the Final Advance in Picardy. At the Armistice the 50th Division was resting at Solre le Chateau."
http://www.wartimememoriesproject.com/greatwar/allied/royalengineers7fldcoy
Myra married William Smith in 1928 and had another daughter, Joyce. Ernest and Myra's eldest son George was a prisoner of war in WW2 in Stalag IVA. He was posted as missing in June 1942 in Libya while serving with 277 Battery, 68 Heavy Anti-Aircraft, Royal Artillery. He returned home in May 1945 according to an article in the Nottingham Evening Post. Myra died 1957.
Obituary
 'Humphrey. On the 5th inst. at the General Hospital, Ernest F. the dearly loved husband of Myra Humphrey and beloved youngest son of Elijah and the late Elizabeth Humphrey, of 111 Kirke White-street, Nottingham. Peace after pain.' From the Nottingham Evening Post, 6th February 1920
Reasons for inclusion on Radcliffe on Trent Roll of Honour
Worked in the parish of Radcliffe on Trent at Notts. County Asylum.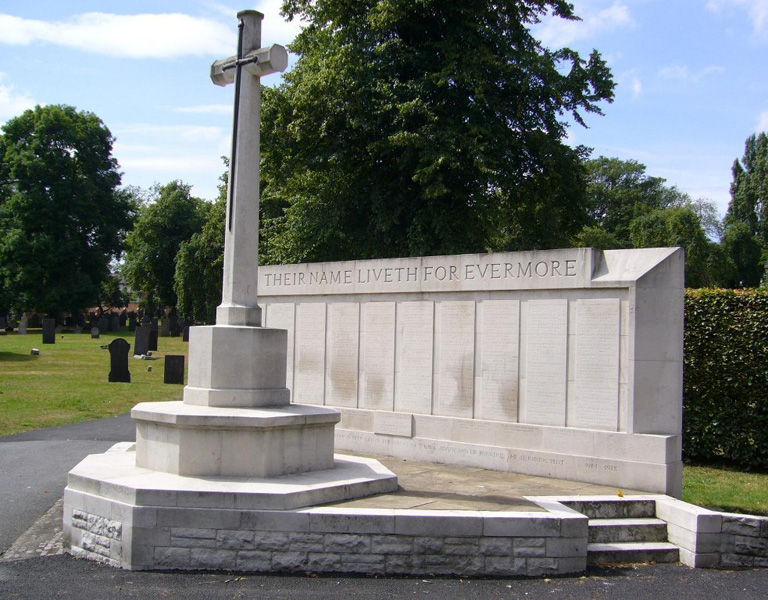 Nottingham General Cemetery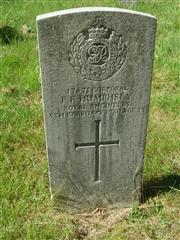 Photographs by a member of our research team