DOUGLAS HOLDEN BLEW-JONES 1894–1947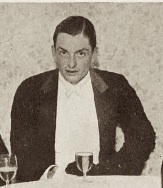 Photo from The Tatler, January 1922
Born 22nd April 1894, London
Married December 1918 to Violet Birkin, daughter of Lt Col. Charles Birkin
Father of Belinda Bridget (Bindy) Blew Jones born 1921 and Jeanette Elizabeth born 1923
Died 18th September 1947, age 53, buried St Barnabas Church, County Durham
1901 Census
Living at Lansdown Place, Hove with father, Walter Bethune Blew Jones, 38, previously a stock-broker, now living on own means, mother Alice, sister Mary, 6, brother Walter, 2 months, and servant Mary Fox.
1911 Census
Boarder at Malvern School, Worcestershire. He was in the Officers Training Corps.
Military Service
Rank:  Lieutenant from 29.2.1916
Service Number: 1720
Military Unit: 1st Life Guards, 7th Cavalry Brigade, 3rd Cavalry Division,  previously served with the Honourable Artillery Company, North Devon Hussars. On 10.3.18 the 1st Life Guards was dismounted and converted to No 1 (1st Life Guards Battalion), Guards Machine Gun Regiment.
Theatre of War: France and Flanders, date of entry 18.9.14.
He was 6ft 4ins tall.
Commissioned 11.3.15.
His attestation states he joined the Hon Artillery Company as a Private on 28 August 1914, he was then discharged in consequence of being appointed to a commission with the Royal North Devon Hussars on 10 March 1915 and then joined as a 2nd Lt in the 2nd Life Guards regiment on 8 April 1916. He was granted a permanent commission as a 2nd Lt on 7 July 1917. He was appointed to the Guards Machine Gun regiment as a Lt on 26 June 1918 but ceased to be employed by them from 31 January 1919. A notice in the London Gazette of 23 August 1918 requested this appointment to be cancelled as Lt Blew-Jones had been categorised as unfit for general service for some time. This request could not be fulfilled pending decision as to the future of the regiment, (letter dated 10 January 1919).
He collapsed after running a marathon race whilst in France in May 1917 and was sent back to England where he was treated in a London hospital. He was diagnosed with 'Cardiac Overstrain'. He was returned to France in April 1918 as his health was much improved but his symptoms subsequently returned and he collapsed again on 7 June 1918 and was returned to England and sent to Lamcote House on 29 July 1918 for his recuperation. It was felt that his condition was not caused by his military service but was aggravated by it. He attended numerous medical boards and his health did improve but apparently 'tires easily' and in the end was deemed medically unfit for any further active service. He returned to the Life Guards for light duties on 8 September 1919.
Lamcote Auxiliary Hospital for Officers, Radcliffe on Trent was located at Lamcote House, the home of the Birkin family and was in operation between 1918 and 1919.
Medals Awarded: 1914 Star, British War and Victory
Other information
He was promoted Captain in the 2nd Bn, Life Guards, seniority date 14.9.1921.
Violet Birkin was a V.A.D. when he was a patient at Lamcote House. After their marriage they had homes in Devon and Radcliffe on Trent; in  1925, their address is given as Brick House, Radcliffe on Trent (source: Kelly's Directory 1925), formerly the home of the Elwin family.  By 1921 Douglas Blew-Jones was the master of the Stevenstone Hunt in Devon. He  appears in several newspaper articles throughout the 1920s in relation to attendance at hunting events in Devon. The couple also spent time in London and had separate London addresses in the 1930s. The 1932 Electoral Register lists Douglas Blew-Jones living at 22 Norfolk Square, Hyde Park Ward. The British Phone Books for 1936 show Captain Douglas Blew-Jones with a London address at 20 Beaufort Gardens. In 1938 he is still listed at this address and is also listed with an address at Golfstone, Westwood Ho, Devon. Violet and Belinda Blew-Jones are listed in the 1938 phone book as living at 1 Wells Rise, London NW8. Violet was living with Geoffrey Harry Rolls Hoare in London from 1946; they were married in 1949.
1921 Census
Address: Stoney Castle Camp, Woking
Occupation: Lieutenant 2nd Life Guards
1939 Register
Address: 7 Basil Street, Chelsea, London
Occupation: living on private means
Household: living alone
He was a temporary Major, Regular Army Emergency Commission, in WWII from 28.2.1941.
In 1939 he was fined for drunk driving in Bideford and banned for twelve months (North Devon Journal, February 23, 1939).
Home address on death 18.9.47: Fordyce Lodge, Fordyce, Banffshire. Died at Garden-House, Lambton Castle, Fence-houses, Durham. Lambton Castle was the home of his daughter's husband, Lord Lambton. Administration London 8 November to Violet Hilda Margaret Blew-Jones, widow. Effects £1223. His daughter, Lady Belinda 'Bindy' Lambton, was buried next to him in St Barnabas Church graveyard when she died in 2003 at the age of eighty one. Douglas Blew Jones was bankrupt when he died (see The London Gazette, 12th December 1947, p.5890).
Reason for inclusion on Radcliffe on Trent Roll of Honour
Married a woman from Radcliffe on Trent and lived in the village immediately after the war (source: Priestland, 1989).