DANIEL SMITH 1887–1919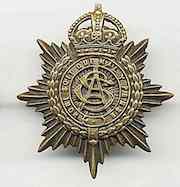 Born 1887, High Wycombe, Bucks.
Married 20th November 1915 to Eliza Chamberlain, Wesleyan chapel, Radcliffe on Trent. Occupation on marriage chauffeur
Daughters: Vera Annie born 1916 and Alma born 18 September 1919, after he had died. Both children baptised at Wesleyan Chapel, Radcliffe on Trent.
Died February 28th, 1919, aged 32
Buried Radcliffe on Trent Cemetery. Epitaph: 'Thy Way Not Mine O Lord'
Commemorated on Radcliffe on Trent War Memorial
1891 Census
Age two living in Wycombe, Bucks with father William, an agricultural labourer, mother Sarah, brothers George 18, Thomas 14, Harry 12, William 10, Charles 1 and sisters Elizabeth 6, Jane 4 and Ada 1 month.
1901 Census
Age thirteen living with parents, brothers George, Harry, William, Charles and sisters Elizabeth, Jane and Ada at Green Street, Hughenden, Buckinghamshire. Father was a farm worker.
1911 Census
Age 24 a domestic groom boarding with the Holmes family in West End Villas, Radcliffe on Trent.  The other boarder in the household was William Fryer, a general labourer.
Military Service
Rank: Private
Service Number: M2/134234 ('M' indicates he served in Motor Transport)
Military Unit: Royal Army Service Corps
Theatre of War: Unknown, served overseas
Daniel Smith died on February 28th 1919 in Radcliffe on Trent. His death was caused by influenza and double pneumonia. It was certified by Dr Allaway and registered the same day. His sister-in-law Annie Vickerstaff was present at the death. He is buried in Radcliffe cemetery. Epitaph: 'Thy Way Not Mine O Lord'. His age on his death certificate is given as thirty two.
Annie Vickerstaff was his wife's sister and married to William Bates Vickerstaff
A £6 grant was made to Eliza his widow but there is no record of pension payments.
Article: The influenza pandemic and its impact on Radcliffe on Trent
Medals Awarded: British War and Victory. Note on Medal Rolls Index Cards requesting authorities to dispose of the medals.
Other information
Daniel Smith was a staunch Methodist. The family lived at West End Villas, Radcliffe on Trent. His widow Eliza and their 2 daughters were still living at West End Villas in 1939. Vera married William Thornhill and Alma married Arthur Standbridge.
Reasons for inclusion on Radcliffe on Trent Roll of Honour
Lived, died and buried in Radcliffe on Trent.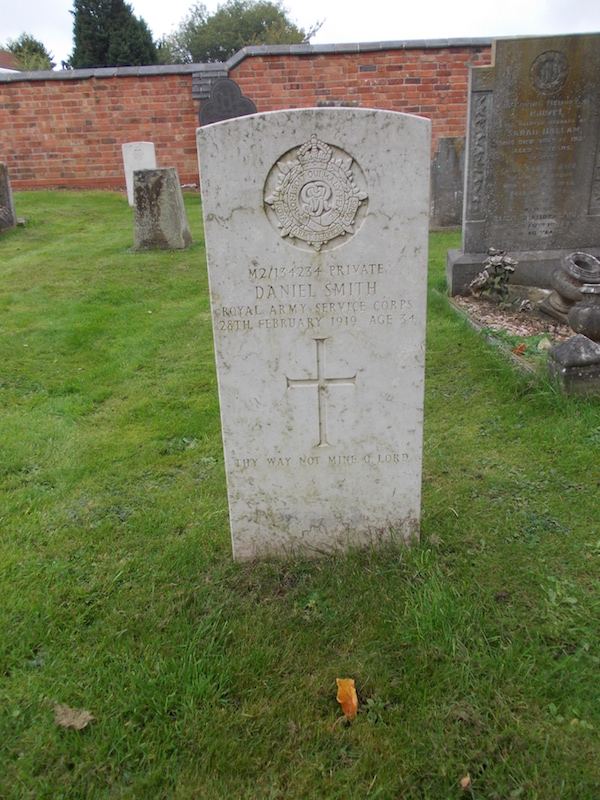 Radcliffe on Trent Cemetery