CLAUDE HENRY BELL 1896–1967

Photograph from Radcliffe Local History Society
Brother of Wilfred
Born 11th April 1896, Belgaum, India.
Baptised 20th May 1896 St Mary's Church, Belgaum, India
Married 29th September 1920 to Mary Hanneffey at St Mary's Church, Radcliffe on Trent
Died 1967, age 70, buried in Radcliffe on Trent cemetery (L43, headstone)
1911 Census
Age 14. Parents: John Bell (died 1930) and Ellen Bell (died 1938). Father was a regular soldier, pioneer Sergeant, in the East Yorkshire Regiment and several of his children were born while he was serving abroad. He returned to the UK around 1905. Seven children in family. Ida born 1894, Egypt, Claude born 1897, India, Wilfrid born 1898, India, Marion born 1900 Belgaum, India, Grace born 1903, Madras, India, Doris born 1906, Radcliffe on Trent and Vera born 1909, Radcliffe on Trent
John Bell was an army pensioner and running a grocer's shop in the Harlequin. Claude was working as a butcher.
Military Service
Rank: Private in WWI. He was a staff or colour sergeant in the 1920s (see his uniform in photo above)
Service Number: 17525
Military Unit:  1st Battalion, East Yorkshire Regiment, 64th Brigade, 21st Division
Theatre of war: France and Flanders, date of entry 30.6.15.
Served with the East Yorkshire regiment throughout the war and was posted to Ireland after November 1918. Regiment was in Mullingar in 1919
From Forces War Records
Regiment was in Mullingar in 1919
Total Military Service: unknown. He continued to serve as a regular soldier after the war.
Medals Awarded: 1914-1915 Star, British War and Victory
Military Personnel Address on 1918 Electoral Roll
The Harlequin, Radcliffe on Trent
Other Information
Continued to serve as a regular soldier after the war.Claude's military record has not been found. Brief details above regarding rank and medals are from Medal Rolls Index Cards. He achieved the rank of sergeant, as shown in the photos by the three  stripes on the arms of his uniform. The photographs are undated.
The following information has been found about Claude Bell's wife, Mary Hannaffey: (see also newspaper article below)
"Mary Hannaffey – Born Mullingar c 1896, met future husband Claude Henry Bell, British Soldier, East Yorkshire Military Unit, stationed in Mullingar c.1919-1920, returned with him to England.  They married Sept 29th 1920 in Radcliffe on Trent, Nottingham. On the wedding certificate she gives her place of residence as Ballymore, Ireland.
She had an older sister Margaret. Their father John Hannafy died while she was very young and her mother married a man called John Fahy (Fahey). They had several daughters, one called Julia and one son Matthew.  Matthew was still living in Mullingar at the time of Mary's death c.1984.  Several of the sisters emigrated to America.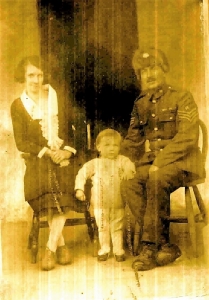 Photograph from rootschat.com.forum.index.php?topic=137481.0
Photograph taken 1926
Father John Bell is listed in several Wrights Directories (1910 -1920) as a grocer, Bingham Rd.
1921 Census
Address: 1st Battalion East Yorks, Mullingar, County Westmeath, Ireland
Employment: Sergeant
1922 Electoral Register
Address: The Harlequin, Radcliffe on Trent
Household: Claude and his parents on electoral register
1939 Register
Address: 11 Hardwick Grove, West Bridgford
Employment: Bailiff at Nottingham County Court. Noted as army pensioner
Household: Living with wife Mary J, occupation domestic duties unpaid. Her date of birth is given as 1st January 1894. Also daughters Joan and Frances both at school.
Reasons for inclusion on Radcliffe on Trent Roll of Honour
Lived in Radcliffe on Trent with parents and siblings, buried in village.
Article in the NOTTINGHAM JOURNAL AND EXPRESS on WEDNESDAY 29 SEPTEMBER 1920
WEDDING ROMANCE
Radcliffe Sergeant and his colleen bride – In the quaint old parish church of Radcliffe on Trent there will be performed today the crowning ceremony of an interesting Irish romance.
After having served in France and the Balkans, Sgt Claude Bell, whose parents are the owners of a general provision establishment situated in that part of Radcliffe known as the Harlequin, was sent to Ireland with his regiment, The East Yorks.  He had not been there very long before he met a pretty blue-eyed colleen and the two formed a deep affection for each other.
Barrier of religion – But the girl's religion- Roman Catholic- stood as an almost immovable barrier between them, for the priests take great pains to obviate, if possible, any meetings between Irish girls and English soldiers.  The Sinn Feiners, whether prompted by jealousy or religious principles it is difficult to say, have also taken an adverse view of the inevitable love affairs between men who are endeavouring to enforce law and order and the Irish girls.
Thus it came about that the attachment was attended by grave danger for both, as the following experience will show.
The couple were walking along the barrack road of the small town in the County of East Meath, where the sergeant was stationed, when a man suddenly approached on a bicycle, and on seeing the two lovers dismounted and affected to attend to his machine.  As they approached he stopped them and ordered the girl back to the town and the sergeant to walk on.  They refused and the man – a Sinn Feiner- immediately produced a large Colt revolver, and Sergeant Bell, realising that there was no arguing with such a weapon, and being unarmed, told his fiancee to go back.
Sinn Feiner bluffed – She complied, but her quick wit came to her aid and she bluffed the Sinn  Feiner most effectively "I am married to that soldier" she declared, and the revolutionary immediately saw the futility of further interference.  "Well, why didn't you say so before" he growled and then, much to her relief, rode away.
Sergeant Bell reported the matter to his adjutant, and after a little trouble his fiancee was allowed to live in barracks with another sergeant's wife prior to his obtaining leave to come home and be married.  A few weeks afterwards the happy pair were en route for England and reached Radcliffe six days ago for the marriage today.