CHARLES HENRY BUXTON 1893–1976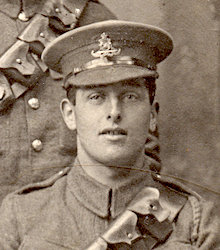 Photo courtesy of family
Brother of Arthur
Born 10th August 1893 in Radcliffe-on-Trent
Baptised 24th September 1893 St Mary's Church, Radcliffe on Trent
Married on 20th April 1922 to Ellen Briggs in Kimberley, Notts
Died December 1976 in Nottingham, age 83
1901 Census
Age 8, living on Main Road, Radcliffe on Trent with father Henry, a bricklayer, mother Jane and siblings Arthur M. age 9, and Maud M. age 3. Edward Searson Kyte, chemist, was a boarder with family.
1911 Census
Age 17, a baker living on Main Road, Radcliffe on Trent with father Henry, a foreman bricklayer, mother Jane, siblings Arthur Midgley, Maud Mary and boarder Edward Searson Kyte, age 50, a chemist.  House has six rooms
Military Service
Rank: Gunner
Service Number: 79426
Military Unit: 11 Company, Royal Garrison Artillery, 148th Siege Battery
Theatre of War: unconfirmed, likely to have been France and Flanders
Enlisted 11.12.15. age 22
Wounded
21.11.16: Gunshot wounds head, arm and skull
19.1.17: Hospital ship Formosa to Coulter Hospital, Grosvenor Square, affiliated to Queen Alexandra's Military Hospital at Millbank, London.
9.2.17:  Returned to duty suitable for sedentary service at home camps only – Ciii
From Silver War badge records:
Served overseas
12.9.17. Discharged no longer physically fit for War service, age 24 years 1 month
Medals Awarded: British War and Victory. Silver War badge no. 242542
Pension Record Card
He was awarded a 50% disablement pension from 17th March 1921 providing him with a weekly pension of £1.  On 15th March 1922 he was reassessed to 40% disability and received 16 shillings (80p) per week.
Other information
According to a family member, Charles walked with a limp and said that he had been injured in the leg by shrapnel.
1921 Census
Address: Farndon House, Main Road, Radcliffe
Employment: Sorting Clerk and Telegraphist, Ilkeston
Household: father Henry, foreman bricklayer, GNR, mother Jane, sister Maud, ladies maid Mrs Birkin, boarders Ellen Briggs, counter clerk Radcliffe Post office, Edward Kyte, Chemist
1939 Register
Address: 60 Eastwood Road, Basford district
Employment: Post office clerk
Household: living with wife Ellen and Clementine and Tom Scott
Reasons for inclusion on Radcliffe on Trent Roll of Honour
Born and lived in Radcliffe on Trent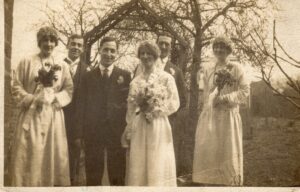 Wedding photograph courtesy of the family