CHARLES GORE 1897–1962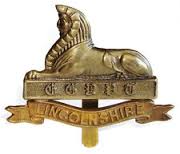 Brother of Joe Gore
Born 12th July 1897 Radcliffe on Trent
Baptised 5th September 1897 at St Mary's Church, Radcliffe on Trent
Married 1923 to Sarah Constance Hall in Nottingham
Died June 1960, age 62
1901 Census
Age three living with his father John, a fish salesman born in Kent, mother Margaret Ann born in Radcliffe on Trent, brother and sister Joe and Mary age 7. They were living on Mount Pleasant, Radcliffe on Trent.
1911 Census
Age 13 living on Main Road, Radcliffe on Trent with parents, brother Joe and sister Mary, both seventeen and Minnie, nine.
Military Service
Rank: Private
Service Number: 16344
Military unit: 3rd (Reserves) Battalion, Lincolnshire Regiment
Enlisted 13th April 1915 at Nottingham: height 5ft 4ins, complexion fresh, eyes blue, hair brown, next of kin John Gore, father. Trade fishmonger. Address Main Road, Radcliffe on Trent.
He was discharged on 4th March 1916 at Grimsby due to being no longer physically fit for service. He served 327 days. His character on discharge was described as 'good – intelligent, sober, clean and well behaved'.
Health reasons for discharge: valvular disease of the heart.
Service Records 'Medical Report on an Invalid' Form B179
At the age of twelve he had rheumatic fever and was confined to bed for three months. When fifteen years of age he had scarlet fever. At this time his medical attendant informed him he had a weak heart and advised him to avoid running and other forms of undue exertion. When he started to train as a soldier he found he was unable to keep up with the others always having to fall out when the company was at the double. His disability was rheumatic in origin, not caused by active service, climate or ordinary military service.
The heart is enlarged. The apex is situated one inch below and outside the nipple. The heart is regular in action but … There is a blowing regurgitant murmur audible at the base of the heart. Compensation has been well maintained up till February of this year. Lately he has complained of restlessness and palpitation. Cardialgia is well marked. There is also some oedema of the legs.
Medals Awarded
He did not receive campaign medals as he did not serve abroad. He was awarded a Silver War Badge No. 94758.
There is a pension card with details of correspondence but no details of grant.
1921 Census
Address: Station Terrace, Radcliffe
Employment: Steam Lorry Driver, Boots Chemist
Household: brother in law George Chamberlain, striker at Boots, sister Mary, Fish monger, John Gore , fishmonger Southwell Road, Nottm.
1939 Register
Address: 18 Leslie Avenue, Beeston
Occupation: Lorry Driver
Household: living with wife Sarah C. and a lodger Frank Horabin who was a motor fitter working at the Ordnance factory.
Sarah died 5th September 1961
Reason for inclusion on Radcliffe on Trent Roll of Honour
 Born and lived in Radcliffe on Trent