CHARLES ERNEST SPOUGE 1899–1959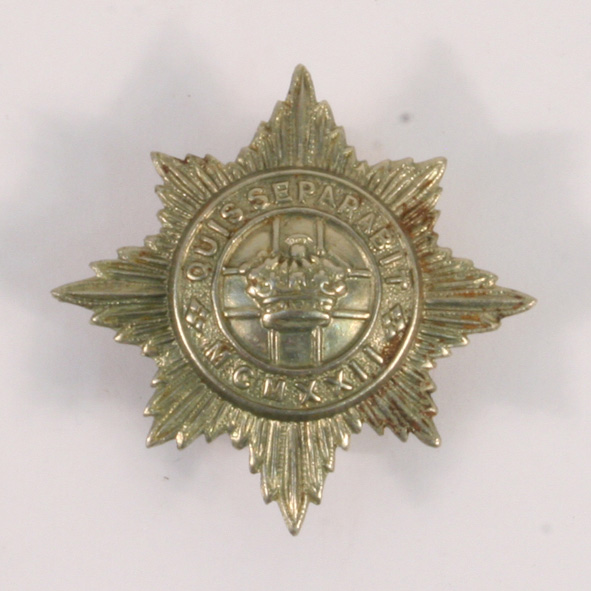 Born 12th December 1899 in Coventry. Name recorded as Spouge on birth, marriage and death register, censuses and two sets of service records.  Sponge on later set of service records.
Married Maud G. Smith in 4th June 1927 at St Thomas' Church, East Kirkby , Nottinghamshire. Occupation, police constable.
Son Alan born 1928 in Basford district, daughter Betty M. born 1931 in Sheffield
Died October quarter 1959 in Sheffield, age 59
1901 Census
Age 1, living on Wesley Street Kirkby in Ashfield with father Charles, coal miner loader underground, mother Ann and sister Edith 2. His sister Edna 3, was living next door with grandparents Thomas and Martha Hucks.
1911 Census
Age 11 living at 27 Great North Road, Woodlands, near Doncaster, with father Edwin Charles, coal miner, mother Ann 3, sisters, Edith 12, Olive 9, and Nellie 5. Name is Ernest on census.
Military Service
Charles was so keen to sign up for the army that he enlisted twice when he was underage, the first time in September 1914 when he was 14¾. He was posted as a driver with the RFA and then discharged in November 1914 as medically unfit. He re-enlisted in May 1915 when he was 15¼ and was discharged a year later for lying about his age. He enlisted for a third time in February 1918. It is thought that around 250,000 underage boys volunteered to serve during the war. It was easy for them to lie about their age and recruiting officers would often turn a blind eye as they were under pressure from the long queues of volunteers and were paid two shillings and sixpence for each new recruit.
1914-1916
Rank: Driver
Service Number: 21270
Military Unit: Royal Regiment of Artillery (R.H. & R.F.A.)
8.9.14: Attested in Hucknall. Stated his age as 18 years 26 days, when he was actually 14 years 9 months old. Occupation: miner.
Height 5ft 5½ins; weight 118½ lbs; chest 35½ins; range of expansion 2ins; eyes hazel; hair medium; complexion light; religion Baptist
Next of kin: Father Charles E. Spouge, mother Fanny, brother Dennis, sisters Emma, Edith, 3 St Thomas Avenue, East Kirkby, Notts
Joined at Newcastle-on-Tyne
Home 8.9.14 – 11.11.14;
8.9.14: Posted Driver no 1 Depot
12.9.14: Posted no 189 Battery RFA
14.10.14: Posted 248 Battery, 78th Brigade RFA
11.11.14: Discharged M.U. (medically unfit?) para 392 iii (c) K.R. (King's Regulations)(recruits within three months of enlistment considered unfit for service)
Re-attested 8.5.15 at East Kirkby:
Rank: Private
Service Number: 3846
Military Unit: 2/8 Sherwood Foresters
Apparent age 18 years 9 months; height 5 ft 7 ins; chest 36 ins; range of expansion 3 ins
Service: 8.5.15 to 1.3.16
13.8.15: Watford. Late on 6 a.m. parade. 4 days C.B. (confined to barracks)
5.1.16: Watford. Quitting fatigue without leave. 3 extra fatigues. 14 days C.B.
1.3.16: Discharged under para 392 (vi a) K.R. (having made a mis-statement as to age on enlistment).  Charles' Commanding Officer wrote on his discharge form 'This man if he had stayed on would I think have (be)come a useful soldier. He is steady and obedient'
Description at the time of discharge:
Age 15 years 3 months; height 5 ft 9½ inches; chest 36½; range of expansion 2½ ins
The following later service records are from National Archives WO 363 Mis-Sorts under Charles Ernest Sponge:
Rank: Private
Service Number:illegible: —431
Military Unit: 4th Reserve Regiment Dragoons
Attested 6th February 1918 in Newport, Monmouthshire
Age 18 years 51 days; occupation: asylum attendant; medical category A1; height illegible but chest 38ins; range of expansion 2½ ins
Father: Edwin Charles Sponge of 10 Kingsway, East Kirkby, Notts
23.7.1917 – 31.1.1918:  In Reserves
1.2.1918: Mobilised
4.2.18: Posted 4th Dragoons
5.2.18: Posted Cavalry depot
13.12.1918: Transferred Class W Reserve (liable at any time to be recalled to the colours)
Home: 1.2.1918 – 12.12.1918 (315 days). Character good during 315 days
Medals Awarded: Ineligible for campaign medals (but see below)
However, initially he appears to have been awarded the 1914–15 Star, which was then withdrawn or 'scrapped' as stated on his medal card (see below), even though the card is stamped 'Theatre of War France' and 'Qualifying date 12-7-15'.  On the lower part of his medal card is written 'RH and RFA Recs 1915 Star ineligible, disembarked after 1/1/16'.
Other information
He was working at Notts County Asylum in 1917. Military record states previous service with 246C Battery, Royal Field Artillery, confirming hospital statement that he served with the R.F.A.
Directories
1922 Kelly's Directory: Newsagent at address given for father
1939 Register
Address: 24 Dykes Lane, Sheffield
Employment: Police officer
Household: living with wife Maude G, date of birth 27.2.1899, John Spouge born 1869 and two other people whose names are obscured (probably his children).
Reason for inclusion on Radcliffe on Trent Roll of Honour
Worked in the parish of Radcliffe on Trent at Notts County Asylum.