CECIL ISMAY WAKLEY INGRAM 1888–1916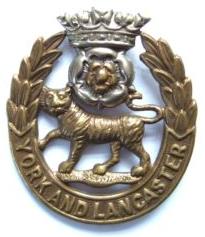 Born in 1888, September quarter, Carrington, Nottingham.
Baptised 24th December 1890, St. John the Evangelist, Nottingham. Baptismal name Ismay Cecil Wakly Ingram
Killed in action 1st July 1916 (first day of Battle of the Somme), France, age 27.
Commemorated on Thiepval Memorial, Pier and Face 14A and 14B, Radcliffe on Trent War Memorial, Cropwell Bishop Council Primary School Memorial and on his grandfather Francis Wakley's headstone in St Mary's Churchyard, Orston Nottinghamshire.
1890
He was living in Carrington, Nottinghamshire at the time of his baptism with father Cecil Morton Ingram, born in Bilston, Staffordshire, and mother Elizabeth Letitia Ingram. His father had served in the Royal Artillery for a year and then left and married his mother.
1891 Census
Age 2  name recorded as Ismay, living at 350 Mansfield Road, Carrington with grandparents, Francis Wakley, age 56, drayman, Mary Ann Wakley, age 55, their son, Frank, age 28, his wife Ellen, age 22 their daughter Gwendoline, a baby and Cecil's mother Elizabeth Letitia Ingram, age 21. His father, Cecil Morton Ingram, was living in Wales as a boarder, occupation 'directory agent'.
1901 Census
Age twelve living with his grandfather Francis Wakley now the publican at the Chequers Inn, Cropwell Bishop, assisted by his son Frank and Frank's family but his mother was elsewhere. The family was living next door to Robert Clark, age twenty-eight, a canal barge labourer born in Cropwell Bishop, his wife and three children.
1911 Census
Age twenty-two and using the name Ismay, he was now living in Radcliffe on Trent with his mother, Letitia Clark, forty-one, and step-father Robert Guy Clark, forty-one born in Cropwell Bishop. The household also included a boarder, Edgar Murdon, age seventeen, a waggoner on the farm and a visitor Cyril Hale, age twenty-five and manager of a motor depot. Cecil's occupation was 'electrician wireman'. The house at Lamcote Fields, Radcliffe on Trent had seven rooms. The census states that his mother and step-father had been married 13 years but records show the marriage took place in 1906.
Military Service
Rank: Private
Service Number: 12/967.
Military Unit: 12th (Service) (Sheffield City) Battalion, York and Lancaster Regiment, 94th Brigade, 31st Division
Theatre of War: France and Flanders
Enlisted: Sheffield
Medals Awarded: British War and Victory
Go to WWI Timeline to see how this man's death is part of the wider story of the war.
Cecil Ingram was killed in action during the attack on Serre by the 12th York and Lancashire Regiment, known as the Sheffield Pals. The devastating attack on the heavily fortified town of Serre virtually destroyed the Pals. There were approximately five hundred casualties with 246 killed and a further twelve who later died of their wounds. See below for brief descriptions of the conflict:
From Westlake, Ray (2009) Tracing British Battalions on the Somme (Barnsley: Pen & Sword)
Moved up from Bois de Warnimont (30/6) and took up assembly positions for attack on Serre (1/7)- going forward on left of 94ths Brigade's attack most of the Battalion would be pinned down in No Man's Land. A few men reached German line and some later entered Serre itself. Official History of The Great War notes that bodies of men from 12th Yorks and Lancaster were found in the north-west corner of the village during attack of (13/11). Withdrew after dark to Roland Trench.
From the War Diaries of the York and Lancaster Regiment, 31st Division, 12th Battalion, 1st July 1916
'A great many casualties were caused by the enemy's machine guns; in fact the third and fourth waves suffered so heavily that by the time they had reached No Man's Land they had lost at least half their strength. Whole sections had been wiped out'.
Read the original war diary account of the first day of the Battle of the Somme
Other information
Cecil's military record of soldiers effects states he was 'presumed dead'.
Reasons for inclusion on Radcliffe on Trent Roll of Honour
Living in Radcliffe on Trent in 1911.
Thiepval Memorial, the Memorial to the Missing of the Somme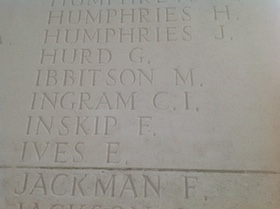 Photo of name on pier taken by a member of the Radcliffe WWI project team, 2015