THOMAS FLOWER 1894–1936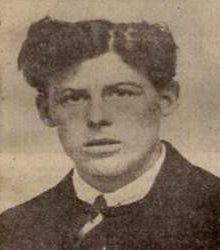 Second cousin to Flower brothers
Born October 1894 in Radcliffe on Trent
Married 1920 to Agnes Day in Huntingdonshire
Child: John Thomas, born 1921 Bingham District
Died 20th February 1936 aged 41
Buried in Radcliffe Cemetery, grave reference B20
Radcliffe on Trent School Register
Date of Admission: 30 August 1897, admission no 1394, birthday October 1894, address: Knights Hill
1901 Census
Age 6 living on Ogles Yard, Radcliffe on Trent with father Thomas, 38, a carpenter's labourer on the railway and mother Elizabeth (née Bell) 38, both born in Radcliffe, step sister Rosa Bell, 14, an errand girl, sisters Jane 10, Elizabeth 8 and Emily 3.
1911 Census
Age 16 living with father Tom, a carpenter's labourer and his mother Elizabeth, sisters Mary Jane, 20, a cook/domestic, Elizabeth, a packer in a flour works, Emily, Elsie 1 and a brother Frank, 7, at school. They lived on Mount Pleasant, Radcliffe on Trent in a house of 6 rooms. He is employed as a garden boy/domestic
Military Service
Rank: Lance Corporal
Service Number: 11787
Military Unit: 1st Battalion, The Sherwood Foresters, 24th Brigade, 8th Division, later 9th Battalion, The Sherwood Foresters
Theatre of War: France and Flanders, date of entry 4th November 1914. Total war service abroad, 3 years 1 month
03.02.12: Enlisted.
He would have been a regular soldier as the disembarkation date is the same as that given for the arrival of the 1st Battalion in France, travelling from where they were stationed in India. Sherwood Foresters archive confirms served overseas.
04.11.14: To British Expeditionary Force, France
26.12.14: Frost bite, foot. In B company, 1st Bn, Sherwood Foresters. 3 years service to date. Religion Methodist.
28.12.14: Transferred to sick convoy, hospital ship Asturias.
22.05.15: Wounded during Battle of Aubers and invalided to Manchester Hospital
09.11.16: Listed as Wounded on the War Office Casualty list. Residence Burton on Trent
Nov 1917: Wounded in the arm. Invalided to St Bartholomew's Hospital. Lance Corporal at this date
31.12.17: Discharged due to wounds
14.05.18: Discharged from St Bartholomew's Hospital
Pension Record Card
After his discharge he was assessed at 50% disability due to a gunshot wound to his left upper arm with compound fracture of the humerus. He was awarded a permanent weekly pension of 20 shillings (£1) from 19 May 1920.
Medals Awarded: 1914 Star with Clasp and Roses, British War and Victory, Silver War Badge Number 302997
1921 Census
Address: Mount Pleasant, Radcliffe
Employment: Postman, Radcliffe
Household: father Tom, asphalter Great Northern Railway, mother Ann, brother Frank, engine cleaner GNR, sisters, Mary Jane and Elizabeth both maids at Mikado Cafe, sister Emily, trainee picture framing, Boots Chemists, sister in law Agnes, nephews John and Frederick Dell, apprentice Baker, Coop.
Other information
He died in February 1936 as a result of a motorcycle accident near Owthorpe, Notts. He was a postman. Agnes died in 1983 aged 87. Their son John Thomas fought in the second world war in the RAF (Coastal Command) and was reported missing and later confirmed dead. He died on 24 March 1945, age 23.
Will. Thomas Flower of The Harlequin, Radcliffe died 20 February 1936, administration Nottingham to Agnes Flower, widow.
Letters
In 1953 a house purchase in Radcliffe-on-Trent brought with it a charming set of slim wooden drawers, made for the storage of sheet music. For many years thereafter these drawers did service as a sewing box, and discovered in the bottom of one of them was a small collection of documents, letters, and family photographs dating from the First World War.
To read them see: http://www.ournottinghamshire.org.uk/page/tom_flower
Reasons for inclusion on Radcliffe on Trent Roll of Honour
Born and lived in Radcliffe on Trent.