Lincoln Castle hosts 'Wave'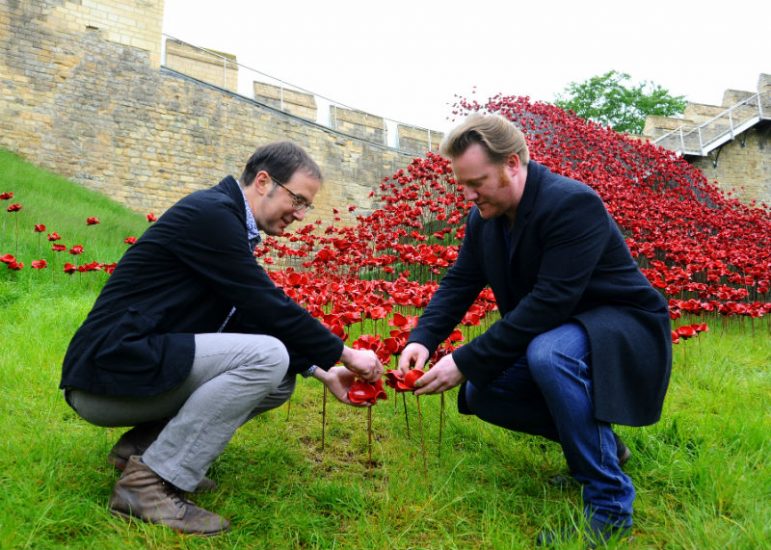 Artist Paul Cummins (R) and designer Tom Piper (L) at Lincoln Castle.
Image credit Andy Tryner, Lincolnshire County Council, source www.1418now.org.uk
28th May, 2016
Wave, created by artist Paul Cummins and designer Tom Piper, was first presented as part of the installation 'Blood Swept Lands and Seas of Red' at the Tower of London in 2014. It is now touring the country before finding a permanent home in 2018 at the Imperial War Museum. Paul Cummins and Tom Piper have been closely involved with the Lincoln Castle installation of the poppies.
Lincoln was chosen as the second venue to host Wave because of its historic castle and strong associations with the First World War. The city was heavily involved with munitions and weapons manufacture. The first tank to be used in WWI was designed in 1915 and then produced by William Foster & Co. Ltd of Lincoln. As orders for tanks poured in, the town became proud to be known as 'tank city'. Lincolnshire also made an enormous contribution to aircraft manufacture during the war, producing more planes than any other county in Britain.
Three new service battalions (6th, 7th and 8th) of the Lincolnshire Regiment were raised in the city during September 1914. A few men connected with Radcliffe on Trent served with the Lincolnshire Regiment: Private Percy Draper (1888–1915), Staff Colour Sergeant Harold Flower, Private John Saint, Private Benjamin Sheppard (1899–1918) and R.Q.M. Sergeant William Williamson, D.C.M. Two Radcliffe on Trent brothers, Jack and Thomas Pike, worked in Lincolnshire as air mechanics for the Royal Naval Air Service, which was later transferred to the R.A.F.
Lincoln Castle is hosting the spectacular Tower of London 'Wave' sculpture from May 28th–September 4th 2016. The castle grounds are open daily from 10 a.m. to 5.30 p.m.