ETHEL ROSETTA SMITH 1897–1918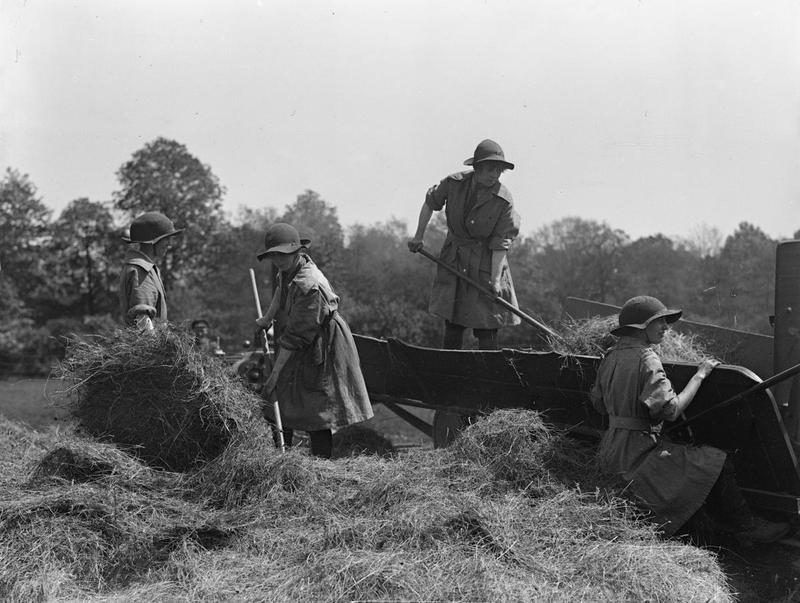 Women's forage corps members feed a hay baler
Photograph courtesy of Imperial War Museum Q30685
Born 1897, Islington, London
Died 22nd November 1918 in Radcliffe on Trent, age 21
Buried in Radcliffe on Trent cemetery. She was a member of the Army Service Corps: Women's Forage Corps. Her grave has a Commonwealth War Graves headstone. Epitaph 'She did her duty'. Commemorated on the Women's Memorial Screen, York Minster, York.
Before the War
Ethel Rosetta Smith was born in the third quarter of 1897 in Islington, London. She was the daughter of James Smith, born 1854 in Belchamp Walter, Essex and Ellen Smith, born in Witham, Essex. She had two brothers: Charles Henry, born 1878 in Islington and Arthur James, born 1892. Her father James was a foreman gas fitter working for the Midland Railway (headquarters in Derby). In 1901 the family were living at 44 Countess Road, Islington. In 1906 her mother Ellen died. Around this time the family moved to Osmaston, a suburb of Derby where James continued his work as a gas fitter. He was re-married in 1909 to Fanny Pauline Holmes and died in 1914. Ethel's brother Charles had a long career in the 3rd (Kings Own) Hussars from 1898 to 1919 and completed 21 years of service. He was on active service in South Africa and in WWI achieving the rank of Staff Sergeant by the time he was discharged. He was awarded the South African Transvaal, Orange Free State Medal 1901–1902, Long Service and Good Conduct Medal with gratuity in 1916, British War and Victory Medals at the end of WWI.
Charles Smith's service records include important information about his family and where they were living before and after WWI. He was posted to India shortly after enlisting in 1898 then to South Africa in 1901. He returned to India where he was stationed from 1902-1907. He was posted back to South Africa in December 1907 where he remained until December 1911. He married Mabel Alice in Durban on 3rd May 1909. The couple had two daughters: Winifred Mabel, born in the Transvaal on 22nd June 1910 and Hilda Alice, born in Osmaston, Derby on 22nd February 1912. His wife's address as next of kin is given in his record for 1909 as 27 Beverley Street, Osmaston, Derby which is where Ethel Rosetta, her brother Arthur, father James and his wife Fanny were living (see 1911 Census). Charles Smith was in England for most of WWI until he was posted to France in March 1918 where he remained for a year. He was discharged to 26 Melbourne Road, West Bridgford, Nottinghamshire in 1919.
During the War
Ethel Smith became a member of the Army Service Corps, Women's Forage Corps. She was a Member, Baling Hand and served in the U.K. In 1917 a women's branch of the forage department was founded to collect hay from farms and transport it by rail to its military destination. The role of the Forage Corps was essential for maintaining millions of horses working on the Western Front. Between four and six thousand women enrolled in the Corps. They wore khaki uniforms, the rank of 'member' was equivalent to 'private' in the army and their work included baling hay, making and mending sacks, driving and clerical tasks. The women worked in teams of six across the country and were supervised by a sergeant. Little is known about Ethel Smith's service; it is assumed that she was probably living with her sister in law, Mabel Smith, in West Bridgford when she joined a team of forage corps members working on farms in Nottinghamshire villages, including Radcliffe on Trent.
Farms in Radcliffe on Trent
Fifteen farms in the village are listed in the 1910 Finance Act and eight farms are listed in Wrights Directory of 1915. It is possible that Ethel Smith was employed to work on one or more of them. The larger farms included Lamcote Farm, Bailey Lane, 77 acres, owned by Lord Manvers and farmed by Thomas Elnor and The Manor Farm, 100 acres, owned by George Alfred Bell.
Death of Ethel Rosetta Smith
Ethel Smith died of influenza on 22nd November 1918 in Radcliffe on Trent. Her address was Bingham Road and her death was certified by Dr Allaway. The flu pandemic had spread around the world killing millions of victims, many of them young adults like Ethel. There were several deaths in Radcliffe on Trent during the autumn of 1918 including servicemen who were patients at Notts. County War Hospital and local school teachers. The next of kin given on her death certificate is Mrs. Mabel Smith, sister-in-law, 26 Melbourne Road, West Bridgford. By this time both Ethel's parents had died a few years previously, her brother Charles was serving abroad and her brother Arthur James had been in France since 1915 with the Royal Engineers (he survived the war).
Article: The influenza pandemic and its impact on Radcliffe on Trent
Eighteen members of the Women's Forage Corps died around the country while on active service: sixteen from influenza/pneumonia, one from meningitis and one from appendicitis (source: Great War Forum www.1914–1918invasionzone.com).
Their names are as follows: Baling Hands – May Victoria Bishop, Daisy Clarke, Gertrude Coles, Bessie George (died of meningitis), Annie Howe, Lilian Kane, Margaret Johncock, Ethel Smith, Elsie Williams and Elsie Wiltshire; Store Hands – Julia Winifred Knight, Mary Ann Whaley; Driver – Kathleen Mary Clayton Smith; Quarter Mistress – Edith Bettis; Corporal – Ada Palmer; Assistant Forwarding Supervisor – Clarice Hancock; Forwarding Supervisor – Eva Gates (died of appendicitis); Area Inspector of Women – Ellen Green.  Ethel is commemorated with them on the magnificent Women's National Memorial Screen in York Minster.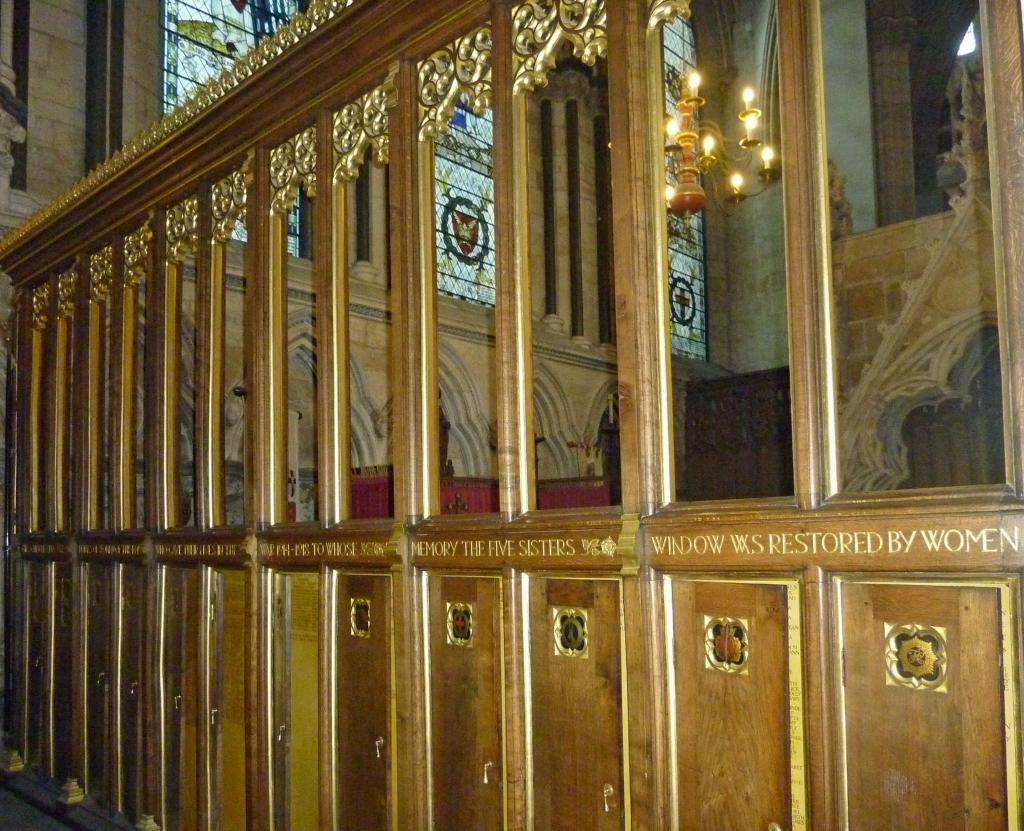 York Minster Women's Memorial Screen
Photograph taken by Rosie Colllins
"The Five Sisters Window in the North Transept of York Minster is the only memorial in the country to women of the British Empire who lost their lives during the First World War. The window, which dates from the mid-1200s, was restored and rededicated between 1923 and 1925 after it was removed during the First World War to protect it during Zeppelin raids.
A public appeal for its restoration as a memorial was started by Mrs Helen Drage Little in 1923 after she had a vision while attending Evensong. Within weeks of its launch, the appeal had attracted 32,000 subscribers and raised more than the £3,000 needed for its restoration. The restored window was unveiled on Midsummer's Day 1925 by the Duchess of York in the presence of 800 relatives of the dead women it commemorates.
The names of the 1,400 women commemorated are inscribed on oak screens on the north side of the St Nicholas's Chapel. This memorial carries by far the greatest number of names of any in the Minster, including that of Edith Cavell, the British nurse shot by a German firing squad in 1915 for helping 200 Allied soldiers escape from German-occupied Belgium." (Source: www.yorkminster.org)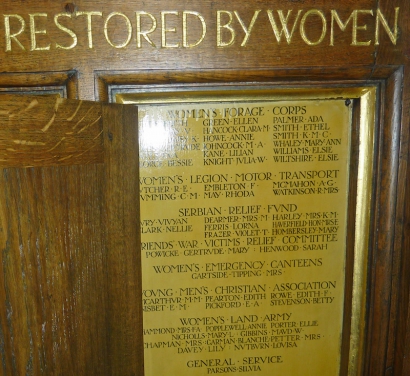 Detail from Memorial Screen, York Minster, showing Ethel Smith's name (top right).
Photograph taken by a member of the Radcliffe on Trent WWI research team.
Researching Ethel Rosetta Smith
Discovering Ethel's identity has been a long process. The search began in 2013 after seeing her CWGC headstone in Radcliffe on Trent cemetery, inscribed with the words 'Member, Army Service Corps'. Her death certificate was then obtained from the General Records Office; it showed she died of influenza in Radcliffe on Trent at the age of 21 in 1918. An online search yielded documentation showing she was a member of the Women's Forage Corps and was commemorated in York Minster. A visit to York resulted in photographs of the memorial screen. The only clue to her identity was the name and address of her next of kin which was given on the death certificate and on the 'nominal roll of officials and members who have died while serving in the W.F.C.'. Her sister in law was Mabel Smith living in West Bridgford, a town about four miles from Radcliffe on Trent. A search at the Nottinghamshire Archives of the 1918 Electoral Register and Absent Voter Lists revealed the name of Ethel's brother, Charles Henry Smith, head of household at this address. He was listed as being on active service in WWI. A prolonged online search for Ethel Rosetta Smith and Charles Henry Smith through Ancestry and findmypast was the next step. Attempts to link them eventually resulted in identifying them as having the same father, James Smith. His unusual birthplace, Belchamp Walter (persistently misspelt in the documents) revealed the connection between brother and sister. Charles and Ethel never appear living together on the censuses as he was twenty years older than her and James had three wives, compounding the difficulties of identification. Charles' military record on findmypast was then examined and resolved the mystery of Ethel's identity. His detailed record gives the addresses where his father and Ethel were living in 1911 and where his wife Mabel was living in 1919. Her address is the same address in West Bridgford as on Ethel's death certificate: 26 Melbourne Road West Bridgford, Nottinghamshire.
Reasons for inclusion on Radcliffe on Trent Roll of Honour
Died and buried in Radcliffe on Trent while on active service.