Centenary Concert Readings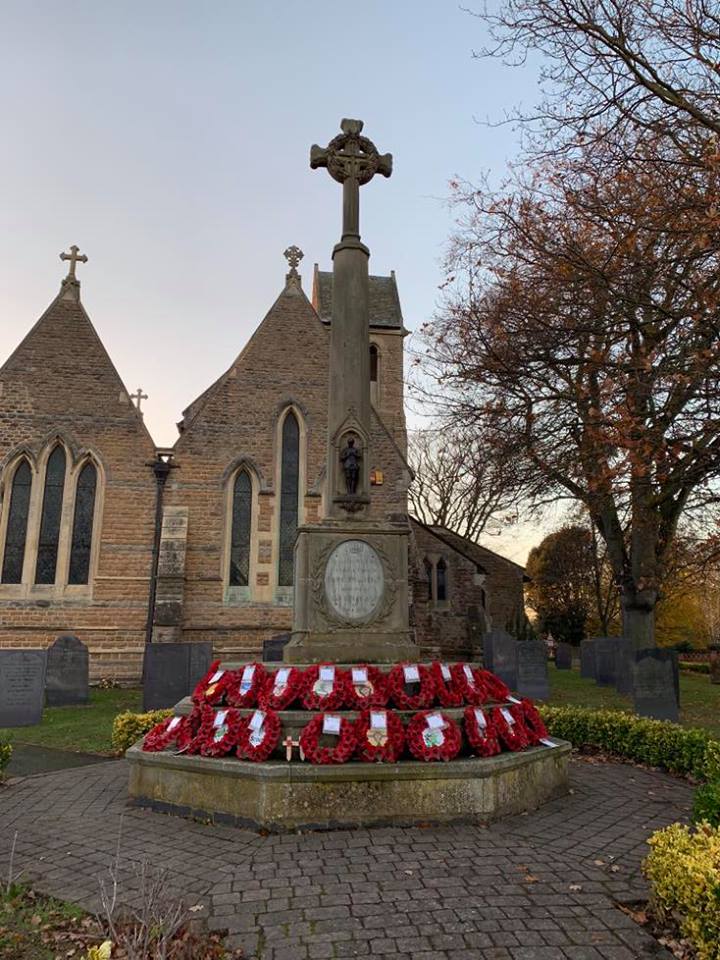 Readings by Radcliffe on Trent WWI Group at the Centenary Concert, November 8th 2018, St Mary's Church
Reading 1: 'Letters from Claire Birkin, Commandant of the Radcliffe branch of the Red Cross, Notts 94, addressed to nurse Grace Durant'
Read by Marion Caunt
Claire Birkin ran the Radcliffe branch of the Red Cross, Notts 94. One of her members, Grace Durant, went on to have a life time career in nursing. Back in 1915 she began nursing at Lincoln Hospital, where Claire wrote to her.
"Dear Miss Durant,
Thank you so much for your letter. I was delighted you are so happy and like your work and I told the class about you last night and gave them your message. Mrs Smith is sending the cheque for your outfit today. Hoping you continue to be happy and it is splendid to be able to do something for and help our poor wounded soldiers.
Yours faithfully, Claire Birkin
Do come and see me when you get some leave".
Grace was transferred to Malta, a major centre in the Mediterranean for treating war casualties, in 1916. She became dangerously ill with dysentery and almost lost her life in 1917. Claire Birkin wrote to her once news had reached Radcliffe that she had recovered.
"Dear Miss Durant,
I am so relieved to hear that you are better and I was so sorry for your mother. She was so dreadfully upset and unhappy about you and one felt so helpless and you so far away. But she is greatly comforted now by the charming letters she has received about you from the matrons of your own hospital and the one you are now in. They praised you very much for your work and your patience during your illness and it makes me very proud! In that one of my Detachment should have made so many friends and earned so much approval from those about her. I am wondering now if you will get leave to return home and get quieter living – you can imagine the joy it would be to your mother. Nearly all the members of the detachment are working now here, certainly all those not over age. But no more classes and consequently no terrifying exams! Everyone nursing here seems very busy working at various things and our boys long for the war to cease. But I fear it will not this year. Though all last summer people were so hopeful it was bound to end before Xmas. Do let me hear from you sometime and I am so pleased you are feeling well again.
Yours kindly,Claire Birkin"
Reading 2: 'Letter from Tom Pike to his parents on hearing the news of his brother's death at Passchendaele'
Read by Diana Barrett
Charles Pike was one of four brothers living in Radcliffe. They all enlisted. He was sent to the Western Front and his brothers stayed in England working for the Royal Naval Air Service and later the RAF. Charles, a married man with children, was killed at Passchendaele in 1917. This is the letter his brother Tom wrote to their parents, who were my great grandparents.
"My Dearest Mother & Father,
How can I start this letter under such circumstances. I really don't know what to say but I felt I must write. I never had such a shock in all my life, to think I shall never see poor dear Charlie again, isn't it awful. I really thought I should have died for the time. Of course I tried to get home as soon as I heard but they told me to find out where Charlie was, that is why I sent the wire, but then Dolly said don't come, you don't know what it is to be here, & know that you are all in such deep trouble as you are, to think I am yet to sleep in a hammock I am sure I shall never close my eyes. I would much rather it have been me, poor little Dickie & Mary & poor Aggie too, but we know he will go to heaven if anyone does, the best of the best, & to think he is taken from us, I can't realise it, I am simply dying to see you all and to know all the particulars.
Please dear Mother do not make yourself ill if you can help it for our sakes. I am sure you will worry but do please try & bear it as well as you can & remember it was God's will, Mother, and He is alive, everybody & everything.I don't know what to do, it is unbearable. I don't think anyone can own two such miserable objects in all my life as Jack & I, poor Jack he does not say much but he looked like death when he sent the wire. I really can't think what Dolly put "don't come" for I am sure, when I should have thought she would know how we should be to be stuck here with such trouble on us, I don't suppose we shall get home now until our weekend although I shall try & come as soon as I can.
Closing with my very best love to you all & do please Mother try & be brave & trust in God who is above all things. From your ever loving son
Tom
God bless you all."
Reading 3: 'Recollections of a WWI nurse, Mary Jollie'
Read by Pauline Woodhouse
In 1918, Notts County Asylum at Saxondale was converted into a military hospital for men suffering from war trauma and treated over 1000 patients. Mary Jollie, who nursed there, was interviewed many years later on Channel 4 about her experiences. This is an extract from the interview.
"I had forty-nine men in my ward and they were a mixed bag. There were forty nine beds at the very end and then a glass partition between that and the day room where, if they were in, they sat – it was where they had their meals. There was a small corridor off that and there was a kitchen in it and the meals came up from the big kitchen and were apportioned out there. Most of them were normal and many of them went out into the town or village and they had passes, you know. They could stay out quite a long time. In fact there was one man called Pearce that used to go to Radcliffe station and just watch the trains run through the whole day. He wasn't taking numbers or anything. He just loved to stare at the trains.  It was very sad but that's what he wanted to do. None of them went back to his regiment when they got to my ward. They were happy in that they were looking forward to going out and not going back to their regiments but other than that it wasn't a happy place.
They were not well. No. No. No. You see the hospital, the ward I had anyhow, was a sort of place of shelter. They were looked after and had no responsibilities while they were there but they had to face up to them when they went out. You saw a lot of stress and you felt for their fears. And I was very young. I was only 24. I hadn't all the knowledge or the wisdom that I should have had. They were unhappy men. They would sit around the fire in the winter time and just sit there, not talk. They were easily moved. Their feelings were very exposed and they were easily moved to tears. And many of them were being asked questions that were distressing them very much but the psychoanalyst had to get to know what was causing the trouble. It's not good to see a man in tears. It was a painful thing to see a man quite out of control. The tearful men were very upsetting and I had to be there.
We did everything to distract them from their worries. For instance there were games – cricket, tennis, walks. You'd get a few of them together to go for a walk perhaps. Any diversion helped them. They went out to the village in groups. Many of them went out in the morning but a few wouldn't go out. Sometimes they couldn't go out because they had sold their boots and they had nothing but slippers. They'd sold their army boots, which were good strong boots, for maybe a few pence or a few shillings – it enabled them to go to the pub. Many of them weren't interested in any entertainments. They would much rather sit and talk to a nurse or a sister.
Some of them were afraid to go back home because their wife had perhaps found someone else and they were afraid of what they might find. Wives with perhaps extra children.  Don't forget there had been fighting as well as their health broke down. You see, these men were a long time away. We didn't have a lot of visiting. They were a long, long way from their homes."
Reading 4: 'Extract from Gilbert Elwin's memoirs describing his return to Radcliffe after the Armistice'
Read by Rosemary Collins
Gilbert Elwin, who lived in Radcliffe, enlisted in the Royal Artillery with his brother in 1914. In July 1918 he was sent from the western front to Brighton to train as an officer. He was there when the war ended. This extract from his memoirs, written when in his nineties, describes his return to the village.
"All this training was suddenly and finally disrupted by the declaration of the Armistice at the 11th hour of the 11th day of the 11th month in the year 1918.  There was no show of rejoicing for anyone's return because every household had been touched by the loss of other family members, of neighbours or of friends. From then on training ceased but the horses still had to be cared for. Everyone was anxious to go home. We had enlisted in the King's army for the 'duration of the war' so the war now being over we had the right to go home. Feelings ran high, some talked of walking out and in fact there were many desertions up and down the country.  For instance, my brother Harry was home on leave on the 11th November and he never returned to his unit in France.  He was never officially demobilised.
We at Brighton decided that as we had been fortunate enough to survive the war, it would be foolish to do anything that might delay our routine demobilisation whenever it came.  So we quietly went on with our duties.  Then in mid-January 1919 we were suddenly given our papers plus rail tickets to take each of us to the demobilisation centre nearest to our homes. My tickets took me to Belton Park, Grantham, about eighteenmiles from my home village of Radcliffe on Trent. I can't remember if we slept overnight at Belton Park.  I suppose we must have done as I recollect throwing my pay book onto a growing pile on the floor as we passed through a long room.
We were fitted out with a 'demob' suit, new underclothes, socks and new boots.  The same day I went home to Radcliffe on Trent, still in my army uniform and my civilian clothes in a bundle under my arm.  As soon as I arrived home I stripped off all my army clothes in my father's greenhouse and went into my house to the bathroom and had a luxurious hot bath. A day or two later I burnt my uniform.So ended my army career after considerable dangers and four years and two months of service for King and Country.
I saw hundreds of dead and wounded men, scores and scores of dead horses and mules, many many overturned gun limbers, water carts, ammunition limbers, half destroyed villages; these latter just piles of bricks and broken wood. I recall Observation balloons which were strung along behind the German trenches and also behind our line of trenches. Attacks on them at dawn by aircraft were quite common.  When attacked, the one or two occupants in the balloon baskets would at once jump out and float down by parachute to the ground, sometimes machine-gunned and killed by the aircraft when halfway down.
It was a pitiless war.
Now at the age of nearly ninety-eight years I think and ponder on the many times I could have been killed.  Just pure luck I suppose, or was it divine protection?  I know at times I prayed hard."