3rd Battle of the Aisne 1918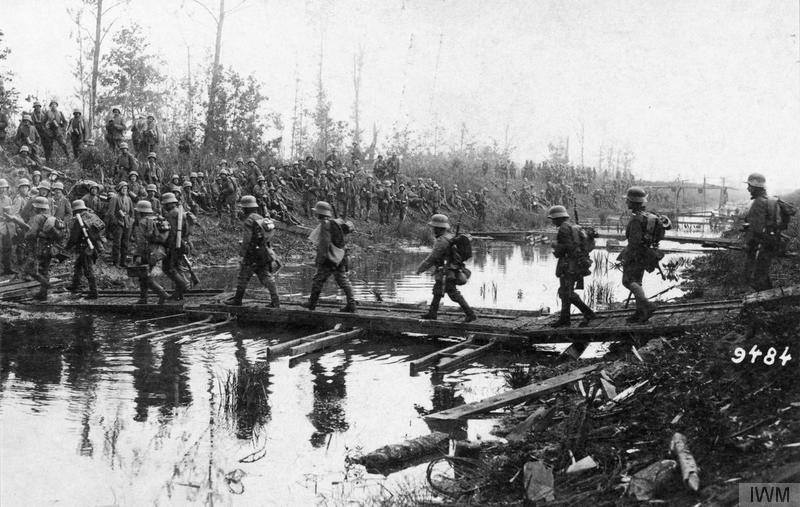 German troops crossing a canal prior to the Battle of Aisne, France 27th May 1918 by official German photographer.
Image no. Q88094, courtesy of the Imperial War Museum.
3rd Battle of the Aisne
May 27th – June 6th 1918
The tide began to turn in the Allies favour when American troops started entering the war from April 1918. However, "Operation Blücher–Yorck" pushed the Allies back across the Aisne. The battle involved the defence of Chemin des Dames Ridges. The tired troops were unable to stop the May 27th attack, which was accompanied by poisonous gas. The Germans advanced to the Aisne in less than six hours then captured the bridges over the river; they had Paris in their sights. However, once again they were hampered by lack of supplies and fatigued troops. Successful counter attacks over the next few days meant the Germans halted on the Marne in early June. The Yorkshire Regiment with the 50th Division and the 1st Sherwood Foresters with the 8th Division were present alongside the 19th, 21st and 25th Divisions.
May 27th 1918, Aisne. Death of Private 48425 Benjamin Carlin, 5th Bn. Alexandra (Princess of Wales Own) Yorkshire Regiment, 150th Brigade, 50th Division. He was the son of the police sergeant in Radcliffe. Killed at Aisne, age 18, commemorated on the Soissons Memorial.
May 27th 1918, Aisne. Wounded and captured: Private 41780 John William Nowell, 1/4th Bn. Alexandra (Princess of Wales Own) Yorkshire Regiment, 150th Brigade, 50th Division. Shrapnel wounds to face and hand. P.O.W., repatriated 31.12.18.
May 29th 1918, Bouleuse, Death of Lance Corporal 11239 Bertie Bemrose, 1st Bn. Sherwood Foresters, 24th Brigade, 8th Division, a regular soldier and brother of Percy who died in the spring of 1915. He was in India with the regiment at the outbreak of war. Killed in action at Bouleuse, age 28, commemorated on the Soissons Memorial.
From Sherwood Foresters War Diaries (held at the Worcestershire and Sherwood Foresters Regimental Museum, Nottingham)
'Bouleuse 29th 'All Odds & Ends in Transport lines ordered to Division. HQ at Sarcy. Proposed counter attack on Chery? cancelled. Ordered up to reinforce ridge N. of Bouleuse under Major J. Edwards. Lt. Col. R. F. Moore Officer Commanding 1st Sherwoods killed & buried near Western Spur of ridge. Lt. Tutin attended at the burial. Ridge held throughout the night under heavy fire & attempts of enemy in Western portion to obtain a footing'.
The first American attack on the western front took place during the Battle of the Aisne and helped boost the Allies' morale.